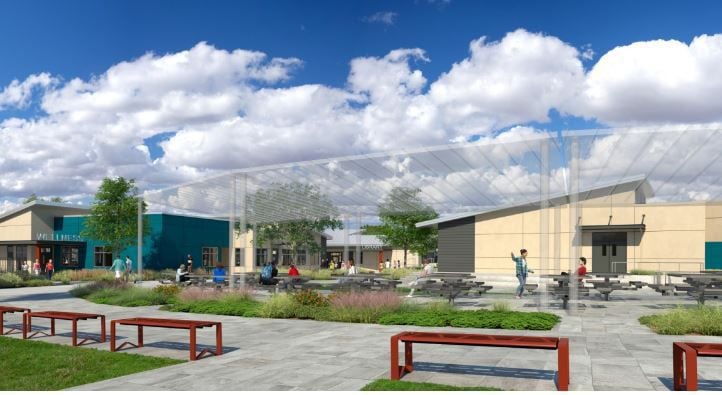 AMERICAN CANYON — In the collision of campaign promises of funding for a new American Canyon middle school with the Napa school district's declining enrollment and worsening finances, the new campus has lost out.
Plans for a second junior high school in the county's second largest city are dead, after the Napa Valley Unified School District board canceled the project at the end of a lengthy, sometimes acrimonious meeting Thursday night in American Canyon.
Trustees voted to halt planning for the school, which would have been underwritten by Measure H, the $269 million school bond measure approved by district voters in 2016 — according to several American Canyon residents, largely on the understanding they would receive another school for their hometown.
The cancellation came four months after the school district warned the $2.2 million a year needed to operate another campus would intolerably strain a budget with dangerously low reserves that could trigger a state financial takeover if drawn down further.
California requires school systems to keep reserves above 3 percent of their budgets to avoid falling into receivership and losing local control of spending.
"Part of what that promise was based on was that enrollment would continue to increase," said board member David Gracia before the vote, "but that assumption hasn't borne itself out. If we built this school, it would be fiscally irresponsible, because we cannot afford to operate it."
Groundbreaking on a 17.5-acre property next to American Canyon High School was to have taken place this summer, with an opening as early as August 2020. But in May, NVUSD Superintendent Rosanna Mucetti announced the project might be scrapped to avoid draining money from other programs.
"We don't build new schools for 300 kids," Mucetti, who joined the district last year, said during a forum in American Canyon, referring to the original 700-student capacity of the current middle school on Benton Way.
NVUSD reported enrollment of 1,013 at the campus in 2018-19 and forecasts that number to slip below 1,000 in the coming years before returning to 1,011 in 2023-24. Citywide, American Canyon can expect to see its student count dip from 4,312 to 4,181 over that period for its high school, middle school and three grade schools, according to figures released at the meeting.
Still, such proclamations of fiscal stress failed to mollify those who called the cancellation a betrayal of campaign promises, and a slap in the face of American Canyon parents and townsfolk. Over the course of 4 ½ hours, more than 30 people walked to the lectern of the American Canyon High School theater trying to change board members' minds or, failing that, to at least spare bond funds to modernize the city's existing 9-acre middle school campus.
"It's been hard having faith, because I voted for Measure H," said Korey Nagel of American Canyon. "It's been disappointing, and I hope you guys will provide us with a good solution."
Measure H, which narrowly won voter approval in June 2016, pledged to use bond revenues toward modernizing NVUSD school facilities as well as moving or repairing campuses on earthquake fault lines, but its wording did not mention American Canyon, its middle school, or any other cities or sites by name.
Shelving a school the community has been expecting for three years shows how little regard NVUSD has for communities outside the city of Napa, declared Mariam Aboudamous, a member of the American Canyon City Council.
"I grew up here; the majority of the board doesn't even visit here on a regular basis," she said, comparing the prospect of expanding buildings and adding portable units to American Canyon's current junior high campus to "putting a Band-Aid on a wound."
In response to such calls to keep a campaign promise, several board members showed sympathy but concluded the funds to do so were not there.
"It's unfortunate that a promise was made, and that's hurtful," Elba Gonzalez-Mares told residents before adding that district leaders cannot ignore the trends of fewer births and costlier housing that are tightening the flow of families with school-age children. "The due diligence has been done. Ultimately, the data and the numbers are real."
Since the spring and as recently as August, supporters of a second middle school have pointed to the need to cater to future families that will occupy major American Canyon projects such as Watson Ranch, slated to include 1,250 homes to be built over 30 years, and the Broadway District, intended to bring 1,200 residences to the Highway 29 corridor. But a study by Jack Schreder and Associates commissioned by NVUSD predicted that even with such housing stock added, student counts will still fall in the city and elsewhere in the school district – largely because housing costs are expected to keep down the average number of students generated by each new dwelling or home sale.
Comparisons of home sale data with district enrollment records show a continuing decline in the student generation rate, the number of students added per home sold, the report stated. In American Canyon, the student generation rate fell from 1.061 per home sold to 0.815 between 2011 and 2018, according to the demographic report. (By comparison, the rate fell from 0.513 to 0.289 in the city of Napa, with its higher median resale prices.)
Residential development in American Canyon is forecast to generate 582 new students through 2026, with Watson Ranch and the Broadway district accounting for 519, said Mike Pearson, NVUSD's facilities director.
Having scrapped American Canyon's second junior high campus, NVUSD, which already has cut its teacher and staff rolls in a bid to save $7.2 million over two years, faces another, perhaps even more fraught cost-cutting decision – whether to shut down two of the district's smallest elementary schools in hopes of paring $1 million in annual expenses. An advisory committee is weighing the futures of the Yountville, Mt. George, West Park and Alta Heights schools, all of which enroll 313 or fewer children, and is slated to make a recommendation Oct. 1 ahead of a board decision later in the fall.
Earlier Thursday night, the same dire forecasts that underpinned the end of American Canyon's hoped-for new school came under renewed attack from opponents of school closures, who asserted the study understates the capacity of campuses like Mt. George to take on more students.
"How can you make a decision on closures when you don't know how much money you'll actually save?" Sabrina Wolfson, the mother of a Mt. George student, asked the NVUSD board, which nonetheless voted to accept the demographic and financial study.
Hours later, after an audience of more than 80 people had dwindled to about two dozen, board members received one more admonishment – from Councilmember Mark Joseph, who asked the district to look out for American Canyon's children even as he accepted the gravity of its financial struggle.
"If you tilt too much toward the fiduciary, if you lose sight of things, if you try to run it from the bottom line, then you lose sight of the real point: to provide a quality education," he said.
Get local news delivered to your inbox!
Subscribe to our Daily Headlines newsletter.