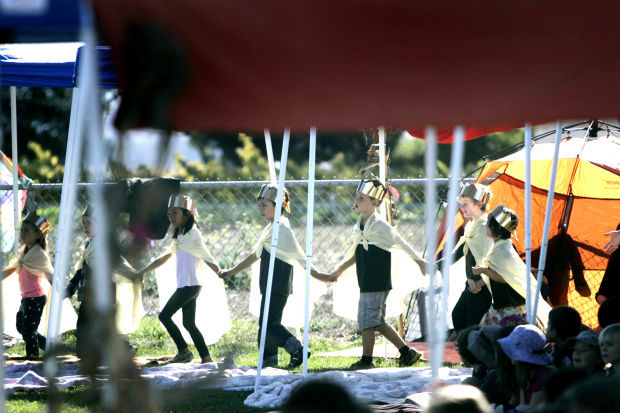 Napa's public school system will partner with the Stone Bridge School for five more years and invite it to take over a soon-to-be-vacant campus – but not without the concerns of board members about its level of student diversity, or the soundness of its finances with a coronavirus-sparked recession about to batter state budgets.
The school – an academy known for its hands-on and low-technology Waldorf educational model – will enter its third decade of operation this summer after seeing its charter renewed by the Napa Valley Unified School District. The approval earlier this month, however, came attached with admonishments by the NVUSD board to deal with chronically low numbers of minority and disadvantaged pupils in a student body that is more than three-quarters white – and to explain how it plans to ride out the expected storm of California belt-tightening and shrinking donations as tax revenues plunge, and millions are thrown out of work, during the state shelter-at-home order.
The tepid support offered by trustee Joe Schunk reflected a cautious attitude toward Stone Bridge, which has contracted with NVUSD for services since its opening in 2000 but is otherwise self-governing.
After sharing his concerns about the school's budget and unclear measurements of academic success, he nonetheless joined in a 6-1 decision May 14 to extend the alliance with Stone Bridge to 2025 – pointing to existing laws that limits school districts' ability to walk away from charter agreements.
"While I can find no defensible basis to deny, there would be no mistaking my enthusiasm," he said, adding that a new state law allowing more freedom to deny charters will not take force until July 1. Assembly Bill 1505, signed by Gov. Gavin Newsom in October, will allow districts to let charters lapse if a school is unlikely to carry out its mission due to financial or governance problems, or is not serving all students wishing to attend.
The likelihood of at least two years of deficit spending by Stone Bridge as state revenues and private donations fall during a recession was too much for trustee David Gracia, who cast the only dissenting vote against continuing the school's charter.
"I am really concerned about your finances; you have a financial outlook that is, prior to any COVID-related issues, balanced on a knife edge – it's barely eking out enough dollars to stay solvent," he told Stone Bridge principal Maria Martinez, criticizing the school's financial forecasts as overoptimistic. "... I'm gravely concerned that you're not going to manage to meet your fiscal responsibilities moving forward. What plans do you have to shore up your budget so you don't go bankrupt?"
Stone Bridge's three-year fiscal forecast, prepared in February before the state's financial picture began falling apart, predicted a $79,533 operating loss this school year, followed by operating income surpluses of $2,023, $65,117 and $111,634 through 2023.
While Martinez pointed to a $1.1 million school reserve she said would help insulate Stone Bridge against economic shock, Gracia was unmoved. "It sounds to me that you still intend to be deficit spending and you're hoping things will get better before you run out of reserve money," he said.
Another stumbling block for trustees was a student mix sharply at odds with the makeup of the Napa school system as a whole, as well as the surrounding south county. Some 78% of those attending Stone Bridge are white and only 10 percent are Latino, according to the school's renewal application – similar to its demographics when NVUSD previously extended the charter in 2010 and 2015.
Overall, the population of the school district, which ranges from Lake Berryessa and Yountville to Napa and south to American Canyon, is 52 percent white and 34 percent Latino, 9 percent Asian and 2 percent African American. Other races, and multiracial people, make up the remaining 3 percent.
"I went back and looked at the (board meeting) tapes for 2010 and 2015, and the big concern has always been that there's no cultural diversity in the school," said trustee Cindy Watter. "And there always seem to be promises that we're going to do better, and it's the same year after year. I'm really not anticipating much change there."
The small number of minority students – and the nearly one-third of pupils whose parents withdraw them from state English and math testing – also obscures Stone Bridge's progress in improving academic performance, several board members said.
Stone Bridge's renewal application proposes several steps to attract more minority and disadvantaged families to enroll their children, including hiring bilingual staff, bilingual recruitment efforts, and specifically discussing diversity issues at all meetings of its charter council.
Martinez, the principal, also suggested the school may consider ending the admissions priority it currently gives to the siblings of current pupils. She also held out hope that Stone Bridge's future location – the Mt. George Elementary campus, scheduled to become available at the end of this academic year – may be close enough to central Napa to encourage more families to send their children there.
In addition to renewing Stone Bridge's charter, NVUSD's board cleared the charter school to leave its current Carneros site and move to Mt. George's Coombsville property starting in 2021-22, or earlier if its staff is able to do so. Stone Bridge directors have been seeking a new home since the 2014 Napa earthquake revealed the Carneros campus' nearness to the West Napa Fault, and the school and district previously explored moves to Old Sonoma Road or to Yountville Elementary – another school that is closing this summer along with Mt. George.
The NVUSD board meeting was conducted as a Zoom videoconference from trustees' homes due to social distancing rules during the coronavirus pandemic.
Get local news delivered to your inbox!
Subscribe to our Daily Headlines newsletter.