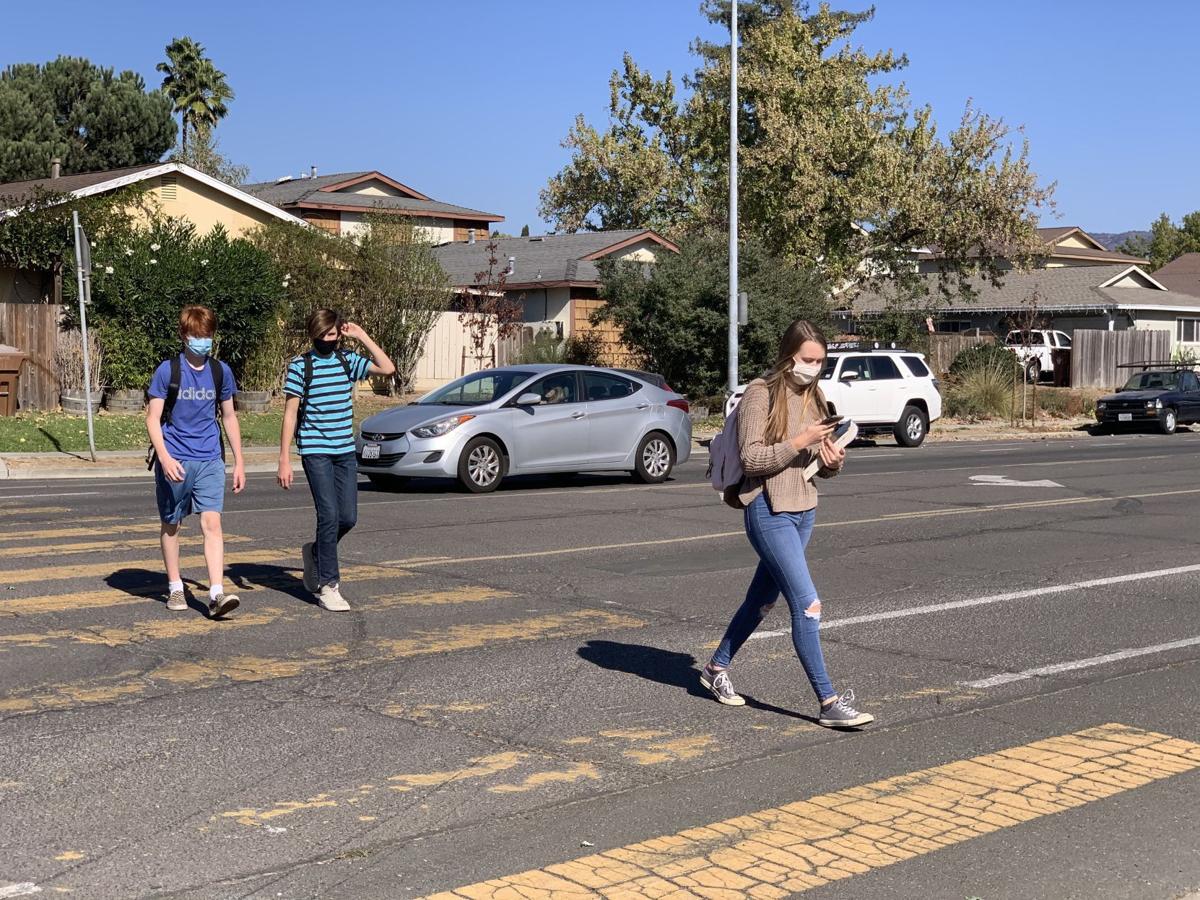 Five employees and 18 students attending classes in the Napa Valley Unified School District have contracted the coronavirus, the public school system has announced in its first update of COVID-19 cases since a partial reopening of campuses Oct. 26.
Those infected include a teacher and four support staff workers, along with students at 10 different campuses who returned to classrooms starting Oct. 26 for a hybrid program combining remote learning with two half-days of in-person instruction per week, Superintendent Rosanna Mucetti said during a NVUSD board meeting Thursday night at the district's Napa headquarters.
Contact tracing indicates that all 23 people affected contracted the virus outside of school settings, Mike Mansuy, NVUSD's director of student services, said Friday afternoon.
"Based on Napa County Department of Public Health and the district's contact tracing protocols, there is no evidence that any of these cases originated on school campuses," he wrote in an email. "Most cases are traced to household transmission or social events outside of school."
There have been no cases of employees spreading the virus to co-workers, Mansuy added.
In addition, about 16 other students — part of the estimated 60% of the district's 17,000 Napa and American Canyon children and teenagers still attending virtual classes full time — have contracted the coronavirus, according to Mucetti.
Mansuy later said some of those infected off-campus were part of a "pod" of students who came together for athletic conditioning before the pod was closed.
NVUSD is unaware of any hospitalizations of students or employees due to COVID-19, according to Mansuy. Napa County requires those showing symptoms from the virus to self-quarantine for two weeks.
News of the first COVID-19 cases involving students and staff came near the end of the Napa school district's third week of on-campus instruction. NVUSD, which began its academic year in August teaching only online, began the second of four phases meant to gradually ease students toward a full five-day schedule once a vaccine or effective treatments become available.
Families opting for the hybrid plan send their children to campus either on Monday or Tuesday afternoons, or Thursday and Friday mornings, with distance learning on the other three weekdays. All 28 campuses are closed to students on Wednesdays.
In announcing the COVID-19 cases on Thursday, Mucetti emphasized the safeguards put in place by the Napa school district to prevent an outbreak from forcing a return to online-only teaching, which began after NVUSD shut down campuses on March 13.
A slate of safety measures meant to prevent a viral outbreak on campus includes 6-foot spacing between most desks, about 950 hand sanitizer pumps, frequent sanitizing inside school buildings, and Plexiglas shields in offices. Masks are required on school grounds for all students from the third grade up, and recommended for younger pupils. Due to physical distancing requirements, bus service has been suspended except for special-education students and those traveling from Lake Berryessa and Yountville, farther from public schools.
About 250 district teachers and employees are receiving COVID-19 tests each week, a pace that would cover a quarter of district staff every two weeks. The school system is following a California directive under which a campus will shut down if 5% of its combined students and staff test positive in a 14-day period, and all district schools would be closed a quarter of them are forced to halt in-person classes.
The coronavirus cases reported so far amount to 0.003% of the student body, far below the level that would cause a campus shutdown.
Superintendent Mucetti on Thursday praised students and staff alike for closely following safety rules at the reopened campuses, and acknowledged the delicate balance between keeping safe from the virus and keeping up academic progress and social ties.
"In many ways, kids having to be out of school for so many months can be categorized, in my opinion, as a social injustice — but it was a necessary one, as this pandemic hit the country like a speed train," she said. "Now, knowing what we know, I do believe it's important for the adults in our system to figure out how kids can come to school in safe conditions, to address their socio-emotional well-being and improve their academic progress."
Mucetti cautioned those connected to local schoolchildren to continue their safeguards against spreading the coronavirus — especially with winter weather set to drive more people indoors, and holiday gatherings raising the risk of driving up infections further.
"I ask (during) the Thanksgiving and winter holidays for people to be mindful," she said during the NVUSD board meeting, the first to be held in the district office since March — with trustees and others wearing masks — although audience members were still required to watch via Zoom videoconferencing. "Your behavior affects student populations during this pandemic. It really does take a village, always."
The infections were reported amid a sharp uptick in local COVID-19 cases, which Napa County warned could lead to stricter curbs on businesses and public gatherings as soon as next week.
The county has reported 251 new cases this week, breaking last week's local record of 160 new infections, and announced its 17th coronavirus-related death on Tuesday. Public Health Director Dr. Karen Relucio has warned that acceleration could knock Napa down from its relatively permissive orange status on California's four-tier rating of viral spread down to red or even purple, which would ban all indoor activity at restaurants, cinemas, gyms and worship centers. Schools already offering on-campus instruction, however, could remain open.
Starting next week, NVUSD will post a "dashboard" on its website listing the number of COVID-19 cases among students and employees, according to Mansuy.



Watch Now: Small gatherings are driving the coronavirus' spread
Photos: Napa's Blue Oak School outdoor campus(tncms-asset)c18b2960-1a40-11eb-a508-00163ec2aa77[1](/tncms-asset)
Catch up on Napa County's top news stories of 2020
In case you missed it, here is a look at the top stories of 2020.