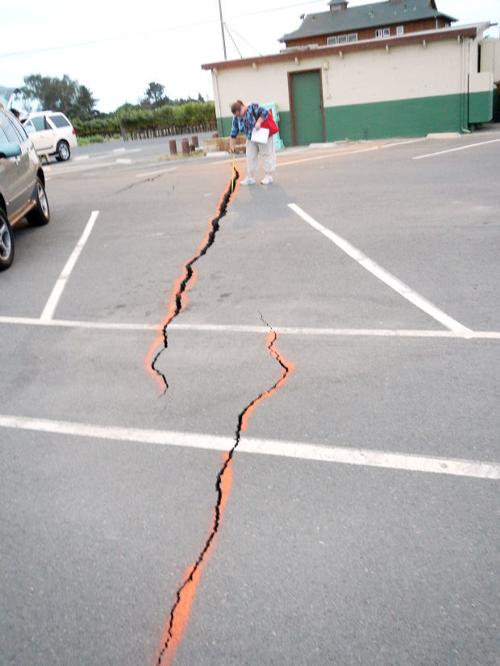 Precariously placed near an earthquake fault and a natural-gas pipe, Stone Bridge School may be in line for a new location – again.
Before a near-capacity audience of more than 130 people at Stone Bridge, directors of the Napa Valley Unified School District announced Thursday they will recommend relocating the charter school in the rural Carneros region, and set a goal of updating parents and faculty on the campus' future by Oct. 1.
Such a proposal, which requires approval from the NVUSD board, would be the third attempt at finding a new home for Stone Bridge since the 2014 earthquake ripped gashes on the property on Los Carneros Avenue and revealed the campus' nearness to the West Napa Fault that triggered the quake.
In the five years since, plans for the academy to share Yountville Elementary School, or to move to Old Sonoma Road, have fizzled – even as millions of dollars from a 2016 school-bond issue have led to renovations at two other seismically vulnerable schools.
The meeting between school district leaders, and the parents and teachers of Stone Bridge students from kindergarten to eighth grade, revealed the tension in balancing the need to bolster student safety against shrinking public-school enrollment that has squeezed California's per-student funding to the Napa district.
NVUSD leaders also confronted the disappointment and skepticism of school parents upset at a sharp reduction in Stone Bridge's allotment – from more than $14 million to $2 million – from Measure H, the $269 million bond issue passed by Napa County voters three years ago.
"We overpromised, we underdelivered; I get it," Mike Pearson, NVUSD's facilities director, said of what he called campaign promises that never should have been made for specific schools. "But at some point we've got to say 'OK, let's go.'"
Pearson told Stone Bridge parents that district staff favors shifting the campus over rebuilding it on site or long-term reliance on portable classrooms.
A rebuild at Los Carneros would require at least $55 million without solving the problems of an active fault zone unbuildable under state law, as well as the continuing presence of a 26-inch-wide Pacific Gas & Electric gas line on the north side of campus, he said. Meanwhile, portable units could be added for $4 million or less but would drive up maintenance costs due to their shorter lifespan, added Pearson.
Moving Stone Bridge offers the best chance of finding the school a safe long-term home, said Pearson, although he conceded the special challenges of relocating an independent charter school with needs unique to the district. As a Waldorf school, Stone Bridge follows a low-technology curriculum heavily based on interactive and hands-on learning, including an on-campus farm where students help grow fresh produce and chickens – a fixture more difficult to copy on a more urban campus.
If no plan to relocate or rebuild the school before the summer of 2020 is ready by this October, Pearson told the audience, Napa Valley Unified will announce the delay in advance and create an interim plan for the school, which could include moving up to seven existing portable buildings at least 50 feet away from the fault line.
Afterward, Pearson said such a holding action may be covered by the $2 million recommended for Stone Bridge in the school district's most recent Measure H implementation plan, which the NVUSD board approved in April. Funds from the bond sale are to be used within three years, and district officials have said they cannot bank that money to use in the distant future.
No sites are currently being actively studied as replacement homes for Stone Bridge, according to Superintendent Rosanna Mucetti, who said options may emerge if NVUSD closes campuses or consolidates schools due to declining enrollment.
The absence of an obvious landing spot for the Stone Bridge School remained a sore spot for some parents, who questioned whether Napa Valley Unified can come up with a solid road map by October without knowing what other properties will become available.
"Until we know the 'where,' we can't make a recommendation," said Faith Armstrong Foster, the mother of four children who have either graduated from or still attend Stone Bridge.
A fall-off in enrollment – and forecasts of further declines – has led Mucetti to warn of continuing budget cuts despite the Measure H school bond. The school district's fiscal reserve of 3.6 percent is dropping near the state's 3 percent minimum districts must maintain to avoid a potential state takeover, she said.
Stone Bridge's renovation or relocation is not the only project left in limbo by Napa Valley Unified's fiscal woes. On May 20, the district said that American Canyon's second middle school, scheduled to break ground this summer, could be put on hold because it lacks the $2.2 million a year needed to run the school without cutting other programs.
Mucetti, who was not in the school district before her 2018 appointment, said the backlash of such austerity measures shows the peril of making overambitious promises to win political support.
"There is a risk when campaign promises are made for specific projects at specific schools," she told the Stone Bridge audience. "It always leads to disappointment and lack of trust."
Get local news delivered to your inbox!
Subscribe to our Daily Headlines newsletter.