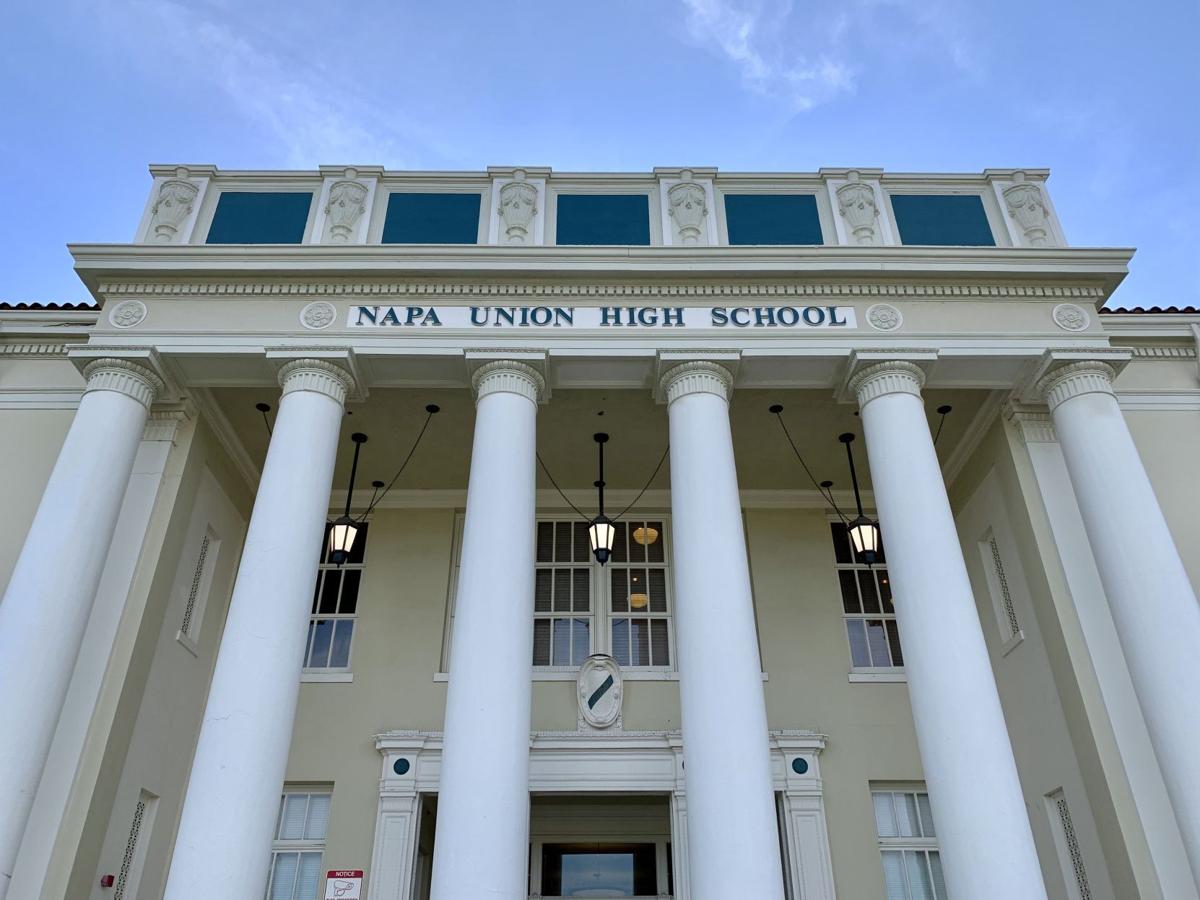 On a night when leaders of Napa's public school system faced a wave of complaints about its decision to end the Legacy Youth Project, officials disclosed a financial arrangement for the program's longtime leader it said may have breached a state law intended to prevent conflicts of interest for elected officials.
Starting in 2014, Carlos Hagedorn, a professor of ethnic studies and Legacy's executive director, received more than $50,000 a year from Napa Police funds intended to pay for school resource officers, according to Mary Hernandez, legal counsel for the Napa Valley Unified School District. Hagedorn was then a trustee on the NVUSD board, where he served one term from 2012 to 2016, when it voted in favor of the arrangement.
District officials revealed the inquiry into Legacy's funding arrangements during a sometimes emotionally fraught NVUSD board meeting Thursday, which stretched for more than five hours and included numerous pleas by high school students, parents and Legacy instructors defending a program they called the only hope for many low-income students of color not only to embrace their Latino identity, but to go on to college and better lives.
Trustees credited Legacy, which began at Vintage High School in 2012, with raising the chances of success for the disadvantaged students taking part at Vintage and the Redwood and Harvest middle schools. However, they pointed to the need for programs that support a much wider swath of students of color – particularly the Latinos who account for more than half the district's enrollment of more than 16,000 yet account for lower standardized test scores and higher suspension and absenteeism rates.
"This is a hard decision to make," said Jose Hurtado, one of three Latino trustees on the Napa school board, about the district decision not to continue the program in 2020-21. "The success exhibited by members of Legacy has been outstanding, (but) we need to do a lot more. We have 10,000 Latinx students in the district, and we need scalability, and we need to develop new programs."
"At a time when budget constraints are so severe and every dollar is put under the microscope, we need to make sure we are above reproach," Hurtado said.
NVUSD began looking into Legacy's financial arrangements in recent weeks after discussions about funding the program for 2020-21 stalled, according to district officials. A survey of financial records showed that the district's payment to Napa Police for the use of three resource officers to patrol campuses rose from $259,595 in the 2013-14 year to $313,156 a year later, with no increase in officer staffing, legal counsel Mary Hernandez said Friday.
At a meeting on Aug. 7, 2014, Hagedorn and other board members approved the contract as part of a package of normally routine proposals grouped into a consent calendar and voted upon as a single item, according to Superintendent Rosanna Mucetti. The agenda and documents for that meeting on NVUSD's website make no mention of any funds to be paid to Hagedorn. (Currently, any contracts of $15,000 or more are reviewed and voted upon as separate items during a meeting, with supporting documents posted online, Mucetti said.)
The difference was used to pay Hagedorn for his work with Legacy, according to Hernandez, who described the arrangement as an ethics breach and possible violation of the state code preventing elected officials from voting on matters in which they have a financial investment.
Government Code 1090 states that elected officials, officers and employees "shall not be financially interested in any contract made by them in their official capacity, or by any body or board of which they are members."
NVUSD is still investigating how much in district funds may have been paid to Hagedorn, and expects to share its findings with the state Fair Political Practices Commission by month's end, according to Hernandez. The commission, in turn, may refer the case either to the Napa County District Attorney's Office or the state attorney general if it chooses, she said.
On Thursday, Hernandez also stated that two previous school district leaders – former superintendent Patrick Sweeney and former assistant superintendent J. Wade Roach – were aware of questionable payments to Hagedorn, and that NVUSD's legal counsel at the time advised that paying Hagedorn out of money marked for Napa Police was unethical and possibly against the law.
A telephone message seeking comment was left Friday for Hagedorn, as well as emails for him and four other staff members at the Legacy Youth Project. A message for Sweeney was not immediately returned. Roach, reached by phone Friday afternoon, said he did not watch the Thursday meeting and declined to comment further.
None of the three took part in the Thursday meeting, which was conducted as a Zoom teleconference due to county social distancing rules during the coronavirus pandemic.
Last week, Superintendent Mucetti described a proposal to preserve a scaled-down Legacy that would operate after school rather than during the school day. Hagedorn, an adjunct professor at Napa Valley College and Legacy's leader from the beginning, has said program staff had tried to work out an agreement with NVUSD – including training district teachers to orchestrate the course – before the district announced the cancellation June 1. (Legacy staff members do not hold state teaching credentials, according to the district.)
On Thursday, Mucetti and others emphasized the need to replace Legacy, which served 118 students in 2019-20, with alternatives that can reach a much wider swath of students of color and remain financially sustainable. The $250,000 cost of the program in the past school year is roughly equal to the salary and benefits of two teachers, she said.
For the next academic year, NVUSD officials are offering current Legacy students a choice of an academic support course, a Race and Social Justice course for social studies credit, or a different elective course. The transition toward a replacement support program also will include more support from counselors, social workers and parent liaisons in the district.
But the promises of replacement programs apparently did little to satisfy a chain of public speakers, who spent more than two hours logging onto the virtual meeting in often passionate support for the project's founder and its mission of cultural pride and academic and social support for vulnerable teens.
"I'm a little sad, I'm angry and I'm disappointed," said Alejandro Cuevas, a Legacy staff member from 2017 to 2019, who like several other speakers described the program as a springboard to combating ingrained racism and discrimination in education and life. "By ending this program, you are stealing our youth's future. The Legacy program should be expanded, not dismantled."
Community members held a demonstration in Napa on Thursday to encourage the Napa Valley Unifed School District to reconsider the cancellation of the  Legacy Youth Project, which benefits at-risk students.
The heavy virtual turnout to back Legacy and its leaders followed a June 4 protest in which sign-waving students marched down Jefferson Street to NVUSD headquarters chanting "Keep Legacy!" as drivers honked in solidarity.
Responding to the passionate defense of Legacy and its work for underserved teenagers, trustee Elba Gonzalez-Mares took pains to support its mission and the need to better serve the Latino student body – but to do so in a fiscally and legally sound way.
"We have to look at the legalities; that is one of the most critical parts of our job," she said while calling for a committee of students, teachers and others to help draw up a sustainable course of ethnic studies. "If we don't look at that, we're not doing our job."