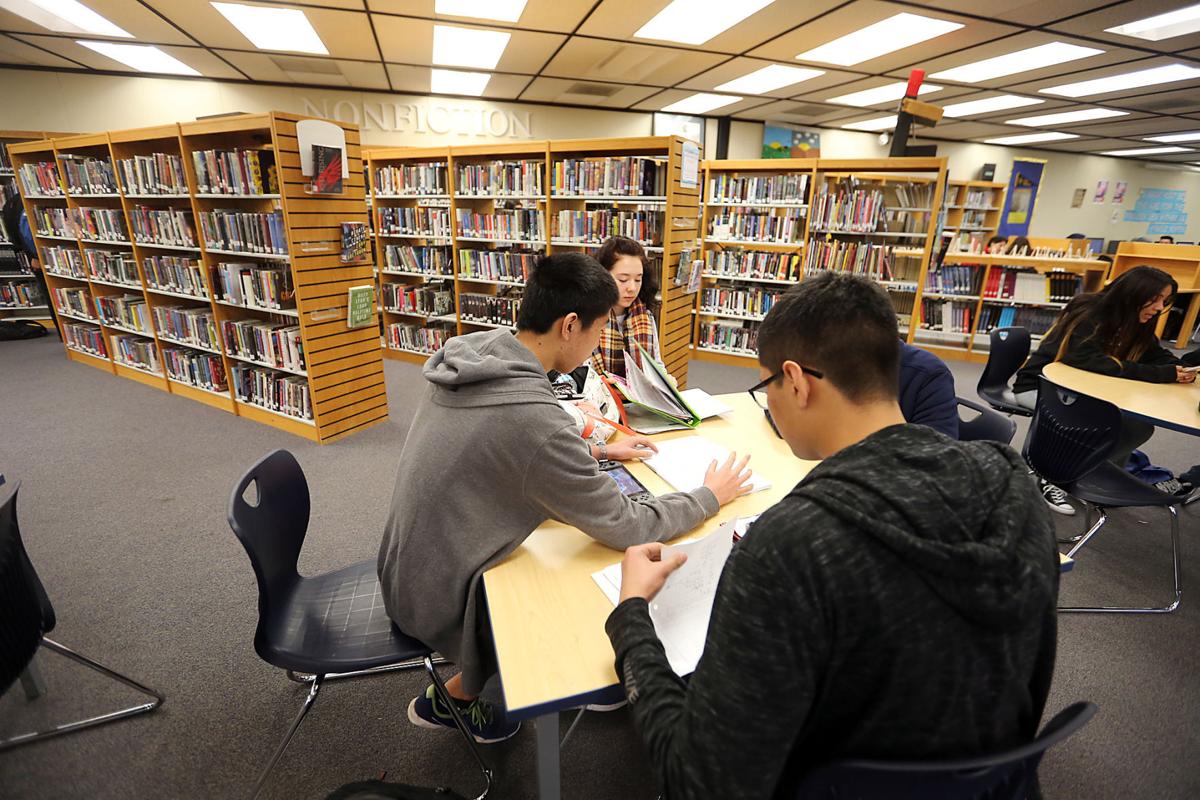 A moderate rate of coronavirus infections could allow students to return part-time to Napa-area public schools as soon as next month, educators have announced.
On its website Monday, the Napa Valley Unified School District said it expects to be ready to offer a blend of in-person and remote teaching in mid-October should local health conditions allow. A hybrid teaching model would advance the district into the second of four phases intended to return students in Napa and American Canyon to a full on-campus schedule as the rate of COVID-19 cases eases or a vaccine becomes widely available.
All teaching within NVUSD has taken place remotely since March 13, when the district board ordered campuses shut down with the arrival of the coronavirus pandemic.
Families must fill out an enrollment form to allow NVUSD to assess the number of students returning to campus, the district announced. Forms must be filled out for each returning student by Friday, Sept. 18, and are available online at https://bit.ly/3ixwoHc. Click the "Next" button at the bottom of the screen to fill in student information.
After entering the second phase of the transition, children and teenagers would go to their classrooms two days a week, while continuing internet-based distancing learning on the other three days, Superintendent Rosanna Mucetti said in the statement posted to the NVUSD website.
District leaders previously announced that further improvements in Napa County's virus outlook would allow public schools to advance first to a third stage in which students go to campus five half-days a week – some in the morning and others in the afternoon – and then to a final stage of all-day classroom instruction.
An enrollment form is required for NVUSD to assess the number of students who will return to campuses during the second phase. Forms must be filled out for each student and completed by Friday, Sept. 18.
However, a complete break away from online teaching does not appear imminent. Mucetti advised families to prepare for continued remote instruction, not only because of the gradual nature of the return to classrooms but also in the event an in-school COVID-19 outbreak forces new closures.
As of Monday, local schools have the option to begin welcoming back students because of Napa County's place for two weeks on California's "red" tier for its number of new COVID-19 infections. The red category is one level above the "purple" status indicating the highest rate of viral spread, which carries the most restrictions on opening schools, businesses and religious sanctuaries.
Both the school district and Napa County's Health and Human Services agency are following state guidance on school reopenings, which requires testing at least 25% of staff members every two weeks – from teachers to office staff to food-service workers and custodians. Earlier, Mucetti predicted the testing requirement would cost NVUSD some $40,000 a week to screen 250 people.
California guidance to public schools, which Napa County's public health officer Dr. Karen Relucio said she will follow, calls on campuses to close if 5% of the total number of students and staff contract the coronavirus in a 14-day span. All NVUSD campuses would shut down if one-quarter of them are forced to suspend in-person classes.
If an increase in coronavirus cases drops Napa County down to the purple level, schools that have already reopened can stay open, but are advised by the state to ramp up employee testing, Relucio said in a statement Monday. Any schools that have not yet reopened could not fully open until the county returns to the red tier for 14 consecutive days, but may follow state guidance for teaching smaller student groups on the premises.
In addition, public schools in the Napa Valley may have to draw on a smaller supply of substitute teachers than was available before the pandemic. While about 400 fill-in teachers normally are available countywide, only 160 had responded earlier this month to an annual survey seeking substitutes for this school year – and 30% of those declined to teach in-person classes, the Napa County Office of Education said.
Watch Now: How to set up a good homeschool environment
Concerned about COVID-19?
Sign up now to get the most recent coronavirus headlines and other important local and national news sent to your email inbox daily.