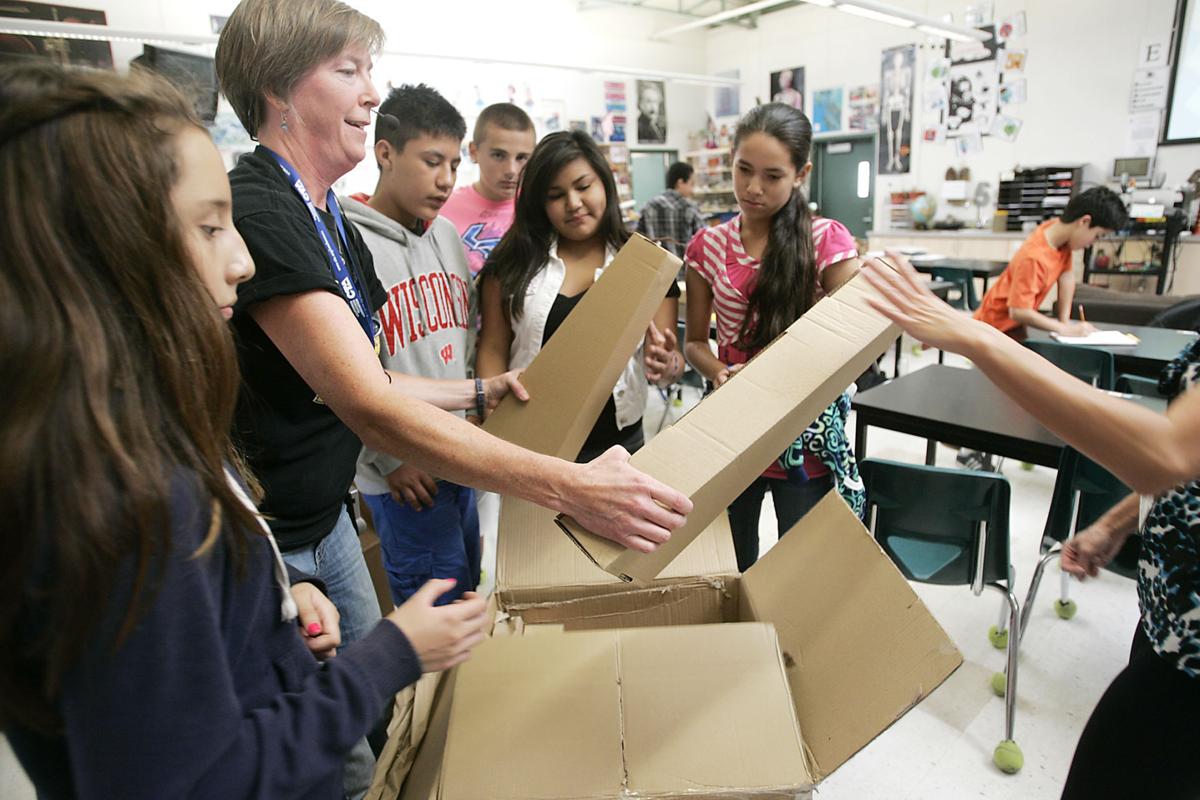 Napa's public school system has announced it is weighing whether to close Harvest Middle School after this school year due to enrollment losses hastened by the coronavirus pandemic.
The Napa Valley Unified School District disclosed the potential closure Friday night in the agenda for the district's next board meeting, which will take place at 7 p.m. Thursday by Zoom videoconference. A further announcement by Superintendent Rosanna Mucetti also was sent to school parents through the ParentSquare social media platform at about 5 p.m. Friday, according to Derek Moore, president of the Harvest school's Parent Faculty Club.
In addition, NVUSD announced an online community forum Monday evening to share further details about the potential Harvest closure. The forum will be conducted in English at 5:30 p.m. and in Spanish at 7 p.m.
The announcement has aroused opposition that included a Save Harvest Middle School Facebook page, as well as an anti-closure petition on Change.org that had drawn around 1,800 signatures by Sunday afternoon.
If carried out, the school shutdown would be the third in the span of a year by the Napa Valley Unified School District, which closed the Yountville and Mt. George elementary schools in June.
NVUSD officials cited the district's fiscal problems – worsened by declining enrollment that has driven down the per-student revenue it receives from California – in floating the idea of winding down the Harvest school.
"One of the District's major asset categories is real property, which includes land and school facilities," NVUSD staff wrote in the agenda for the Thursday school board meeting. "It is the Board's fiduciary responsibility to maximize these assets, ensuring that they are utilized efficiently and effectively so the District can continue to provide exceptional learning opportunities for all students."
In an interview Sunday afternoon, Mucetti pointed to an enrollment decrease of nearly 400 students across NVUSD compared to September 2019, to 16,968, with middle school enrollment forecast to drop off sharply as smaller numbers of children attend the elementary grades. District enrollment is expected to dip to about 15,200 by 2026-27, she said.
"Shrinking enrollment, exacerbated by the ongoing health pandemic, continues to plague our district and although we were hopeful to avoid closing more schools, we are forced to weigh decisions, some of which may impact Harvest Middle School," Mucetti wrote in the NVUSD statement.
The district will select an advisory committee to help decide whether to close or retain the Harvest school, a state-required step for school systems pondering the reuse or sale of potentially surplus buildings and land. NVUSD organized a similar body, known as a 7-11 committee for its minimum and maximum number of members, in 2019 while deciding which elementary schools to close to save $1 million a year and cut into a budget deficit.
News of the Harvest school's possible shutdown blindsided many of the families sending children there, according to Moore of the Parent Faculty Club.
"We had a parent-faculty meeting Thursday night and there was no mention at that time about what was happening, even though it's our understanding there was a meeting with staff and administration on Friday," he said Sunday. "It feels like we were kept in the dark until the last minute. We take real issue with the timing and manner of this notification; we feel the district is rushing the process in an effort to seek the path of least resistance toward achieving its goal, without adequate input from the public."
Moore called any consideration of eliminating the school on Old Sonoma Road especially insensitive given the economic stress families face from COVID-19-related business shutdowns and stay-home orders – especially given the large number of low-income and minority students at Harvest, and its role as a dual-immersion school for English-Spanish learning.
"We are outraged the district would drop a bombshell like this in the middle of a pandemic when our faculty and parents are already anxious and stressed, and only two weeks before hybrid (remote and on-campus) learning starts," he said. "It's tone-deaf and cruel."
Later Sunday, Mucetti, who became NVUSD's superintendent in 2018, said deciding how to sustain Harvest's dual-immersion program elsewhere in the event of Harvest's shutdown will be a top priority for the advisory committee, which is expected to meet four times before a school board vote by the end of November.
With a combination of high housing costs and economic stress burdening Napa County, the school district must adjust its size and facilities to a student body likely to continue shrinking this decade, according to Mucetti.
"The only way to guarantee high-quality instruction is to be an effective steward of the resources we do have," she said. "When you don't respond to declining enrollment, you stretch your resources thin and you have an ever-hemorrhaging impact on your programs. You can't run the same operation that once was over 18,000 students when it's projected to become a district of 15,000 over time."
Harvest Middle School opened with 870 students in August 2003 – compared to 686 as of Wednesday – at the former site of Ridgeview Junior High, which was completed in 1954 and closed in 1982 amid falling enrollment at the time. In the two decades after the shutdown of Ridgeview, the campus became home to the Ridgeview Community Education Center, hosting various vocational and alternative-school programs.
For the school's rebirth as Harvest, the original Ridgeview classrooms and gymnasiums were gutted and renovated, and the school grounds overhauled with 13 acres of sports fields and an all-weather track.
The Harvest site also accommodated River Middle School until its relocation to the former Salvador Elementary campus in north Napa in January, two months before the pandemic led NVUSD to close all classrooms and move students to online instruction. With Napa County's rate of coronavirus infections slowing in recent weeks, the district is scheduled to begin phasing in classroom teaching starting Oct. 26, initially with students coming to campus two days a week.
Watch Now: How to prevent your kid from having remote learning burnout
Concerned about COVID-19?
Sign up now to get the most recent coronavirus headlines and other important local and national news sent to your email inbox daily.