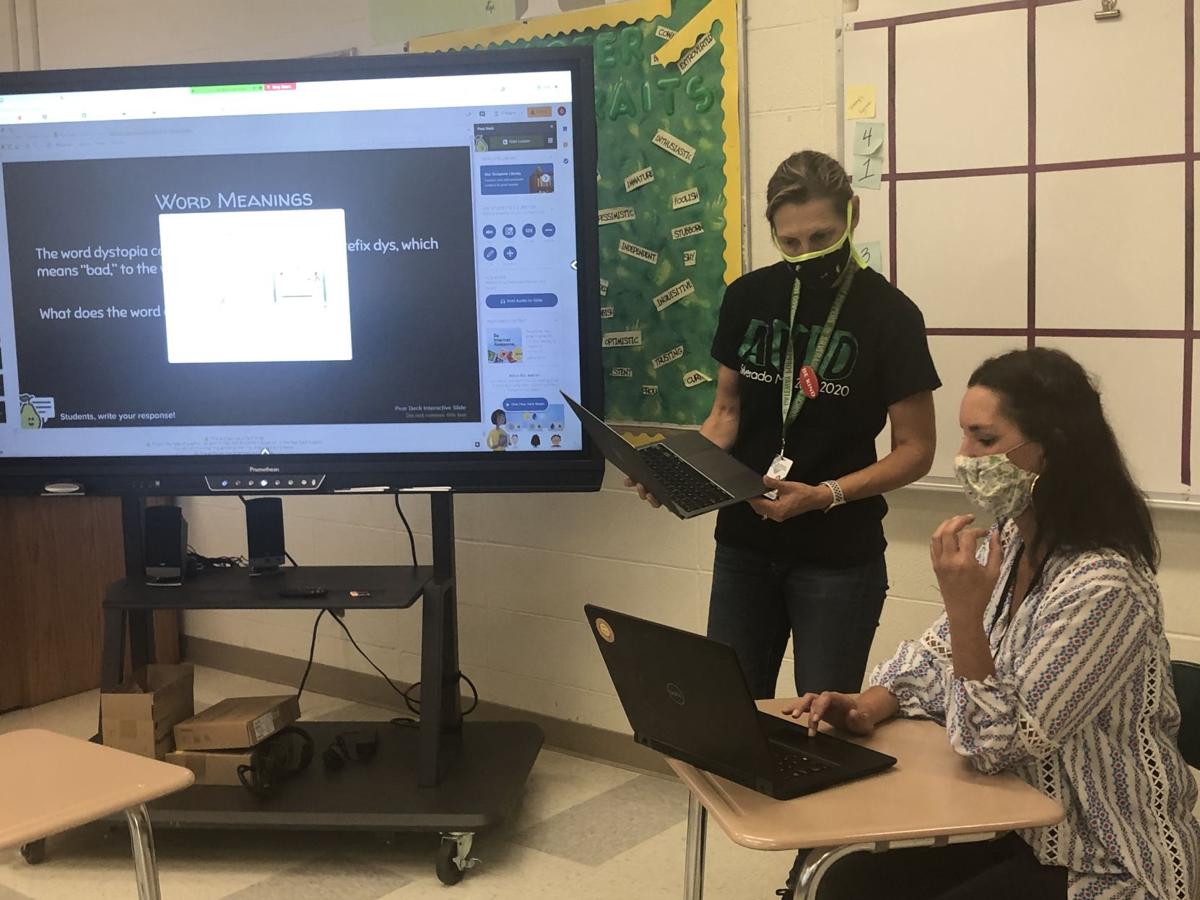 Napa's public school network will soon take a large step toward restoring traditional on-campus teaching, nearly a year after the novel coronavirus abruptly forced thousands of students out of classrooms and into months of online learning.
Beginning March 1, students in the Napa Valley Unified School District's hybrid learning program will have their classroom time increase from two to four half-days per week, the district announced Wednesday. The expansion of in-person teaching is the third phase in NVUSD's emergence from a district-wide shutdown that began in March 2020 with the arrival of COVID-19.
With local infection rates dipping to their lowest level in two months and a host of in-school safeguards in place since the fall, the time has come to provide more in-person learning time to children whose parents are willing, according to Superintendent Rosanna Mucetti.
"We believe that kids learn better in school," she said during an interview Wednesday. "It's going to be the last quarter of the school year, and we want to maximize as much in-person time as we can."
More than three months without a coronavirus infection taking place on school property gave teachers, as well as district leaders, the confidence to move ahead with expanded classroom learning, added Gayle Young, president of the Napa Valley Educators Association, which represents teachers in the district.
"The original idea was that phase two (with twice-weekly classroom sessions that began Oct. 26) would be a try-it-out phase, that we would test the waters to see if we had the right safety procedures in place," she said. "The district and teachers were able to enforce rules on site to make sure that safety procedures were happening. We showed it through lockdown, through the purple status (when infection rates grew in November), that the spread was not happening, that the procedures were working."
NVUSD's fourth and final phase would be a return to a full five-day schedule of in-person teaching, a step dependent on widespread availability of COVID-19 vaccines, but Mucetti called that move unlikely to happen before the academic year ends in June.
While vaccines from Pfizer and Moderna gained federal approval in December and more than 23,000 doses have been given in Napa County, supplies remain tight and have been limited to seniors, health care workers and those living in group homes. On Tuesday, the county's public health director Dr. Karen Relucio announced a temporary halt to first doses of the two-part Pfizer and Moderna vaccines, in order to reserve enough second doses for people already inoculated.
Student groups that have been split into afternoon and morning classes will remain the same, the district said in a news release. Since NVUSD entered the second reopening phase in October, one group of students has attended classes on Monday and Tuesday afternoons while another has attended on Thursday and Friday mornings.
All instruction on Wednesdays will remain online, and families who have kept their children in full-time remote learning – more than two-thirds of the student body of nearly 17,000 in Napa and American Canyon – may continue doing so.
"With this new schedule, NVUSD students who attend in person will have more time engaging with their teachers, allowing for a more consistent, effective, and supervised learning environment," Pat Andry-Jennings, assistant superintendent for instructional services, said in the district's announcement. "Our teachers want to teach, and our students want to learn — and we are eager to increase the opportunity for in-person learning."
District leaders announced an online town-hall meeting at 5:30 p.m. Wednesday, Feb. 10 to answer questions about the expanded live teaching schedule. The session will take place via Zoom, with translation services provided.
NVUSD is announcing the expanded on-campus teaching schedule nearly a month in advance to give staff the chance to review safety measures and adjust to having students present throughout the school day rather than only half of it, and to allow changes to food service, bus transport and other services.
Parents interested in switching children between online and on-campus instruction will receive request form in the coming days, according to NVUSD, which said about 31% of its students currently are enrolled in the hybrid classroom-online program.
Despite various surges in coronavirus infections in Napa County and the nation – including major spikes after the Thanksgiving and Christmas holidays that triggered fresh business shutdowns and curbs –  Mucetti expressed optimism that conditions will continue improving enough to safely educate more students surrounded by their teachers and classmates.
"We have not – and will not – pause on looking to the future," she said in a letter posted to the ParentSquare social media platform on Wednesday. "I remain hopeful that as testing and vaccinations keep moving in the right direction that we can continue to bring more students on campus."
The 23 new COVID-19 infections Napa County reported Wednesday were the lowest one-day total since the first week of December, although the county did report its 58th death connected to the virus.
Since partially reopening campuses in late October, the number of COVID-19 infections among students and staff had ranged between 11 and 26 a week through late November before jumping to 104 during the week of Jan. 11, according to statistics posted on the NVUSD website. That number dropped to 77 new cases for the week of Jan. 18 and 57 last week – well below the 5% positivity rate district officials earlier said could trigger a campus shutdown.
After California saw increases in COVID-19 infections following the Thanksgiving and Christmas holidays, district officials will emphasize pandemic-era safety to school families in the run-up to spring break, which will run from March 29 to April 2 and is the last major recess this academic year.
"We have messaged that behavior outside of school can impact school, that it can impact our ability to open safely," said Mucetti. "We will always remind families of the importance of adhering to safety and travel guidelines the best they can, particularly if their child is an in-person child."
WATCH NOW: TIPS TO SUCCESSFULLY OBTAIN A COVID-19 VACCINE APPOINTMENT
CATCH UP ON THE LATEST NAPA COUNTY CORONAVIRUS NEWS
Catch up on the latest Napa County coronavirus news