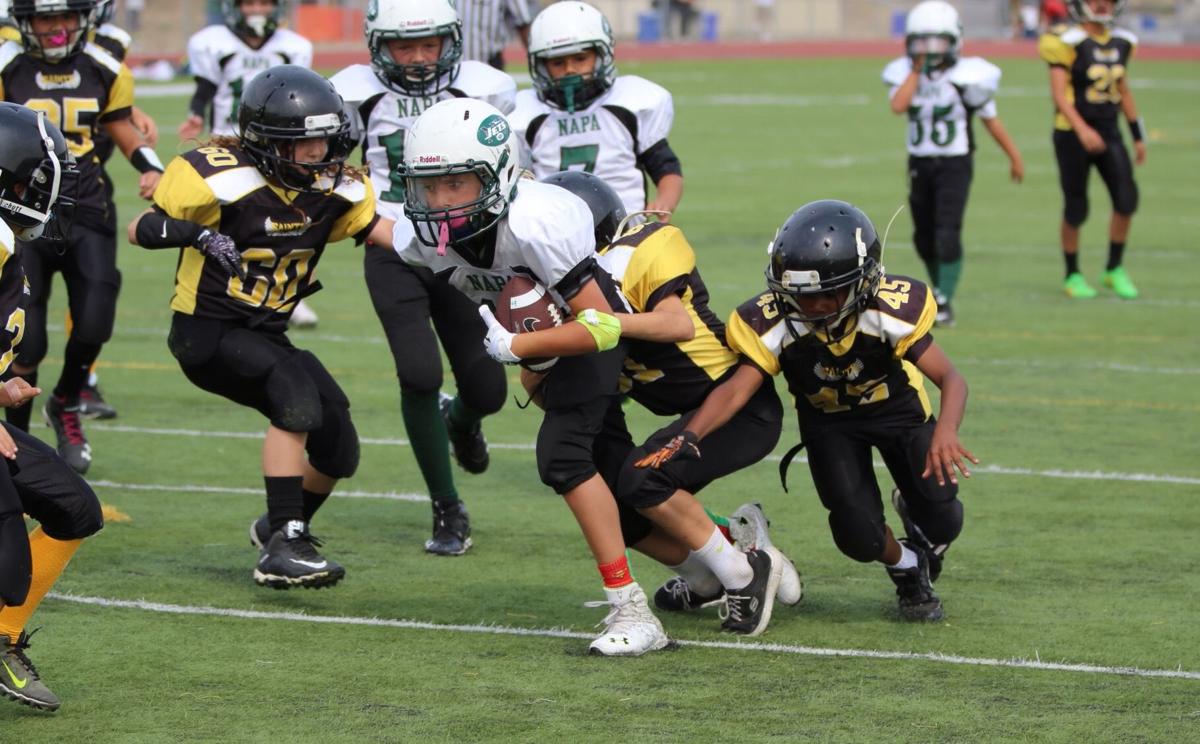 By next summer, something will be new underfoot where local students play.
The Napa Valley Unified School District will begin replacing its first generation of synthetic turf at sporting fields, more than a decade after introducing the all-weather surfaces at various campuses. Four fields – at Napa and Vintage high schools, and the Silverado and American Canyon middle schools – are first in line to receive new synthetic grass in July 2020 or sooner, in time for the 2020-21 academic year.
All four venues scheduled to receive new turf next year were equipped in September 2008 with FieldTurf, which combines grass-like blades with a layer of rubber pellets that hold the blades upright and provide cushioning. Introduced in the mid-1990s, the surface was the first in a new generation of playing surfaces that replaced the harder, thinly padded AstroTurf and similar products that debuted in the 1960s.
FieldTurf fields generally are sold by its manufacturer Tarkett Inc. with an eight-year warranty, which has expired at all four locations, according to NVUSD's facilities director Mike Pearson, who said replacements are needed to restore cushioning and resilience that degrade as the fields age.
"The fibers laying down and not staying up," he said Thursday. "The in-fill isn't sinking down into the fibers; it's time to change the fields.
You have free articles remaining.
The NVUSD's remaining four artificial fields are expected to be swapped out sometime in the next two to four years, although no schedule has been set for those replacements, according to Pearson. Included in that group are NVUSD's two showcase football venues – Memorial Stadium, the shared home field of Napa and Vintage, and the Wolf Den at American Canyon High.
Both fields are the original installations at their respective sites, which opened in 2010 – Memorial Stadium as a replacement for an earlier stadium at the same Napa location, and the Wolf Den as an original part of the American Canyon campus.
Other FieldTurf surfaces due for later replacement are in use at Redwood and Harvest middle schools, dating to 2008 and 2011, respectively.
The scheduling of later field replacements will depend both on the funding available to the school district and on the schedules and needs of users – not only school teams but youth and community groups that play and practice on school property, said Pearson.
"One of my goals is take care of things falling out of warranty," he said. "I don't know when the second phase is but my goal is get them done as soon as they possibly can, because it's time to get them done."
NVUSD will seek pricing information from synthetic-field vendors, including FieldTurf competitors, according to Pearson.
The district's board of education paved the way for the resurfacing projects in June, when it awarded Verde Design Inc. a $108,050 contract to guide the work and request proposals from vendors. Verde Design, a specialist in developing sports fields for schools and colleges, also will prepare project documents to share with the Division of the State Architect, which must approve construction projects at California public schools.