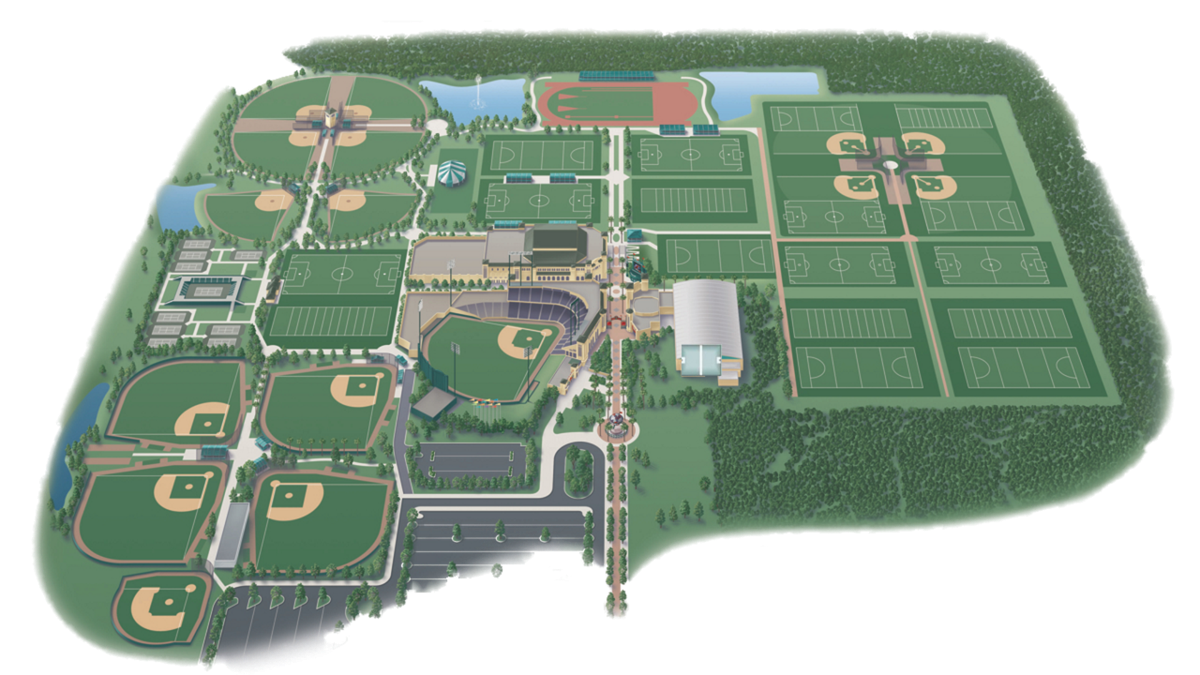 A team of organizers with Napa County ties hope to endow the valley with more sporting venues – as many as two dozen or more in one place.
The proposed North Bay Sports Complex would feature facilities for between 20 and 30 sports spread over some 60 acres, according to Andy Eliopoulos, a St. Helena resident and technology executive leading the project. Among the locations Eliopoulos said his team is considering are several in or near the city of Napa, although the project's website also lists Solano and Sonoma counties as potential venues.
Outreach by the sports complex team has included contact in recent months with Napa Valley College about the potential use of land on the school's main campus off Highway 221, as well as talks with the city Parks and Recreation department about adding facilities to Kennedy Park, according to college and city officials.
A feasibility study for a multisport center is underway and should be completed in about two months, with a goal of selecting a site and building a complex within two years, according to the project's organizers. They also said the center likely would be funded through a public-private partnership. Along the way, planners hope to reach out to local governments and agencies to better target the athletic center's audience, according to Eliopoulos.
"Our ask is twofold: first, a partner-level discussion with community and the city and county; and second, engaging in dialogue with the community to determine what they want and what facilities they want to use," Eliopoulos, a coach of various youth and community sports in Northern California for more than 25 years, said Wednesday.
The final mix of facilities has not been determined, but Eliopoulos said the North Bay center likely would open with fields for soccer, baseball, softball and lacrosse, with the possibility of adding fields for football, disc golf and other sports later.
Providing a showcase for community sports and recreation can be one way to make it more likely that families with children put down roots in Napa County, according to Chris Salese, president of the Napa United youth soccer program, which numbers about 2,000 players. The issue of youth activities will become more critical in the future as Napa confronts rising home prices and declining school enrollment, he said last week.
"The intent is to make it stickier for them to stay in Napa," said Salese. "If (families) can't grow into Napa, that will never happen. If you don't stay here, how can you grow into being a homeowner? If parents don't have anything for their children to do, then what's the point?"
In addition to providing a place for residents to play, the North Bay Sports Complex is meant to attract youth travel teams in various sports, according to its backers, who point to such club-based athletics as a source of revenue through hotel stays and restaurant visits by athletes and their families.
A sports center would place less of a traffic burden on its host city because most of its events would take place outside of weekday commuting hours when local roads are most congested, according to Eliopoulos.
"This is a steady stream of traffic, not a large group coming at any individual time," he said. "During the week there'd be evening programming for local residents. On weekends, games would be spread out through the day for tournaments or leagues, a steady stream of a few cars at a time, not 10,000 or 20,000 people coming all at once."
Parks and trails also are expected to become part of the development to broaden its appeal beyond organized athletics, according to Eliopoulos.
The vision is not just to have sports fields," he said. "The vision is an aggregation point where you have trails, parks, a restaurant and Sunday concerts, where the community will gather and not just for sports, but to have things like July Fourth celebrations with fireworks and food truck Fridays."
Which Napa sites would ultimately become a sports complex' venue remains unclear.
NVC, whose baseball field already hosts the minor-league Napa Silverados, was approached by the sports complex's team this summer, according to Superintendent Ron Kraft.
If the athletic center is built close to campus, NVC "would try to coordinate our efforts so the college could make use of the facilities," but the two-year school likely does not have the land needed to host it, said Kraft, who predicted the college will require 30 to 40 acres for potential future improvements such as student housing and a rail maintenance center for the Napa Valley Wine Train.
Other discussions have involved talks between the sports complex backers and Napa's city parks department, according to the agency's director, John Coates, who said one site proposal includes Kennedy Park – where the city approved a master plan in 2015 that would add more sports fields to Napa's largest recreation space, south of NVC.
"Our current plans are to honor the priorities identified during the development of the master plan," Coates said in an email Friday. "Many of the concepts we have seen in their concept plan are beyond the scope of the Kennedy Park master plan," he wrote, adding that any major changes to the park's planned overhaul would require community meetings and a City Council vote.
Elsewhere in Napa County, the American Canyon City Council on Oct. 2 discussed whether to begin a study into opening a sports complex to boost tourism and economic development, but put the idea on hold to focus on a million-dollar backlog of existing park maintenance needs.