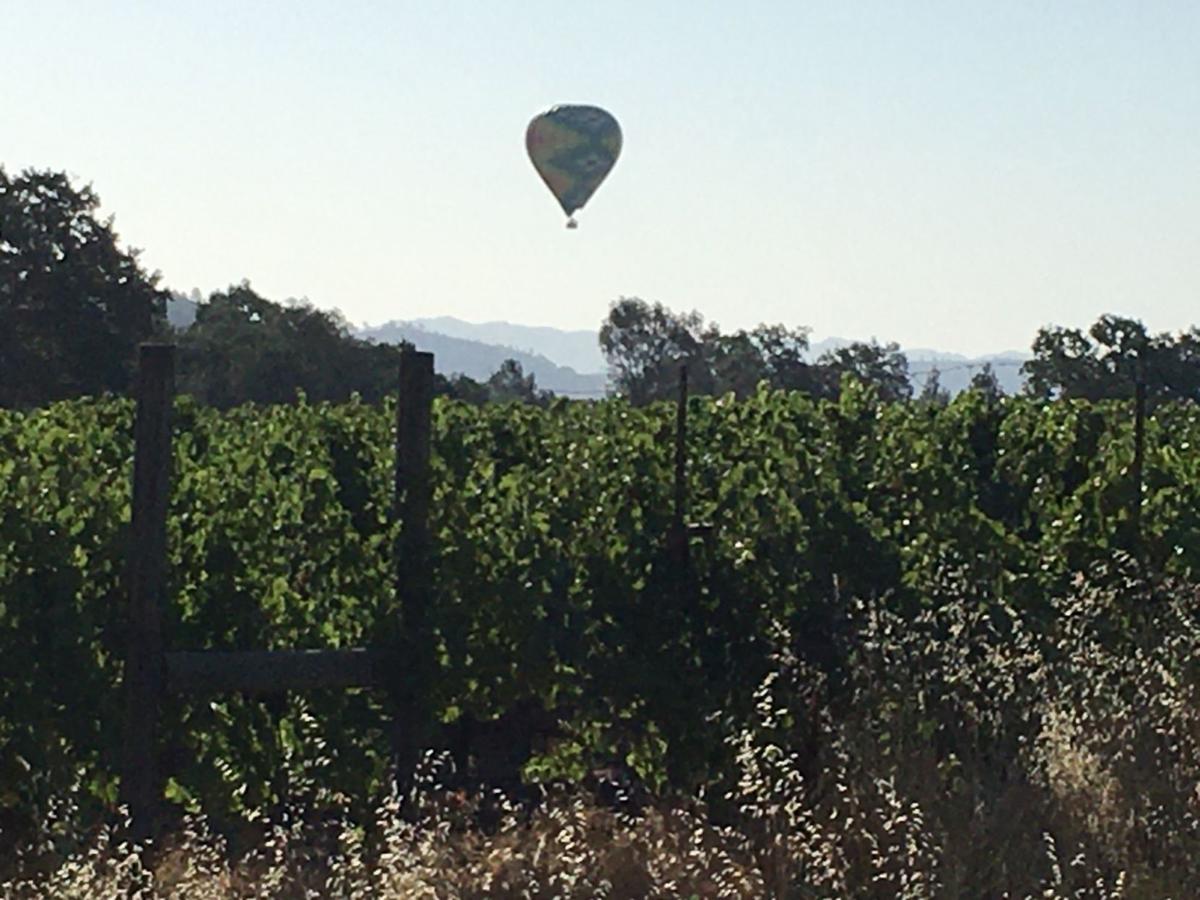 A divided Napa County Board of Supervisors will allow more hot air balloon launches on a wine country property in the agricultural preserve.
Balloons Above the Valley owner Robert Barbarick can already launch up to eight balloons 50 days annually on his land between the city of Napa and Yountville. He sought to launch year-round.
The Board of Supervisors on Tuesday voted 3-2 to allow more launches. But it pared the requested annual launch days from 365 to 225, more in line with what Barbarick expects to actually have happen. A final vote will come at a future meeting.
"This is something that I don't see as disruptive of ag," Board of Supervisors Chairperson Alfredo Pedroza said.
Supervisor Diane Dillon didn't disagree. But she didn't see this as reason enough to allow a permitted but non-agricultural expansion request in the agricultural preserve.
"Launching balloons in and of themselves does not meet the definition of agriculture," Dillon said.
The county Planning Commission last year denied Barbarick's expansion request by a 3-2 vote. A majority of commissioners saw the proposal as commercial use of agricultural land and decided more balloons might disturb rural residents.
Barbarick appealed, leading to Tuesday's Board of Supervisors hearing. Supervisors Ryan Gregory, Belia Ramos and Pedroza voted to overturn the Planning Commission decision. Supervisors Brad Wagenknecht and Dillon disagreed.
"I think the Planning Commission got it wrong," Pedroza said.
Barbarick has run Balloons Above the Valley since 1977. He bought two acres at 5360 Washington St. in 2019 to be a launch area.
Balloon launching allows this property to make an economic contribution, said attorney Scott Greenwood-Meinert on behalf of Balloons Above the Valley. Otherwise, it is just a house with a big backyard.
Lisa Carlile and her husband live less than 1,000 feet from the launch site. The additional launches would create an intensive — "and it is so intensive" — non-agricultural commercial use, she told supervisors.
She envisioned thousands of people annually in low-flying balloons being able to peer into her yard.
Rural resident Morgan Morgan had similar privacy complaints. She said hot air balloons fly low and land where they want, making life miserable for those who live in the flight paths.
"We are not trying to shut down the balloon industry in Napa," Morgan told supervisors. "We are trying to get it under control."
Supervisors also received emails from residents who supported the Balloons Above the Valley request. Some people said they enjoy seeing the brightly colored balloons in the sky.
Linsey Gallagher, CEO of Visit Napa Valley, supported the Balloons Above the Valley expansion request. She called hot air balloons "an iconic and aspirational part of the visitor experience in Napa Valley for more than 40 years."
The tourism industry is being hurt by the pandemic and wildfires. Tourism recovery is imperative to the economic health of the valley, she said.
"It's important to offer a wide variety of attractive activities for tourists, like hot air ballooning, so that visitors stay in our local hotels," Gallagher told supervisors.
Dillon clarified that the issue before the Board of Supervisors wasn't a thumbs up or down on the ballooning industry. She also noted that the vote was over an expansion and doesn't affect the existing Balloons Above the Valley operation or other balloon operations.
Wagenknecht was willing to grant the Balloons Above the Valley expansion request for three to five years, at which point the county could or could not grant a use permit extension based on performance.
That permit sunset wasn't included in the motion that supervisors voted on, so Wagenknecht voted "no." The county will do one-year administrative check-in on whether Balloons of the Valley is complying with conditions of approval.
Ramos called ballooning a "quite unique yet so Napa Valley land use." She saw a connection with agriculture.
"No one is going to get in a balloon to look at buildings," Ramos said. "They are coming and getting in balloons to check out agriculture, to check out our landscapes."
WATCH NOW: NHL COACHES DONS MASKS THIS SEASON
Barry Eberling's memorable 2020 Napa Valley Register stories
Napa Valley Register reporter Barry Eberling share his most memorable stories of 2020.
SEE NAPA'S BEST-LOVED PETS FOR JANUARY