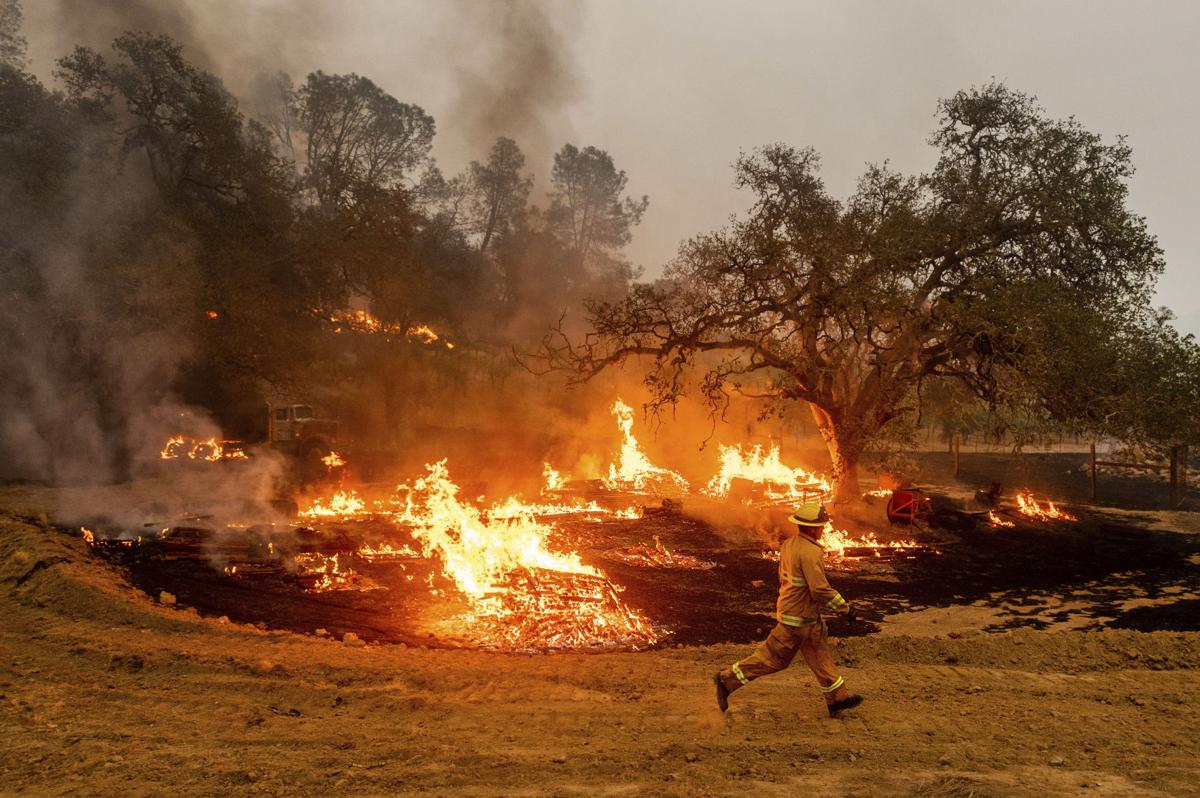 Advocates trying to bring two water-dropping, single-engine planes to Napa County to get a quick jump on fighting wildfires will have their day before the county Board of Supervisors.
Supervisors at their Tuesday meeting said they want the issue of the planes equipped with Fire Boss water systems on a future agenda. The discussion could happen as soon as the April 20 meeting.
"I feel like we are hearing so much that is not documented about this issue," county Supervisor Diane Dillon said. "A lot of allegations about how it will work, how it won't work, how it will be funded, where the money would come from."
Support local news coverage and the people who report it by subscribing to the Napa Valley Register.
Supervisors need a session to talk about the proposal in its entirety, she said. The Board just doesn't have all the facts, she added.
Supervisor Ryan Gregory said he wants county Fire Chief Geoff Belyea to give his position and Cal Fire's position on the Fire Boss proposal.
Vintner Randy Dunn and the Growers/Vintners for Responsible Agriculture have offered to raise $1.5 million to lease two rapid-response, staffed planes to be on standby this fire season. The planes could refill their 800-gallon water tanks from Lake Berryessa and Lake Hennessey.
The goal is to quickly put water on a wildfire and keep it from growing to massive size, such as the Glass and Hennessey fires of 2020 that combined destroyed about 900 structures.
Dunn on Thursday expressed concern that the Board of Supervisors' answer about having the planes might get dragged out, becoming a "no" by default.
"If we were to give them a fire truck, if we were to give them computers for Napa County offices, anything else, they would put on the agenda to have a thank you," he said.
Dunn said he has talked to Cal Fire officials, including Cal Fire Director Thom Porter, about the proposal. Napa County contracts with Cal Fire for fire protection in unincorporated areas.
Adding a new twist to matters, Napa County announced over the weekend that Cal Fire will place a helicopter here this fire season capable of dropping 1,000 gallons of water at a time.
Napa County has 1,700 sources of water that the helicopter can use to refill, Belyea said. That means any fire will be only a couple of minutes' flight from a source.
"Helicopters are not limited to large bodies of water," he said. "They are not restricted by civilian boat traffic on the water that could impede their ability to pick up the water."
The county working with Cal Fire will also have 46 state firefighters who will staff a 24-hour fire crew, county officials said.
Dunn said he is happy to have the helicopter in Napa County this fire season. But the helicopter could be called away from the county for a wildfire in another place.
He still wants the two Fire Boss planes here, filled with water and ready to take off at any time. When there's a fire, assets are short, Dunn said.
Several speakers during Tuesday's Board of Supervisors meeting also asked that the county accept the offer for the Fire Boss planes. They addressed supervisors during public comments.
"These planes can carry 800 gallons per trip. In a matter of an hour, they probably could go anywhere from 9,000 gallons to 14,000 gallons," local farmer Cio Perez said.
Mount Veeder area resident Patricia Damery said she's grateful a group is willing to be so generous as to offer the Fire Boss planes.
"It feels really important, given our terrain, that we have this immediate action that can happen when lightning strikes in a remote area, which a lot of Napa County is," she said.
Angwin resident Mike Hackett supported having the Fire Boss planes. He's had wildfires near his home in the mountains east of St. Helena and has worked with Dunn on the Fire Boss idea.
"The piece of the fire-fighting puzzle that we don't have is an initial response aircraft that can be there at first light and start dumping water over and over and over," Hackett said.
Dauntless Air would provide the crews and airplanes this wildfire season on lease as a pilot program, he said. Dauntless Air is an aerial firefighting company.
"They will be kept here. They will keep everyone safer," he said.
Board of Supervisors Chairperson Alfredo Pedroza on Thursday said he is interested. One thing that needs to be looked at is how the Fire Boss planes would work with existing firefighting resources, he said.
That discussion will come at a future Board of Supervisors meeting.
WATCH NOW: TAKE A TOUR AROUND NAPA'S HISTORIC SPENCER HOUSE, LOCATED AT 705 SEMINARY ST.
Catch up on Napa County's top news stories
SEE PHOTOS OF NAPA'S YOUNG BUILDING