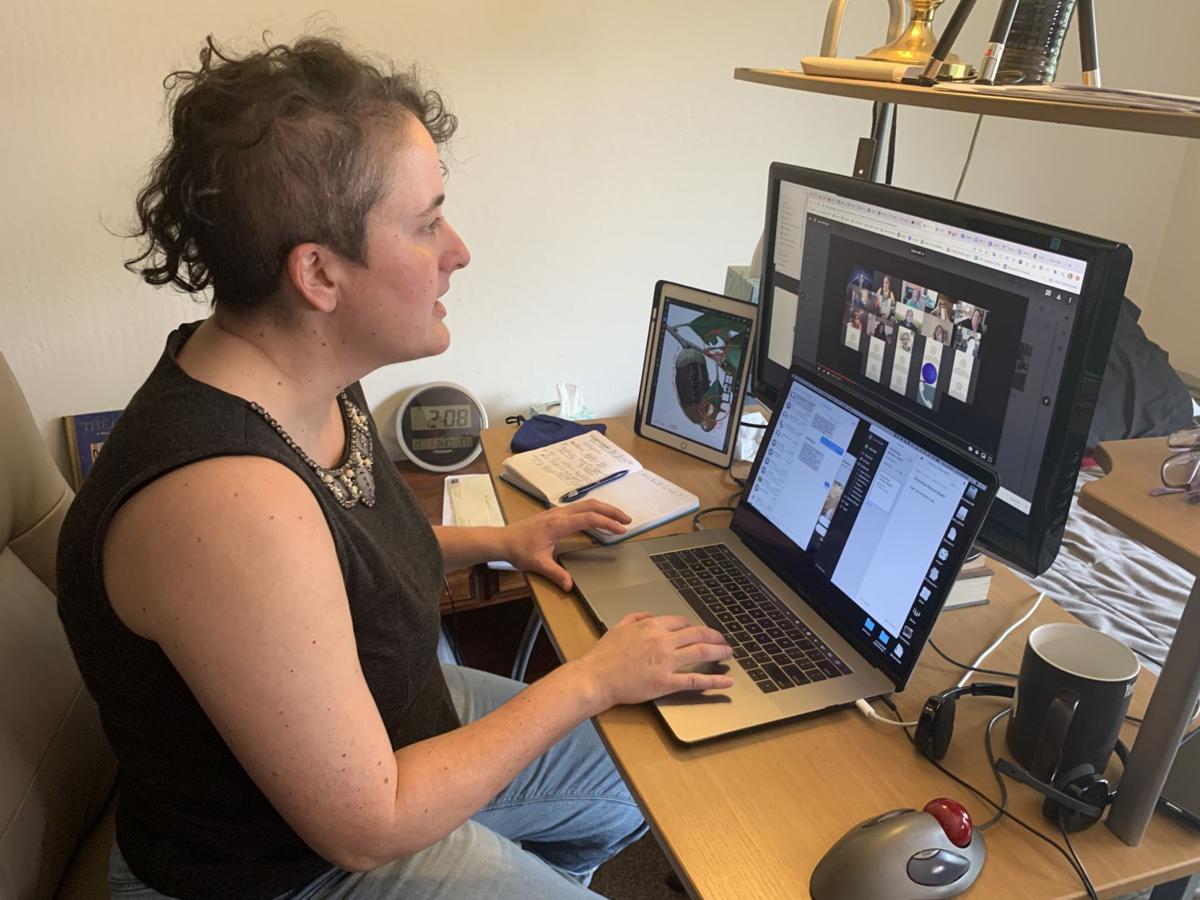 They're citing a lack of student COVID-19 testing and temperature taking, the continued threat of COVID-19 spread and the ability to aptly teach both in-person and via Zoom simultaneously as some of the issues they believe remain to be adequately addressed.
"We want schools to open safely" for in-person learning, said a lengthy "summary of teacher concerns" document written by 15 to 20 local teachers. That summary was recently provided to the Napa Valley Education Association, the union that represents most local teachers, and in turn to Napa Valley Unified School District.
The current plan for hybrid reopening "creates widespread equity and safety issues," the teachers wrote. "This is particularly important for the Latinx community who are at higher risk of COVID-19."
"If a safe opening is not possible," remote learning should continue, wrote the teachers.
"There is a whole spectrum of emotion" around the plan to begin in-person instruction again, acknowledged NVUSD superintendent Rosanna Mucetti.
However, "half of our families want their children back to some in-person instruction and we have an obligation to provide them that," she said.
"Our teachers are doing an excellent job," said Mucetti. "We have a lot of confidence in the organization to be able to open schools safely."
"We want schools to be safe for children and teachers and anyone else," said Gayle Young, president of Napa Valley Education Association, an affiliate of the California Teachers Association union.
The average Napan doesn't understand the pressure and stress that some teachers are under, said Lisa Gottfried, a New Tech High School instructor.
She doesn't want to sound like she's complaining, but, "I feel like I'm ready to give up," admitted Gottfried, who teaches digital design at the high school. "There's a lot of little things the make teaching so difficult right now."
With the distance learning model, teachers not only teach, but they are also now online presenters, Zoom technicians, email correspondents, attendance clerks overseeing a newly expanded recording system and counselors, she said.
The burden "is enough to make anyone cry."
"There are so many balls in the air, I don't know how to sustain that," she said. Moving to a hybrid in-person and remote instruction model "adds more worry," she said.
"How am I going to manage teaching in person while teaching on Zoom?" asked Gottfried. "Why add that to the pile?"
In addition, "I'm really concerned about the disruption to learning" when the district moves to the hybrid in-person/online schedule, said Gottfried. The district began online classes on Aug. 20.
"We're just now getting to a place where kids know how to use online learning, and we're going to change the schedule again. I think it will do more damage than good."
Additionally, not every family in Napa has the ability to choose to continue distance learning for their children, she said. "Some parents have no choice but to send them to school."
She'd rather the school district wait until the start of the next semester in January, after all the fall holidays and its many social gatherings are over.
There are already consequences, said Gottfried. She's only able to teach about half of what she normally does, she said.
"We usually do three projects in semester." These days, "I'll be lucky if I can get one project done in a semester."
And most significantly, "I have a medically fragile husband," she said. "Am I going to get sick?" she worried. What if she then infects her husband?
"I just can't take the risk," said Gottfried. The teacher is so concerned that she's considering taking a leave of absence from her job.
"It kills me that I won't be there for my students if I have to leave of absence," she said. But, she needs to take care of her family.
Alex King is a science teacher at Vintage High School who contributed to the summary of teacher concerns.
He supports reopening for hybrid in-person teaching but wants to see more frequent testing for teachers plus testing of students and contact tracing if needed.
Currently, 25% of the NVUSD workforce is tested for COVID-19 every two weeks, according to Mucetti. There are approximately 2,000 employees, which means about 500 are tested every two weeks.
King doesn't think this is enough. "Staff testing will help protect us some but it won't do anything to stop the spread," he said.
This isn't about only protecting teachers, he said. "We're trying to fight for the entire community, not just to save our own skins."
"More testing can never be a bad thing," said King.
King said he's most afraid that school exposure will lead to parents and other family members getting sick, businesses having to close again, "and we'll have to walk back most of the progress we've made."
Kinnereth Winegarner, a Spanish teacher at New Technology High School, also contributed to the summary of teacher concerns.
She's concerned about the lack of testing students — and the fact that middle and high school students will be mingling during passing periods.
Unlike elementary school kids who primarily stay in one classroom, secondary students have many more points of contact, she noted. For example, during the week each student has six classes and potentially a new "cohort" of kids in each class.
"I'm concerned that they will not wear their masks properly and not wash their hands in between classes," she said.
"Yes, I'm concerned they will potentially be virus spreaders. I see grown adults not wearing their masks" properly, Winegarner said. Getting pre-teens and teenagers to do so will be another challenge.
While families are asked to perform a health assessment each day, schools are not taking temperatures of students upon arrival, she noted.
"It concerns me because in my experience some kids do come to school sick" with diseases including influenza, pink eye and mononucleosis. "Their reason they give me is, 'I don't want to miss class.'"
"I'm also upset that only secondary teachers are being asked to teach in person and (by) Zoom at the same time, without compensation for additional workload," Winegarner wrote in an email.
Winegarner wants her union to continue negotiating for the teachers "without budging on the safety issues for staff and students."
Young said the NVEA represents some 820 teachers at about 27 schools. Naturally, "we don't all think alike" about the school reopening plan said Young. "There are varying opinions on what should take place," but the union's goal is the safety of teachers and the community.
She's heard from teachers who don't want to reopen for in-person learning, but also from others that want to reopen tomorrow. "There are many opinions within the district as to opening timelines," said Young, who is also an NVUSD teacher.
Young knows of teachers who are "very, very concerned about testing of teachers and students."
She also understands that some teachers may be feeling overwhelmed right now. "The idea of going back to school has heightened anxiety for anyone," said Young.
"All of us are working diligently on behalf of our teachers' safety. We're listening. We follow CTA guidance and are working with the district to ensure the safety of our community."
Teachers and staff will be tested for COVID-19 but "testing of the kids is not something the union can force parents to do. It's not our place."
Such a requirement would need to come from the state or county public health department, she said, the same way immunizations are mandated.
Young said there are a number of reasons against waiting to restart in-person learning until after the end of the school holidays in January.
The state has placed Napa County in the Tier 2 "red zone," which allows schools to reopen. After polling its families, the NVUSD knows there are community members and teachers "that want to be back in school and feel it's safe."
"It's important to look at the mental health of our students and their learning abilities and the effect of such a closure," said Young. The distance learning model and COVID-19 pandemic "is taking a large toll on everyone." Not all students are successful in distance learning.
"We need to be teaching as much in person in possible," she said.
As to the teachers' expanded workloads, the union has negotiated some extra prep time for the teachers, said Young.
Mike Willmarth, a math teacher at Redwood Middle School, is also on the board of the NVEA.
"We are doing what we can to address the (teacher) concerns," said Willmarth. "Some of them have already been addressed (and) as we move forward, I think more of those concerns will be met."
Just as the NVUSD cannot insist on COVID-19 testing for students, it also can't implement a plan to take students' temperatures each day, said Willmarth. He suspected that would be a medical privacy or a Health Insurance Portability and Accountability Act (HIPPA) violation.
"We think we have a plan that will open schools safely for all involved both students and adults," said Willmarth.
According to the state guidelines, counties in red can reopen schools, said Mucetti. "We're following the framework set by the state. They're the experts."
The NVUSD cannot require COVID-19 testing, Mucetti repeated. "Would testing students for COVID-19 help mitigate the spread? Absolutely. But that's not a mandate from the state. We have to follow the guidelines (set) by the Napa County Office of Education, the California Department of Public Health and our local county Public Health Department."
Yes, all of the new procedures and arrangements have required a new learning curve, said Mucetti. However, "I have a tremendous amount of faith in the NVUSD workforce."



Watch now: A Napa first day of school like no other
Get local news delivered to your inbox!
Subscribe to our Daily Headlines newsletter.