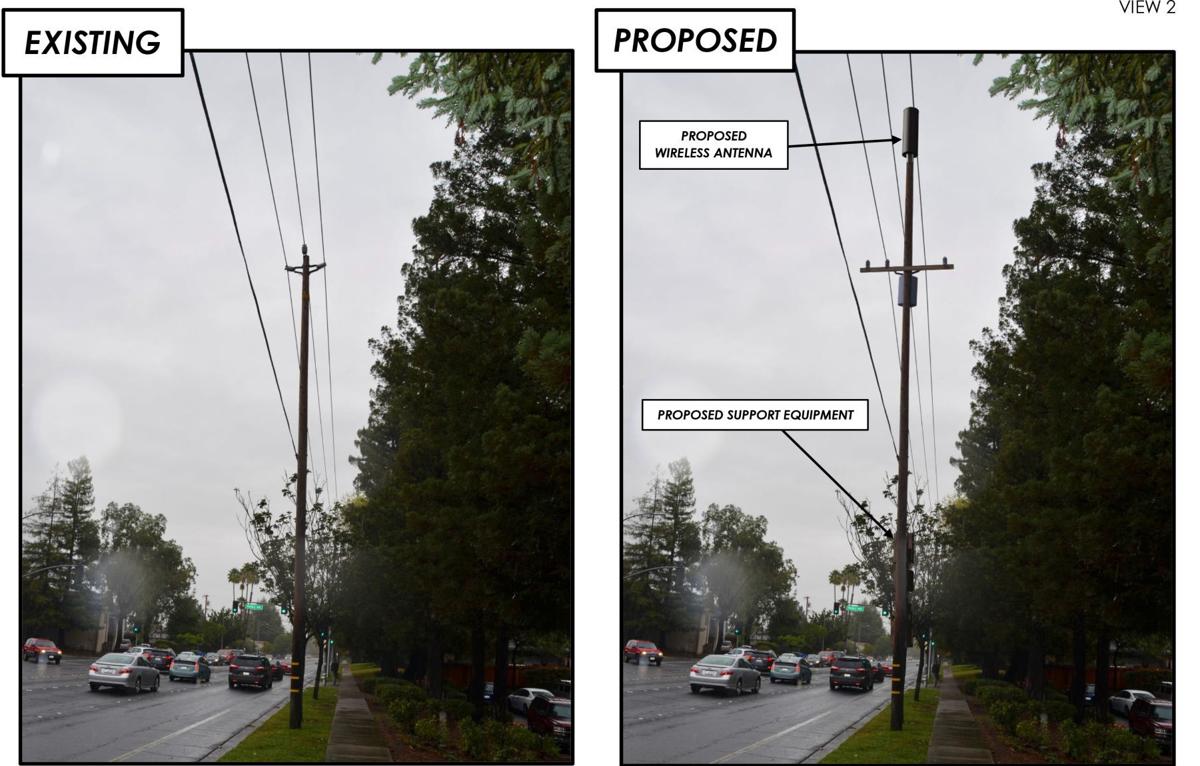 Napa city leaders on Tuesday heard out a group of residents opposed to Verizon Wireless' planned rollout of cellular antennas into their neighborhoods – but replied that federal law puts the matter largely out of their hands.
Any attempt by a local government to completely block a telecommunications carrier from installing new equipment will clash with a 1996 law stopping cities from restricting any equipment that meets federal radio emission standards, officials told opponents who brought their case to the City Council.
The residents, including a half-dozen women wearing yellow "HAZARD" tags asserting a link between radio emissions and cancer, are fighting the installation by Verizon of 24 "small-cell" transmitters, a fraction the size and height of full-strength cell tower, atop utility poles in various neighborhoods.
"This is our community, this is our infrastructure, this is our health and these are our homes," said Old Town resident Marla Tofle, who called on Napa to organize a public forum on cell transmitters.
A 2011 research paper by the United Nations' World Health Organization described electromagnetic fields as a "possible" carcinogen. On the other hand, the American Cancer Society has said radio frequency waves from cell antennas are not powerful enough to break the chemical bonds in DNA molecules, as gamma rays and ultraviolet light do.
Meanwhile, Deputy Public Works Director Eric Whan advised residents that the 1996 Telecommunications Act stops local governments from blocking any federally approved telecom equipment on environmental grounds, or passing any laws with the effect of keeping out wireless service. Napa's options are therefore limited to regulating the zoning of antennas, he said – that is, setting standards for their design and location.
Verizon announced in March its plan to set up small cells in Napa, saying the pole-top antennas – with a typical service range of 1,000 feet compared to the one-mile reach of conventional full-size towers – are needed to bolster reception as the demand for wireless Internet and streaming video and music grows along with the popularity of smartphones and tablet computers.
Despite the primacy of federal law over Napa's, council members expressed a willingness to guide the design and placement of small-cell units to the extent the law allows – by governing their design and placement to make them less intrusive to nearby homeowners.
Fitting even reduced-size antennas gracefully into their surroundings will be a tall task, Whan admitted as the council viewed photos of similar units in other Bay Area towns – and objected to the wires and bulky, blocky radio cabinets strapped to the utility poles at many locations.
While not taking a stand on the small-cell opponents' health claims, Councilmember Jim Krider sympathized with those fearing the new equipment, even if only on esthetic and property-value grounds.
"Looks like a hot mess on the pole, and this is just the tip of the iceberg," he remarked, agreeing with complaints from Napans living in neighborhoods filled with historic homes. "I'm concerned all our poles will have bunches of octopuses on top of them."
Mark Peters, executive vice present of The CBR Group Inc. wireless development firm that is partnering with Verizon, told council members the carrier can move some small cells up to 500 feet from their original locations depending on the presence of nearby homes. "If we can site a facility to where it causes no (neighbor) issues, we do that," he said, although he added not all utility poles can provide signals of equal range.
Limited though Napa's powers might be, council members said they would try to exercise them as best they could.
"I want to push to do this well; I don't want to just give in and accept ugly," said Peter Mott. "I'm not ready to give in on this just yet."
"Rather than buck rules we can't buck," added Mayor Jill Techel, "we're trying to accommodate our residents to reach a solution."
Get local news delivered to your inbox!
Subscribe to our Daily Headlines newsletter.