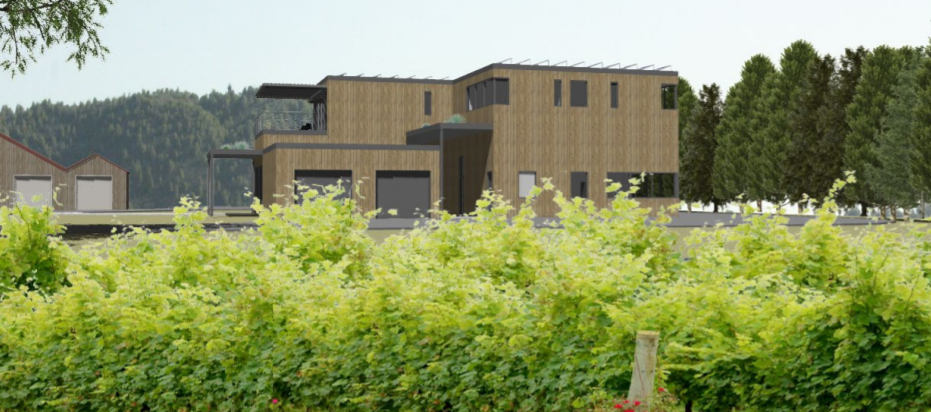 Drivers turning from Trancas Street north onto Silverado Trail will, if all goes as planned, in coming years see a new Alta Napa Valley Vineyards winery.
The Napa County Planning Commission last week approved a use permit for the project. The winery is to be located between Silverado Trail and the Napa River, replacing two homes and a carport.
"We're very conscious this will be the first winery people see coming up on Silverado Trail," said attorney Joshua Devore on behalf of the applicants. "Right now, you see kind of a dilapidated, old house behind the vineyards."
A nice, new winery will be a great improvement, he said.
Fred and Nina Oliai plan on building a 10,000-gallon-a-year winery with their house on the second floor. The 28-foot-tall building is to be in modern industrial style. Landscaping will screen the view from Silverado Trail from some angles.
Fred Oliai said he started a small wine label in 2009 and has been making wine ever since.
"We're planning on building our future home and the winery below for myself and Nina to work in," Fred Oliai told commissioners.
That is fine with the Planning Commission.
"I really like the idea of a residence and winery in a combined building .... It lessens the impact overall on the parcel," Planning Commissioner Joelle Gallagher said.
The proposal avoided some of the controversies that can lead to long Planning Commission debates. The winery is near major roads to bring the allowable 3,740 annual visitors. A majority of grapes will come from the adjacent 15-acre vineyard.
But the project needed a variance, which is an exception to county rules. Napa County requires wineries to be at least 600 feet from Silverado Trail to avoid creating a corridor of road-fronting wineries. Alta Napa Valley will be 114 feet away.
The reason is to avoid flooding. Only the northeast corner of the property, where the winery is to be built, is outside the Napa River floodway, though it is in the Hardman Creek 100-year flood hazard zone.
Commission chairman Dave Whitmer said a variance makes sense, given the environmental disruption and additional expense associated with building in the floodway. Exceptions allow properties to have a commercial use amid various constraints.
Commissioner Anne Cottrell said building in the Napa River floodway would mean doing fill and trenching along the Napa River, something she was happy to avoid.
Alta Napa Valley winery is to be located on 23 acres at 2125 Silverado Trail, a third-of-a-mile north of Trancas Street. The Planning Commission approved the project in about half-an-hour.
"Definitely one of the more simple ones we've seen," Commissioner Andrew Mazotti said.
Get local news delivered to your inbox!
Subscribe to our Daily Headlines newsletter.