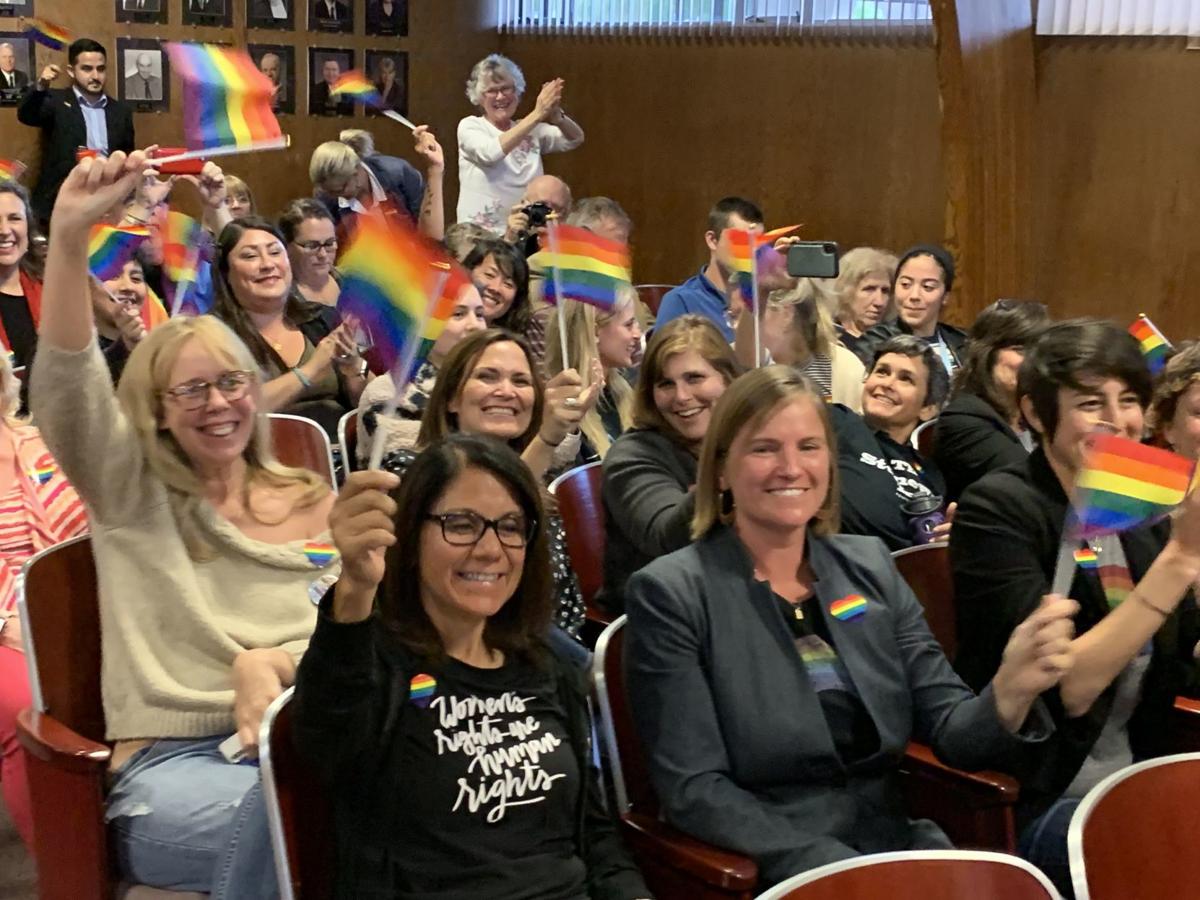 When Napa's LGBTQ community celebrates its presence in June, the rainbow banner that is their symbol will fly in front of City Hall.
Throughout next month, the multicolored flag that has symbolized the gay-rights movement for more than 40 years will be raised outside the seat of city government, after the City Council approved the gesture Tuesday night to the raucous cheers of a flag-waving, near-capacity audience. Council members also voted to formally recognize June as a pride month honoring Napa's lesbian, gay, bisexual, transgender and queer residents and visitors.
City staff plan to raise the rainbow-stripe banner on the School Street flagpole on June 1, according to Councilmember Liz Alessio. The rainbow symbol's monthlong display will cover pride ceremonies scheduled in Napa and worldwide, as well as the 50th anniversary of the 1969 Stonewall Inn uprising in New York City that is credited with launching the modern battle for the rights of LGBTQ people.
The decision moved LGBTQ Napans in attendance to words of heartfelt, often emotional gratitude. "It's so amazing to see the Napa community here, standing strong," Daisy Zamora, a Napa High School student and a youth leadership team member for the LGBTQ Connection support agency, told the council before its 4-1 vote to display the rainbow standard.
"There is a big fear every time I have to come out, and I don't (always) know if it's safe to come out or not," said Zamora in a council chamber heavily dotted with miniature rainbow flags and heart-shaped stickers among the spectators. "Raising the flag is that big step that shows I'm here, that Napa has my back, that I'm safe and wanted here."
The move to win Napa's official recognition of its gay community took shape over the course of a month, organizers said earlier this week. Advocates for flying the rainbow flag made their case at the council's May 7 meeting, and the city scheduled its decision for its next meeting just two weeks later.
"Visibility and safety are linked," said Anne Sutkowi-Hemstreet, a LGBTQ mother of two and contracts manager for First 5 Napa County. "Some choose to be invisible for fear of being harassed or assaulted, and yet visibility is what has shifted attitudes in our city, our state and our country. This tells my family, my kids, LGBTQ teens and elders that we are visible to you."
After considering various placements of the rainbow standard outside, on the side of or inside the City Hall building – balancing visibility with protection against vandals – staff members settled on placing the banner on the same pole facing School Street that carries the U.S. and California flags, said City Manager Steve Potter.
Among more than 20 people who addressed the council, several shared stories about how the long-running campaign for LGBTQ rights had touched their lives and those of relatives and friends. Peg Maddocks, executive director of Napa Learns, spoke of a transgender brother and daughter; Earle Craigie told the council of a lesbian sister discharged from the military before the lifting of a ban on gay people serving in the armed forces.
"When we meet someone new, we have a split second to decide if we can be our full selves or if we have to watch our backs," said Ian Stanley Posadas, who came out as gay 14 years ago and now directs LGBTQ Connection in Napa. And despite the social strides in Napa and the nation – culminating in the 2015 U.S. Supreme Court decision legalizing same-sex marriage – the fact that city staff had to weigh the possibility of vandals attacking a rainbow flag shows the battles still to be waged against bigotry and discrimination, he said.
"If you're worried about someone tearing down the flag," he asked the council, "what about someone tearing on people here?"
The council's sole dissenting vote against a City Hall display was cast by Doris Gentry, who while praising Napa's LGBTQ citizens questioned whether the city has developed an "equitable" way to decide what non-governmental flags should be displayed at headquarters.
"What will our policy be for other groups to fly other flags?" she asked. "Do we fly a Democratic flag or a Republican flag? Planned Parenthood? Pro-life? Gun rights? No flag represents every person, except the flag of the United States of America. Any (other) flag will have some people who love it and some people who don't."
Councilmember Scott Sedgley's reply was succinct. "The policy to me is, we wouldn't fly anything that was divisive or (stoked) hatred – we just wouldn't do it!" he said, drawing spectators' laughs and applause. Minutes later, he voted in favor of the flag display, and the recognition of June as a pride month, joining Alessio, Mary Luros and Mayor Jill Techel.
The rapid advance from residents' petitions to a council decision in a few weeks was a contrast with a previous effort to fly the LGBTQ colors at the heart of city government.
In 2013, more than 1,000 people joined an online petition urging the raising of the gay-pride flag at City Hall. Council members did not vote on the flag raising proposal, but instead teamed with local merchants to declare a 10-day Pride Week during which rainbow banners were hung from downtown lampposts.
Napa's support for the local gay community in June may be echoed by the public school system later this week. On Thursday, the Napa Valley Unified School District board is scheduled to vote on recognizing a LGBTQ+ Pride Month to commemorate the contributions of people from sexual minorities.
Get local news delivered to your inbox!
Subscribe to our Daily Headlines newsletter.