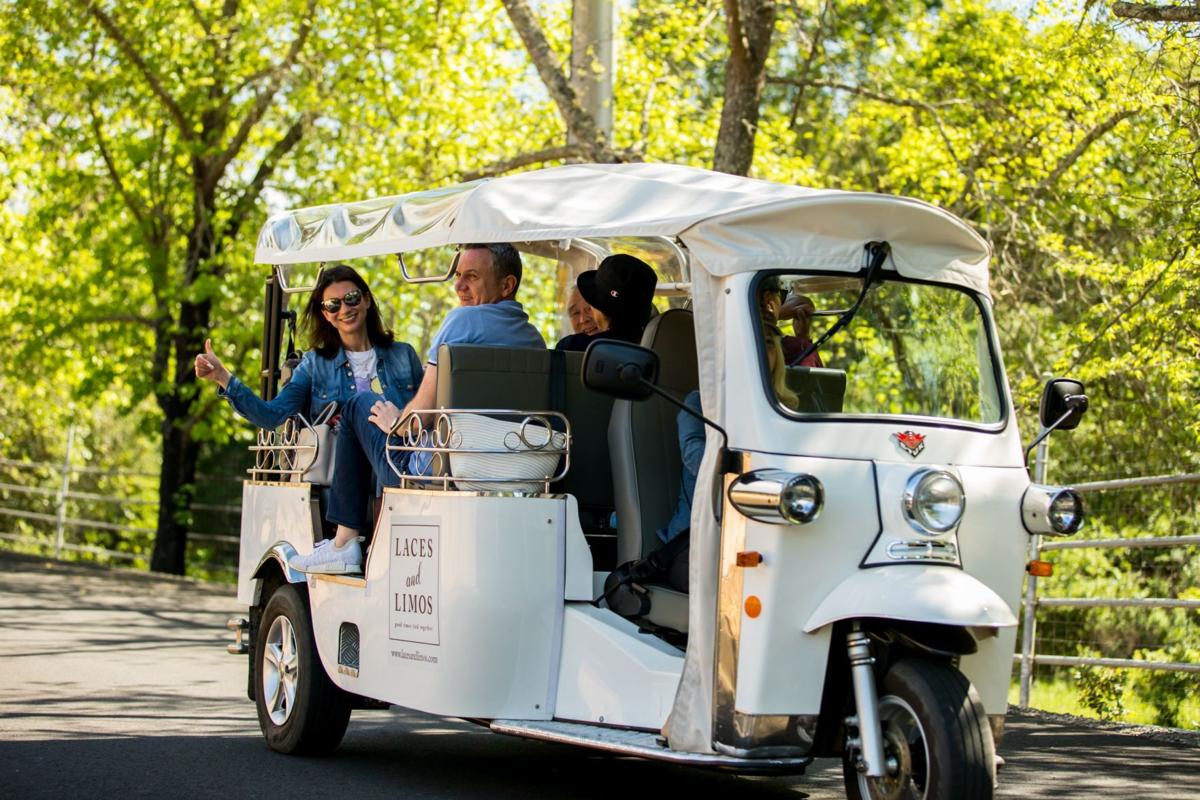 With vaccination rates rising and California dropping most COVID-19 restrictions in June, the Napa tourism industry is seeing a boom in business. But business operations haven't yet returned to a pre-pandemic normal and pandemic-related impacts linger, including high prices, a labor shortage, and the limited availability of rental cars.
Janette Maack, a senior manager of Visit Napa Valley, said in an email the local tourism industry is well positioned for a recovery considering much of what Napa tourism offers is rural and outdoor-focused — desirable qualities for travelers who've been stuck inside for much of the past year, or for those wary of COVID-19.
Support local news coverage and the people who report it by subscribing to the Napa Valley Register. Special offer: $1 for your first 3 months!
Maack added that Visit Napa Valley has heard from visitors that various local transportation companies in Napa have been a more affordable and available option than rental cars.  Even so, weekend occupancy rates for tourism have been reaching 85% to 90% in the county, she wrote. And, according to representatives from several of those transportation companies, interest from visitors has been consistently reaching beyond their capacity.
"We are hearing anecdotally that wineries are filling up on the weekends, and Visit Napa Valley is doing a push to remind visitors to plan ahead, make reservations, and consider visiting those smaller, off-the-beaten-path wineries and restaurants," Maack said in the email.
The shortage of rental cars this year is largely because major rental car companies, such as Avis and Hertz, sold off much of their fleets last year to save money when pandemic restrictions were imposed and travel essentially halted. Demand for rental cars has surged this year as pandemic restrictions faded, but replacing the vehicles has been a sluggish process for the car rental companies because of a global computer chip shortage.
Some local travel company representatives said they're happy to see the demand for business come back after a year of financial loss. Chel Helms, owner of Laces and Limos, a Napa-based transportation company that offers electric tuk tuk tours to Napa wineries and tasting rooms, said in an interview that the company had been almost booked through July. She added that she feels tourists have been reinvigorated with the pandemic restrictions falling away, and that they seem to have more interest in travel as a sort of immersive adventure experience.
"Our concept has always been outdoor-focused," Helms said. "We have seen an unbelievable increase for the demand of the concept starting with the reopening."
Helms also said the rental car shortage might have complemented the success of her business because that visitor interest in exploring travel options beyond picking up a rental car at an airport may have increased.
Tab Borge, owner of the Classic Convertible Wine Tours, said his company — which offers cars and tours that he said typically cost twice the hourly amount of other vehicles — has also seen a boom in business as COVID-19 infection rates dropped.
Other travel representatives also said demand seemed to be surging back, and they noted the various ways their companies haven't been able to operate at pre-pandemic capacity. Omar Steyteyieh, vice president of Napa Valley Wine County Tours, described the tourism situation as "very hopeful," and said it's clear just from looking at visitor's faces that the sense of normalcy that arrived after most restrictions were lifted has brought people a lot of happiness.
But his company and other areas of the tourism industry are dealing with understaffing amid a flood of demand, he said. And the cost of holding a tour has greatly risen for a variety of reasons, he added, including that concierges need to take time to book wineries and wine tasting costs have generally risen.
Steyteyieh added that though it's a little bittersweet to be understaffed when there's a burst in demand, the demand itself is still a positive sign.
"You can definitely see the positive sentiment," Steyteyieh said.
"With clients, drivers and us here in the office — you can see the communal energy moving toward a more positive direction."
Mark Leonardi, general manager of the Napa Valley Wine Trolley, said the trolley is seeing an amazing amount of business and has had to turn some people away pretty much every day. Both his company and many of the wineries the trolley visits need and are trying to hire more people, he said.
Leonardi added that he thinks the current situation with tourism in Napa has created a bottleneck because the tourism companies aren't currently able to handle the demand.
"The floodgates have opened, if you will," Leonardi said. "The pressure is building at the point of entry because we really can't accommodate all of the water."
"The biggest concern that we have is the fact that we really want to accommodate everyone we possibly can," Leonardi added. "We all need to sort of help refill the debt that was created, the lack of revenue that was created here beforehand. We all really want to share in this newfound excitement to come to Napa Valley."
You can reach Edward Booth at (707) 256-2213.