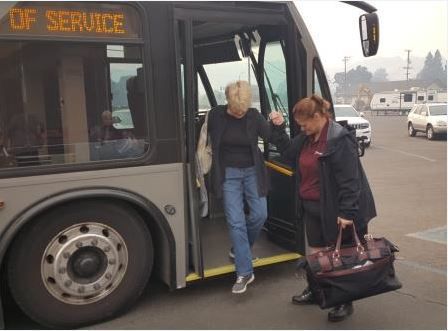 VINE Transit bus drivers had a role to play during the Atlas, Tubbs and Nuns wildfires.
The Napa Valley Transportation Authority recently honored them for their work. The NVTA uses the firm Transdev to run the VINE buses.
Early on Oct. 9 – shortly after the fires broke out – the Napa County Emergency Operations Center requested buses go to the Silverado area to help with evacuations. As it turned out, the two buses weren't needed for transport. At 2 a.m., the buses were diverted to the Queen of The Valley Medical Center to be on standby.
On Oct. 10, buses went to the Veterans Home of California at Yountville to help with evacuations there. On Oct. 11, buses helped with the evacuation of Calistoga, an NVTA press release said.
Shelly Moe is a dispatch supervisor for Transdev. She evacuated her Monticello Road home because of the Atlas Fire at about the same time she was asked to come to work. She became an evacuee helping evacuees.
"I didn't have time to grab anything," she said in the press release.
NVTA Executive Director Kate Miller said most people don't think of transit operators as first responders during disasters. But, she added, it's hard to argue otherwise in the case of VINE drivers, dispatchers and supervisors who worked during the October firestorms.
The NVTA Board of Directors on Nov. 15 held a brief ceremony for the Transdev workers.
Get local news delivered to your inbox!
Subscribe to our Daily Headlines newsletter.