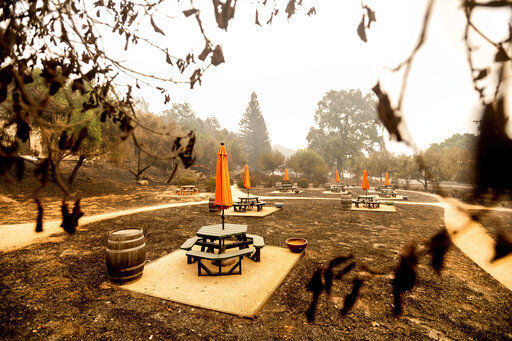 Experts may not fully understand the economic impact of the Glass Fire until long after the flames and smoke have subsided, but members of Napa Valley's hospitality industry say they're already feeling the sting.
The many challenges businesses in hospitality have faced this year so far – coronavirus shutdowns, twin heat spikes, wildfires and the subsequent waves of poor and even hazardous air quality – could make the true cause of dips in visitation hard to discern. Napa Valley is dealing with "layers of crisis," according to Linsey Gallagher, president and CEO of the tourism advocacy group Visit Napa Valley.
Even so, data suggests tourism in Napa over the summer had begun a slow recovery from the initial impacts of the coronavirus. Restaurants reopened for outdoor dining in late May; wineries followed shortly thereafter, inviting 'drive-in' tourism from the greater Bay Area as well as visitors from elsewhere in the state and country. In the weeks before wildfire season began, hotel occupancy reached as high as 50% in Napa Valley, according to data from Visit Napa Valley, up from a record low of 12% after the pandemic hit.
But the trajectory of the Glass Fire suggests it will dampen the valley's stunted economic recovery in a way that August's LNU Lightning Complex Fires did not. While those fires burned more acreage than the Glass Fire, the regional wine industry was spared the brunt of the damage, dealing mostly with intermittently poor air quality. The Glass Fire physically impacted tourism infrastructure, according to Gallagher, including an estimated 20 wineries destroyed or damaged by flames.
"It's pretty unfathomable to have this situation on top of (the pandemic)," Gallagher said.
The evacuation orders cast by the Glass Fire fell over almost the entirety of the Upvalley – almost everything north of Rutherford, a region home to many of the valley's most trafficked wineries and hotels, according to Gallagher.
Wineries are the driving force behind the valley's tourism economy, according to Inn St. Helena innkeeper Petrice Viera. So long as they remain open for tastings, she said, the inn sees tourist traffic; when they're closed, business drops off. A few days into the fires the inn itself, along with the rest of the city of St. Helena, was placed under an evacuation warning. Viera didn't even have to do guest outreach; all of the inn's reservations had already canceled.
In Rutherford, the luxury resort Auberge du Soleil will reopen Oct. 9 after 11 days of closure, according to Managing Director Bradley Reynolds. Guests scheduled to stay during that time were offered a refund or the chance to reschedule, he said in a written statement. More impactful, he wrote, has been the uncertainty around fire conditions, which has made some future guests unsure about their stays. About half of the resort's guests for this weekend have canceled, he added.
The concentration of evacuation orders upvalley drove much of the remaining tourism into southern portions of Napa County, Gallagher said, adding she'd heard from wineries swarmed by guests whose reservations had been canceled elsewhere. But for Matthiasson Wines, located on the western outskirts of the city of Napa, far from the evacuations, it was smoke from the fires – not the threat of the flames themselves – that have done the most damage.
"We have not been able to do outdoor tastings," co-owner Jill Klein Matthiasson said. A combination of heat waves, poor air quality and an inability to host indoor tastings because of COVID regulations have "really impacted" tasting capacity.
Matthiasson has received a slew of cancellations even through this coming weekend, she said, the result of guests who are "still a little nervous" about coming to Napa despite improved air quality and heightened containment of the Glass Fire.
Napa braced for similar impact following destructive wildfires in 2017, because "the perception was that Napa had burned – that there was nothing left," according to Gallagher, who was running California Wine Institute's export program at the time.
Seventy-one percent of respondents to an economic impact study of the 2017 wildfires conducted by Sonoma State University reported "an immediate drop" in tasting room sales compared to the same period in 2016. The industry began to recover some of its losses that November, according to an SSU press release, which expressed optimism the local economy would "recover with no negative long-term effects."
"The recovery ramp for fires has historically been pretty short for us, but what we're still trying to figure out is how the coronavirus component fits in, and how the data could play out," Gallagher said.
This especially destructive fire season has served as a sort of litmus test for the North Bay, according to Gallagher, who said her organization had spent much of the last two years hoping the fires in 2017 would be more of an "isolated incident" – the result of "dry season, not fire season."
"We have seen at the statewide level that we can no longer dance around that messaging, that there is a season of high susceptibility to fire," Gallagher said. Having accepted that, the organization may urge "visitation more evenly distributed throughout the year" instead of so heavily concentrated at harvest time, which has over the last half-decade coincided with fire season.
"We cannot have 25% of (total annual) hotel stays in October knowing that we could have risk of a fire event," Gallagher said.
Had upvalley hotels been as full as they surely would have been without the pandemic, mass displacement of tourists could have posed a serious problem, she said. And lower occupancy in the southern portions of Napa County meant hotels there were able to welcome evacuees without asking guests and visitors to stay away. In the long-term, Visit Napa Valley will look for opportunities to encourage that year-round visitation, she said.
For Viera, at Inn St. Helena, it was the short-term that loomed large. The wildfires had been "heartbreaking," she said, knowing the inn's owners were doing what they could to keep the business afloat. Conscious of the heavy burden they were carrying, she'd offered to work reduced hours.
"I feel like I'm one fire away from being without a job," she said. "It's like we're just waiting for the locusts to come next."



Watch Next: Aerial video reveals scorched landscape from Glass Fire