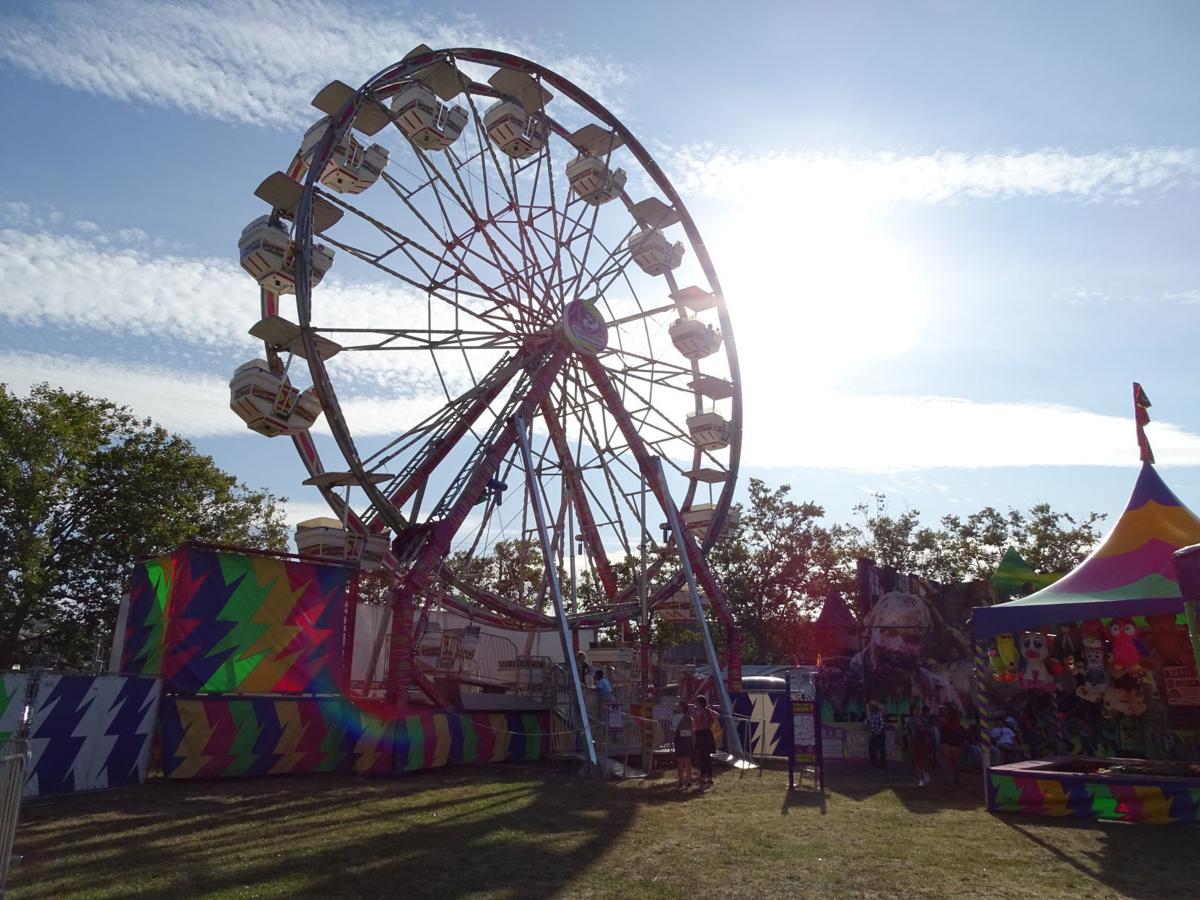 Updated at 1:10 p.m. — The Napa Town & Country Fair will not come to the Expo in August, but operators of the downtown fairground promise to mount this year's Junior Livestock Auction, even if it must move online.
Directors of the Napa Valley Expo voted Tuesday morning to cancel the long-running medley of carnival rides, midway games and music concerts, heeding the advice of Napa County's health department to avoid mass gatherings that could intensify the spread of the novel coronavirus.
"I love the fair; it's not something I want to see go away," said Joe Anderson, CEO of the state-owned Expo. "Unfortunately in the situation we're in, it's necessary."
This year's cancellation of the fair, which was to run Aug. 12-16, is believed to be the first in the event's history.
"While the cancellation of this year's Napa Town & Country Fair is disappointing and unfortunate on many levels, our primary concern is the health and safety of our community, staff, vendors, exhibitors and patrons," board president John Dunbar said in a statement published by the fair authority 20 minutes after the meeting, which was conducted by videoconference due to California's shelter-at-home order during the coronavirus emergency.
The board's unanimous 7-0 decision followed a letter from Dr. Karen Relucio, the county public health director, advising against staging a fair or any other large-scale gathering until Napa County reaches the fourth and final stage of COVID-19 recovery, which requires the creation of a vaccine to prevent the disease.
"Due to the fast-approaching date of your event and the high number of guests estimated to attend the event, and the highly contagious nature of the disease, the Town & Country Fair scheduled for Aug.12-16 should be cancelled per the stay-at-home order issued by the Governor," Public Health Director Dr. Karen Relucio wrote the Expo in a latter dated May 8.
More than 43,000 people attended the 2019 Town & Country Fair over its five-day run.
Several county fairs already have been canceled across California, and even if Napa County sees a decline in COVID-19 cases over the summer, traveling food vendors and carnival companies may not find it worthwhile to spend money to travel to the fairs that do remain, according to Anderson.
Recalling a recent conversation with one carnival operator, Anderson said: "I asked him, what if something changed here tomorrow and we could have a fair? The operator said 'Truthfully, I couldn't tell you if we could be there. It would take you and four or five other fairs like yours to make it worth our while to pull our carnival out and put our show on the road.'"
Despite the shelving of the Napa fair, board members committed to preserving the Junior Livestock Auction. Anderson said the Expo will look into whether a live auction can be conducted in some form, but added the authority will decide by July 1 whether to switch to an online auction this year.
Expo staff will look into the logistics of staging a livestock show on the Third Street fairground, and also investigate what software packages are available to host a virtual auction. For this year's event only, animals will likely be priced by the head rather than by weight, although contestants will be asked to provide estimated weights for their entries for classification purposes, said Anderson.
"There are so many people in county that are so supportive of this, board member Devonna Smith said of the livestock show. "Whatever we decide to do, I'm already working on getting sponsorships. We have to make the best of the situation we're in, and do our best by the kids. We are going to make something happen for these kids, come hell or high water."
The cancellation of this year's fair intensifies the loss of revenue the Expo has suffered since Gov. Gavin Newsom's March 20 order shutting down all public gatherings and requiring residents to stay home except to buy necessities or work at certain essential jobs.
Although Napa and other counties have begun moving into a second stage of recovering, allowing some businesses to reopen, state officials have set no timeline for allowing events that draw thousands of spectators – including sporting events and concerts in addition to county fairs – thus stripping the Expo of nearly all its expected revenue over the past two months.
"Our best guess is all the events that are scheduled for this year won't be happening," Anderson told the fair board.
The biggest potential loss is the $850,000 annual payment from Latitude 38 Entertainment, producer of the three-day BottleRock music festival that draws about 120,000 spectators to Napa. Organizers have not formally canceled BottleRock, which earlier was postponed to Oct. 2-4 from its original late-May date.
Without taking any emergency measures, the Expo would run out of money and be forced to suspend operations by the middle of August, Anderson said earlier in the meeting.
Board members agreed to ask the California Fair Services Authority for a one-year deferment of payments, starting in June, on a $500,000 loan the Expo took out for fairground repairs after the 2014 earthquake. If accepted by the state, the repayment deadline would be pushed back a year to Oct. 1, 2022.
Anderson also announced he and Carole Sanders, an Expo business assistant, plan to retire after June and then serve the agency as part-time consultants working about one day a week, a step expected to create further cost savings.
Editor's Note: Because of the health implications of the COVID-19 virus, this article is being made available free to all online readers. If you'd like to join us in supporting the mission of local journalism, please visit napavalleyregister.com/members/join/.
Concerned about COVID-19?
Sign up now to get the most recent coronavirus headlines and other important local and national news sent to your email inbox daily.