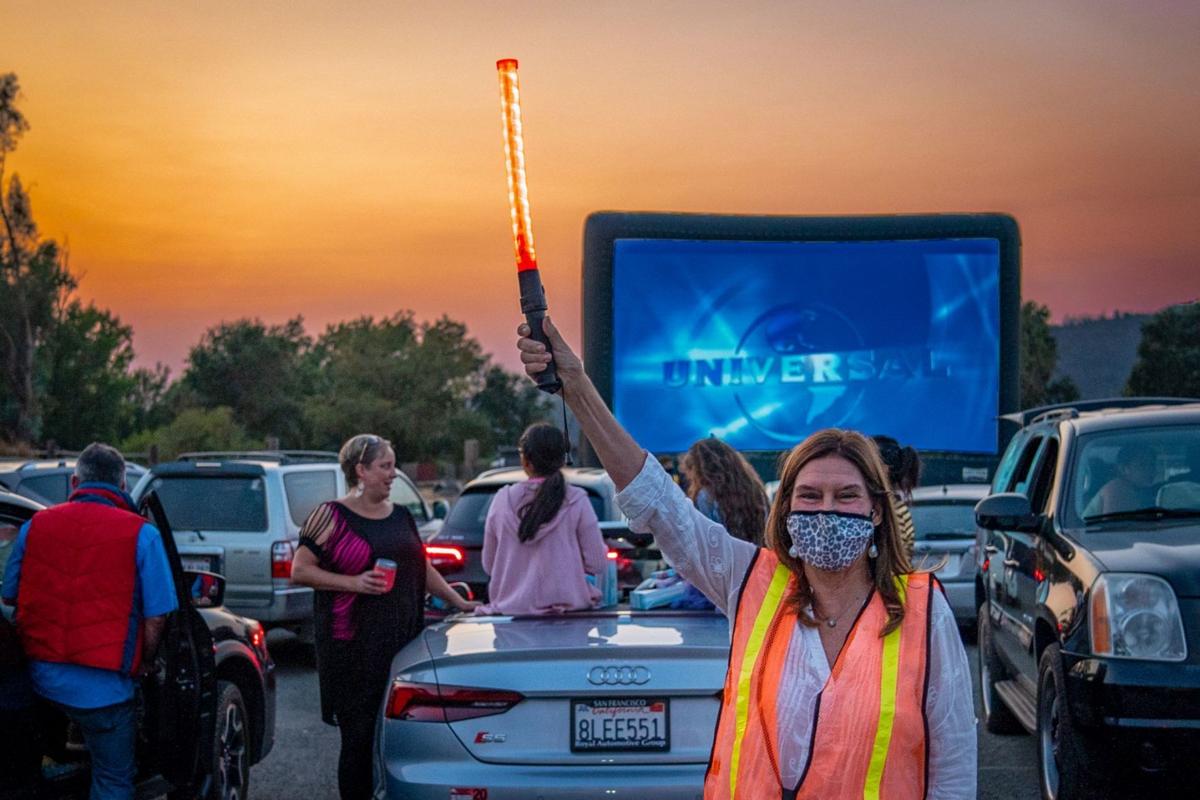 Drive-in movie nights will come to the Napa Valley Expo this fall.
Directors of the state-run fairground in downtown Napa have selected the local husband-and-wife team of Tony and Julie Morales to organize a series of film showings at the Expo, which has remained virtually empty since March while the coronavirus pandemic has prohibited mass gatherings across California.
Viewings are expected to begin in early October and may continue through the start of the winter rainy season, the Expo's chief executive, Joe Anderson, told the Expo board at its videoconference meeting Tuesday morning.
Audiences at the Third Street fairground would watch the movies in their vehicles, a throwback touch adapted to the new need of social distancing to limit the spread of COVID-19.
The Expo will file final plans for the movie series with Napa County's Health and Human Services agency before screenings begin, according to Expo president John Dunbar, who said the health department has confirmed drive-in entertainment will be allowed under state guidelines.
Napa County is currently in the "red" tier of California's four-level ranking of coronavirus spread, one step above the "purple" status that indicates the highest infection rate and imposes the strictest curbs on indoor activity at restaurants, theaters and other venues.
Anderson announced the choice of the Drive-In Movie Night Series over competing plans that would have included sports and music broadcasts, as well live music concerts – an idea he said gave fair staff pause even with spectators to be isolated in their vehicles.
"We don't want take that risk that all of a sudden we're an epicenter (for an outbreak) and set Napa County back," he said in explaining the decision to support a movie-only entertainment schedule.
Competing plans for car-based entertainment at the Expo included Napa Valley Drive-On, which would have blended movies with live events and sporting and music telecasts, and a slate of six to 10 live concerts offered by the Blue Note Napa music venue.
The chance to offer family-oriented entertainment and keep car-bound audiences at a manageable size also contributed to the decision to stick with films rather than live events, added Dunbar.
The Morales proposal calls for 200 to 250 vehicles per showing, a smaller audience size than envisioned by other applicants, he said. (By comparison, Drive-On organizers predicted as many as 460 carloads at a time for a four-day-a-week schedule.)
The Morales couple, who did not take part in Tuesday's videoconference meeting, previously announced plans to show two films a night from Thursdays to Sundays on a large LED screen that would remain visible in early-evening twilight as well as full darkness. The earlier 6 p.m. showtime would be pitched to families with younger children.
A 10 p.m. noise curfew at the Expo would remain in effect for movie nights, according to Dunbar, who added the drive-in's organizers will alternate parking spaces on the Silverado Green on consecutive nights to reduce wear and tear on the lawn. Movie soundtracks will be delivered by FM radio, according to plans previously filed with the Expo.
The movie series would become the Napa fairground's first large-scale event since March 20, when California and Napa County issued sweeping stay-at-home orders that prohibited public assemblies as COVID-19 began its spread. The Expo's two largest annual events, the BottleRock music festival and the Town & Country Fair, were both canceled, and its only visitor-based revenue has stemmed from its RV park, which reopened in June.



Watch Now: Know the basics of social distancing
Concerned about COVID-19?
Sign up now to get the most recent coronavirus headlines and other important local and national news sent to your email inbox daily.