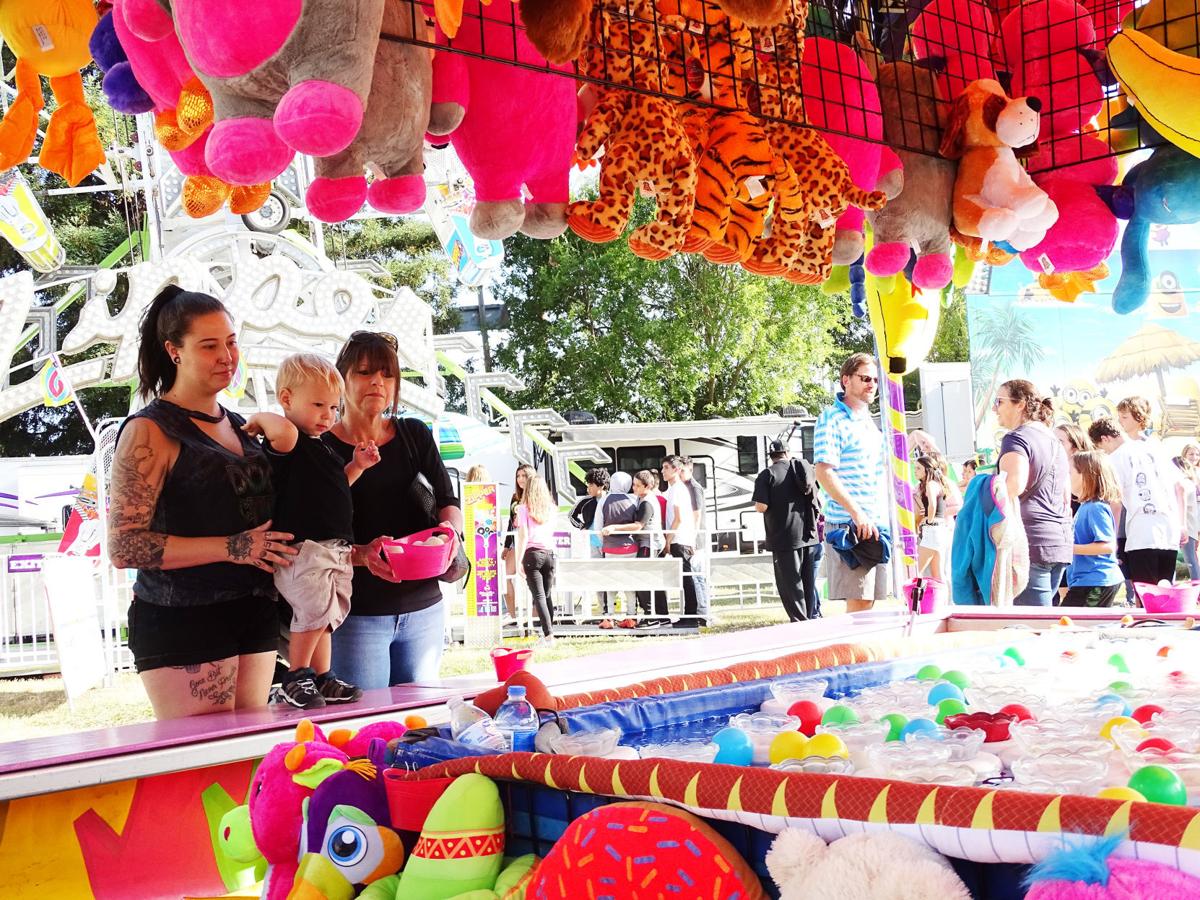 Directors of the Napa Valley Expo hope to welcome spectators back to the fairground this summer — but likely with its showcase fair split into separate carnival and livestock events as venues that normally host hundreds or thousands at a time inch their way toward a safer post-pandemic normality.
The state-owned Expo will pursue organizing the facility's first Junior Livestock Auction with spectators since 2019, after the outbreak of the coronavirus shut down mass gatherings last year and forced the 2020 auction to move online. This year's animal exhibition would take place on the Expo's Third Street fairground July 7-11 in the time window reserved for the Town & Country Fair, with the auction slated for Saturday, July 10, according to plans former Expo CEO Joe Anderson shared with the board Tuesday morning.
Support local news coverage and the people who report it by subscribing to the Napa Valley Register.
Meanwhile, Napa's traditional fair may be replaced by a five-day carnival organized by Helm & Sons Amusements and tentatively set for June 23-27, Anderson announced. The Colton-based company would operate the combination of carnival rides and food booths with various safeguards to ensure social distancing, modeled after a similar carnival it opened in Southern California earlier this month.
Trustees approved pursuing both events, although both the carnival and livestock auction would require review from local and state health departments. A final decision is expected when Expo trustees meet again May 25.
The carnival and livestock auction would become the Expo's largest-scale gatherings since the start of stay-home orders and the shutdown of public events more than a year ago.
The county is planning vaccination clinics on weekends and evening, and may even come to your neighborhood. 
In the 13 months since Napa County's first shelter-at-home directives, the fairground has seen the cancellation not only of the Town & Country Fair but also of the BottleRock music festival, bingo nights and numerous community activities while the grounds have been given over to coronavirus testing and a winter-season homeless shelter extended to full-year duty. (That shelter will close by June 15, Napa County spokesperson Janet Upton confirmed Tuesday afternoon.) A socially distanced drive-in movie series began in October but was suspended after a late-year COVID-19 surge, leaving the Expo's RV park as one of its few fixtures to remain open to the public.
While this summer's in-person entertainment may look different from that of past summers, "it gives the public the sense that we're still here, we are planning to stay here, and there's more to come down the pike," Anderson said.
With the Expo's summertime entertainments possibly less than two months away, questions remain about the number of spectators and other details — an uncertainty that fair directors readily acknowledged even as Napa County's COVID-19 infection rates remain relatively low and more residents are vaccinated against the virus.
"We don't have all the answers yet, because this is a new concept that's being presented today," said board president John Dunbar. 
Under the Expo's working plan, guests would be allowed to be present during animal judging as well as at the auction itself, but the fairground would not be opened to overnight guests staying in RVs to prevent excessive crowding. The Expo also is looking into providing an online simulcast of the auction, and the event could again shift online in the event of a major COVID-19 outbreak.
Live musical performances are now permitted at limited capacity indoors in Napa Valley. The fate of larger gatherings — including BottleRock — appears undecided.
Although Gov. Gavin Newsom has announced plans to loosen many curbs on large-scale gatherings starting June 15, Anderson said the Expo is opting against a full-scale Town & Country Fair running at the same time as the livestock auction and contests. Instead, he proposed a stand-alone late-June carnival with limited attendance in which the Expo will provide the venue for Helm, which would produce the event and pass 20% of the profits to the fair authority.
A likely model for a Helm-produced carnival in Napa is the Fair Foodie Fest, which opened in the Inland Empire city of Ontario for a three-week run. Admission to the grounds is free, with all payments being made — using only credit cards and cashless "Magic Money" digital ticketing — at the event's rides, games and food booths, according to Anderson.
Missing from any carnival event this year would be the live music concerts that normally are among the Town & Country Fair's main attractions. In the Napa Valley as elsewhere in California, concert venues, particularly indoor ones, are expected to be among the last public places to fully reopen, although the Blue Note Napa has announced plans for an outdoor music series to start May 21 at the Charles Krug Winery in St. Helena.
Napa County is currently in the state's orange tier of California's four-level ladder of coronavirus spread, allowing venues with a capacity of up to 1,500 can host guests at 15% capacity or up to 200 people. Venues can fill up to 35% of their seats if all guests can produce a negative COVID-19 test or prove full vaccination, according to guidance from the state Department of Public Health.
Expo board members in October had moved up the fair and auction from their traditional mid-August date, citing the increasing risk of air pollution from early-season wildfires as well as pre-emptive power shutdowns by Pacific Gas & Electric Co. to reduce fire risk during hot and windy weather.
Catch up on Napa County's top news stories