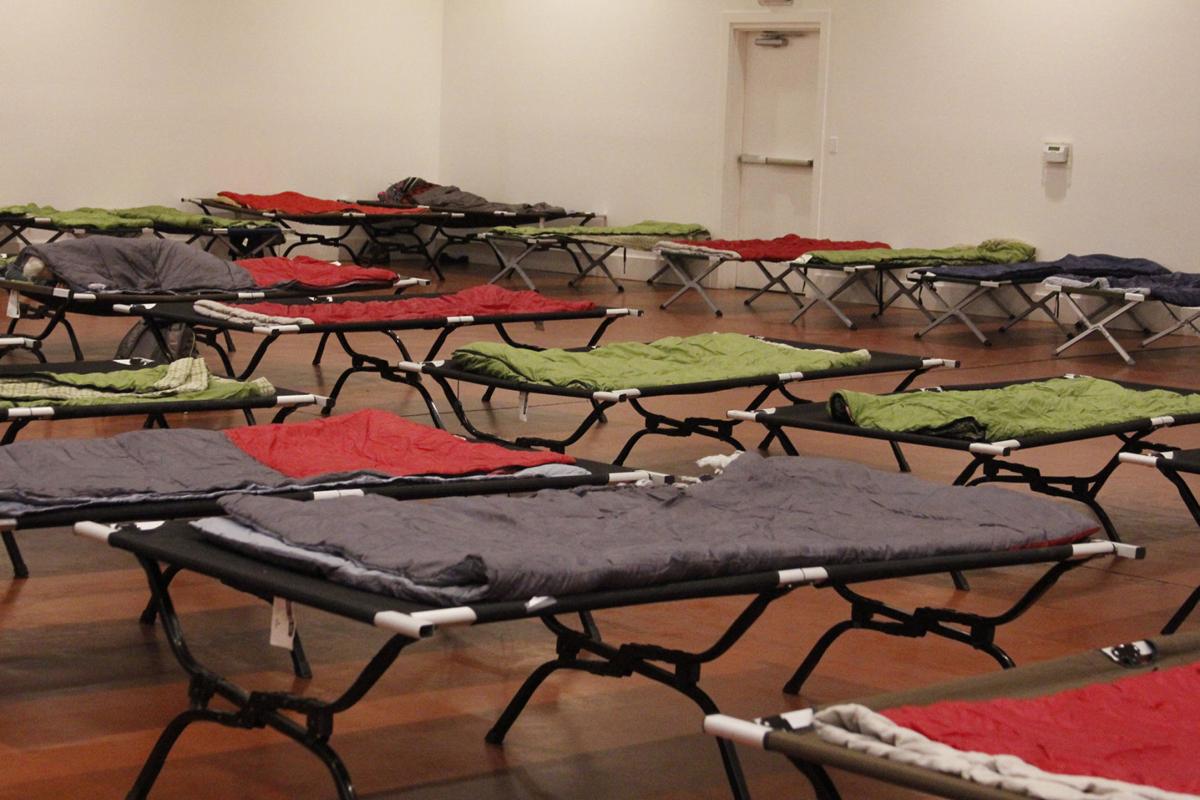 With no end to the coronavirus crisis imminent, Napa County intends to keep its wintertime homeless shelter open through the summer and fall — and into the next winter season.
The shelter at the Napa Valley Expo, which the county has kept open throughout the pandemic, was slated to operate at least through Aug. 30. But a spokesperson announced Tuesday the county is working to extend its lease at the state-owned fairground to allow visitors to stay there all the way into its normal seasonal schedule, which begins in mid-November.
The extended shelter services have been made possible by the cancellation of nearly all activities and building rentals at the Expo since March, when the spread of COVID-19 led to state and county orders banning assemblies and calling on residents to shelter at home.
After this year's BottleRock music festival — which takes place at the downtown Napa fairground on the final weekend in May — was first postponed to early October and then canceled, it became possible to continue housing homeless people on site rather than clear out ahead of a major event, deputy county executive officer Molly Rattigan told the Napa City Council during a videoconference presentation on the state of Napa County's homeless outreach and sheltering efforts.
To meet the needs of people staying around the clock in a shelter that normally opens only five months of the year, organizers have added showers, toilets and portable laundry equipment to the Expo, according to Rattigan.
Meanwhile, a 14-day quarantine of winter shelter visitors also ended Tuesday after three occupants contracted the coronavirus in July. The Expo facility remained closed Thursday afternoon but was scheduled to reopen in the coming days, Rattigan said.
Since the end of March, 66 people have spent time inside the "prevention motel" rented by Napa County as a refuge for homeless people who are older than 55 or suffer from chronic medical conditions, according to Rattigan. Twenty of those have since been moved into permanent housing.
Some the of the county's emergency shelters have operated at lower capacity due to changes made to increase social distancing, Rattigan reported. The Expo winter shelter can serve 44 instead of 55, and the Nightingale center eight beds rather than 11. Capacity at the South Napa Shelter was cut from 69 beds to about 45, but later restored to normal with the temporary conversion of storage areas to living space to hold more beds.
As the COVID-19 emergency continues, Napa County and the Gasser Foundation, which owns the South Napa Shelter site, will use state grant funding for an expansion and remodeling of the facility. Work on the project, which would include 28 more beds and additional showers, is slated to begin later this year and be completed in 2021, Rattigan told council members.
Watch Now: Inside the Bowl: a look at a south Napa homeless camp