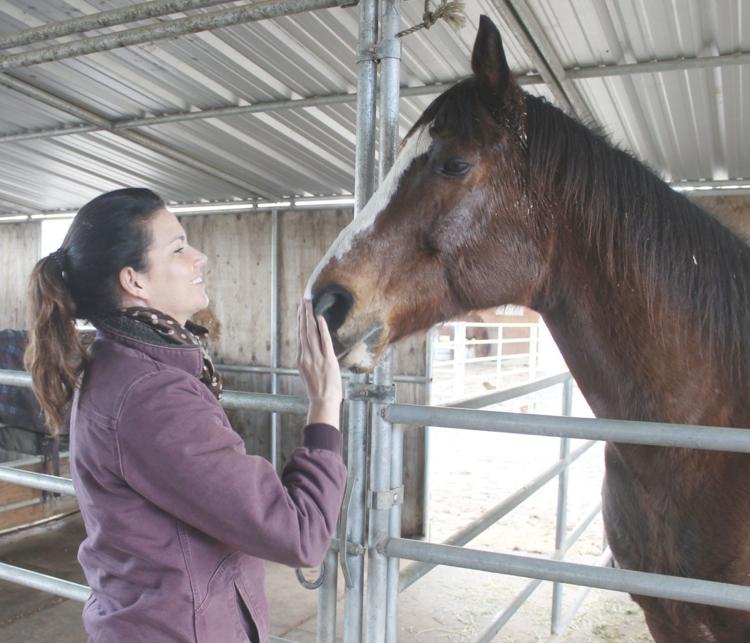 It was another relaxing session of cold-laser therapy for Mickey and his injured legs, as 21st-century medicine came to the aid of an animal that's been bonding with humans since prehistoric times.
Mickey is one of the 20 horses living at Sunrise Horse Rescue. He'd recently gotten loose and cut up his legs on the wires of a drip line. He'd still be in bandages for another week or two, but he was healing up beautifully with the help of twice-weekly laser treatments.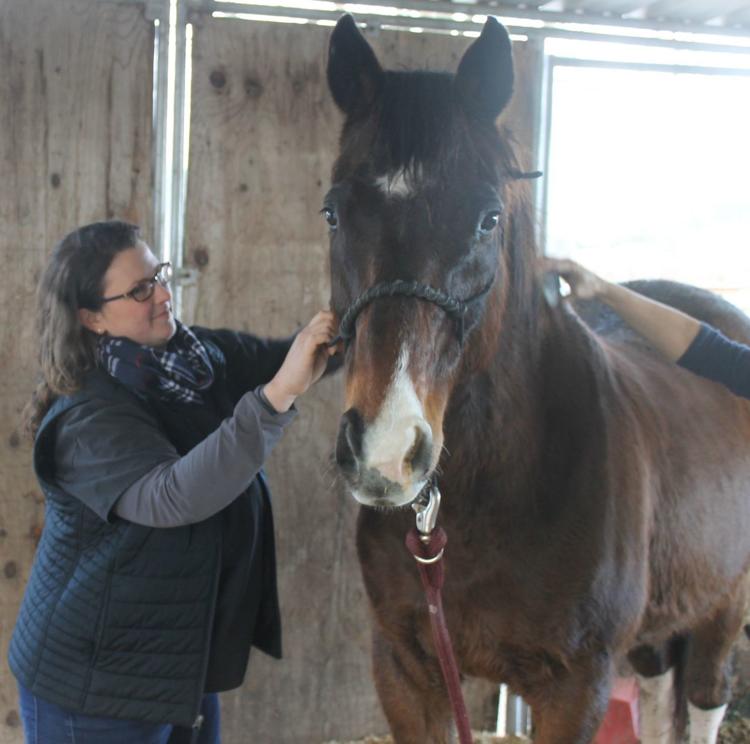 As he waited for the veterinarians to arrive, Mickey gave a friendly neigh in the direction of Lindsay Merget, managing director of Sunrise, and a visitor. On the subject of his past, he is silent, but what we know for sure is that at some point a previous owner gave up on him.
Mickey would have ended up in a slaughterhouse if not for a friendly human who bought him at auction and brought him to Sunrise, where he could live out his remaining days in peace, with a healthy diet, loving caregivers, and expert veterinary treatment.
Sunrise spent most of 2018 regaining its footing after the 2017 wildfires. As Merget's own house was burning in the Coffey Park neighborhood of Santa Rosa, she was on the phone with other Sunrise supporters organizing the evacuation of the main herd from Sunrise's rented home at Tamber Bey Vineyards' Sundance Ranch on Tubbs Lane outside Calistoga.
With the help of six trailers, the horses were evacuated to Martinez. They spent the next few weeks there until the smoke had cleared enough for them to go home.
Now that things are back to normal, Sunrise is facing a challenge that's less dramatic but just as serious: the lack of a permanent home.
Tamber Bey has been leasing space to Sunrise since 2016, and Merget said she and other Sunrise supporters appreciate the temporary quarters. But without land of their own, they can't make the sorts of capital improvements that would allow them to expand the herd and take the operation to the next level.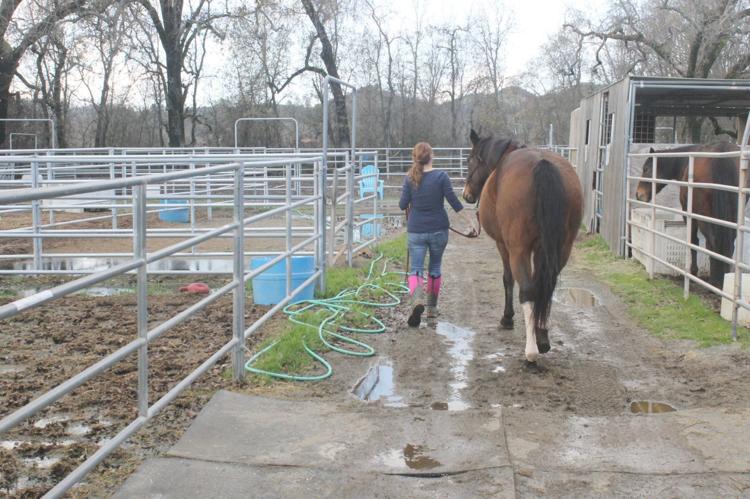 "The biggest hurdle we have looking ahead to 2019 is finding a property where we can thrive and run all the programs we need to run to be self-sustainable and realize our vision," Merget said.
Sunrise was in escrow to buy 32 acres on Tubbs Lane, just down the road from its current home, but it couldn't pull together enough financing. The deal fell through with organizers still several hundred thousand dollars short of what they needed.
That was a bitter disappointment, but Merget is still proud of what Sunrise has accomplished.
One of its early missions was to become a household name and thus raise awareness of the plight of unwanted horses. It has succeeded, but with that success has come greater responsibility and more frequent calls for help. Sunrise has a list of more than 100 horses in the area that need new homes.
On one recent day, it received five calls about horses who needed help, either because their owner has moved away or no longer has the resources or the inclination to give them the food and care they need.
That was the case with Palo, a horse Merget described as a "walking skeleton" in his late teens or early 20s who joined the Sunrise herd the day before Thanksgiving. His previous owner couldn't afford to give him the special diet he needed, so he'd been severely starved. Desperate for nourishment, he'd been eating whatever he could find on the ground, so sand had built up in his gut.
Bringing back horses from the verge of starvation is complicated because their emaciated bodies can't handle a normal diet. Sunrise followed dietary recommendations from vets at UC-Davis, but Palo was too far gone. He died in mid-December.
"As a sanctuary, we are the last stop," Merget said. "It's our responsibility to see them through their final transition and be sure that it's as humane and comfortable as possible."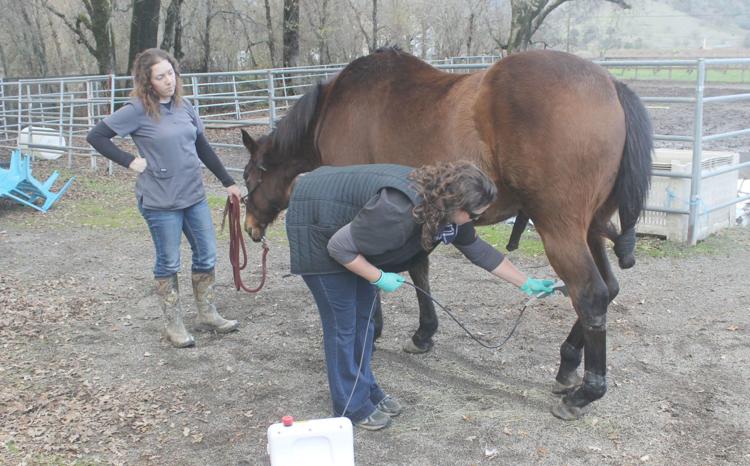 That could mean an investment of weeks, as with Palo, or more than a decade.
"A horse lives 25 or 30 years – twice as long as a dog," said veterinarian Vanessa G.B. Rood when she arrived to give Mickey his laser treatment. "People don't realize that when they take on a horse that's 5, 10 years old, they'll have to support the horse for potentially another 20 years."
As horses get older, they develop special needs and sometimes can't handle the tasks they've been bred or bought for, such as riding lessons, dressage or racing. Most of the horses at Sunrise are there because they need special care, which makes them more expensive to take care of than completely healthy horses. It typically costs $6,000-$8,000 a year to take care of a Sunrise horse.
Sunrise isn't expanding its physical infrastructure until it finds a new home, but is adding staff, including Rood, who'd previously provided veterinary care for Sunrise through Napa Valley Equine.
"I've seen a lot of different organizations, and Sunrise is very sophisticated in their mission, their practice and their care," Rood said. "They're poised to evolve into even more of a leader in horse advocacy and welfare."
Other new staffers include Terra Munger, team leader/horse trainer, and Jill Vincent, business manager. Meanwhile, the Sunrise board has expanded to include Claudia Sonder, a veterinarian and former member of Sunrise's advisory board who Merget said is highly respected in the horse community, and Sophie Gullung, a real estate agent at Pacific Union.
Sunrise is also promoting a program in which a winery can sponsor a horse at a cost of $4,000 for six months or $6,000 for one year. Those sponsorships are a win for Sunrise, which gets cash to support the horse, and for the winery, which receives a plaque to hang in their tasting room and promotional materials to use on social media. To learn more about the program, email jill@sunrisehorserescue.org.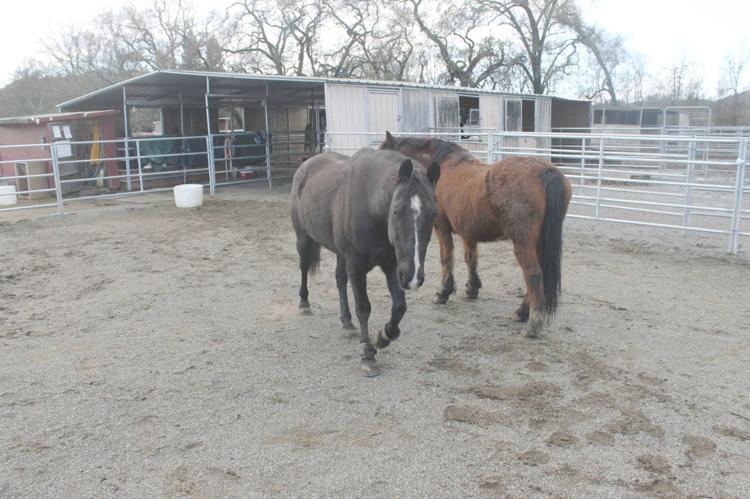 Organizers are also starting to plan their annual Harvest of Hope fundraiser, scheduled for Sept. 14. But on a day-to-day basis, most of the staff and volunteers focus on caring for the main herd and trying to help the more than 100 horses scattered around the Napa Valley who would welcome a second chance at happiness.
"They deserve much more than being discarded and, in the worst case, sent to an auction where they are bought by a meat buyer and sent to slaughter in Canada or Mexico," Merget said. "That's a really horrible fate for these horses that have spent their whole lives in service to their owners."
Nothing would please Sunrise's staff and volunteers more than a permanent home that would allow them to save more horses and expand the herd. The Sunrise staff and volunteers share "a deep sense of purpose" in providing well-rounded care for horses, Rood said.
"You see that bond here in the limited scope of a rescue, but it's been echoed through hundreds of thousands of years of the horse-human bond," Rood said.
St. Helena Star Editor David Stoneberg contributed to this article.
Get local news delivered to your inbox!
Subscribe to our Daily Headlines newsletter.