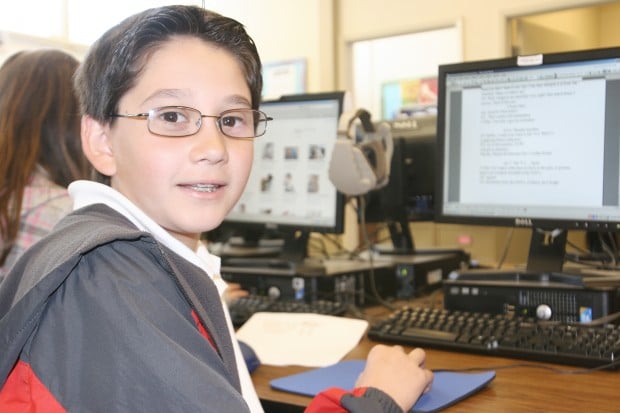 While some cash-strapped school districts pad their budget holes with state funds meant for gifted learners, Napa Valley Unified has not only left that money intact — it's revamped and rebranded its gifted program to bring in more students.
To start, it replaced the state moniker of Gifted and Talented Education — GATE — with a program title that Elena Toscano, assistant superintendent for instructional services, hoped would evoke a sense of inclusivity: Advanced Learner Programs and Services, or ALPS,  with "every student climbing as high as they can," she said.
Administrators are tasked with meeting the learning needs of all students, she said, even those to whom learning comes easier. "All means all and we can't forget any of those subgroups."   
This year, Toscano won a distinguished service award from the California Association for the Gifted. On top of the changes to the program, the association wanted to know "how we did it so quickly," she said.
Until two years ago, the district relied solely on teacher recommendations to decide which students to evaluate for giftedness. If a kid tested in, they could attend an after-school academy for fourth- and fifth-graders at school sites throughout the district.
But there wasn't enough space for everyone. Transportation was a challenge for some parents. And giftedness demands more than just an after-school activity.
"Then, it was really about after-school enrichment," said Dana Cope, the NVUSD teacher charged with the program's redesign. "We wanted it during the school days."
They also wanted to test more students, and to make sure no one was overlooked even after testing. The district implemented cognitive abilities tests for all third-graders to take, which has altered the makeup of Napa Unified's gifted population of 1,900 students.
"It's not that there's been more gifted students, it's that we're seeing different types of them," she said.
That's because many gifted students aren't so easy for teachers to spot. 
Some describe giftedness in simple numerical terms — those with IQs of 130 and up, who demonstrate high capabilities in intellectual, creative, artistic or leadership capacities. But the term is often not so clear-cut.
Though it can be measured through high academic performance, giftedness can manifest in less obvious ways, like a child's inventiveness. It can also be unequally balanced, officials said: A student may be highly gifted in math, but have low verbal skills, or be gifted and have learning disabilities, according to the John Hopkins Center for Talented Youth.
So Cope has helped train more teachers in gifted education and created special intervention teams — much like one might see for low-performing students — to ensure students' needs are met.
Highly gifted learners may take classes together through middle school with those gifted-trained teachers, a common practice for gifted students called "clustering." In high school, gifted students can take Advanced Placement, honors or college courses.
Walk into a computer classroom at Phillips Charter School and you can see how these changes have played out. The class of sixth-graders sits, more or less quietly, creating presentations from an online program designed to identify a student's interests and strengths, and craft appropriate projects.
Sports fan Lanca Larios, for instance, designed a PowerPoint celebrating the accomplishments of underrecognized athletes, like her favorite — a 17-year-old female weightlifter.
Emilia Garcia, who has written her own newspaper pushing for healthier cafeteria foods, wasn't surprised when the computer told her she was into social activism.
Liam Heffernan starts off his description of the play he's writing with a question: "You know how the 2000s weren't everything we wanted them to be?"
The play will be performed by puppets in six acts with titles like "I Hate Vampires," "Thunder Machine" and "Canada."
Some of these students may have tested as gifted. Others may have been recognized by a teacher as a high achiever. All, under the district's new program, are considered "advanced learners."
"We look at data, we look at tests," said Matthew Manning, the school's principal. "But it can't be all about just one test."
Tests are part of what has made the district's stance on gifted education so refreshing for Manning. "In the midst of all this pressure from No Child Left Behind," a federal policy that focuses on improving the performance of struggling students, "(Toscano) has carved out a place where we can talk about our advanced learners."