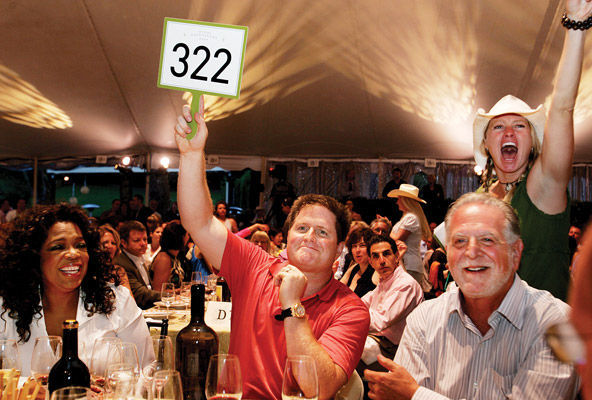 The Napa Valley Vintners announced $2.4 million in grant funding for children's education in Napa County using money from Auction Napa Valley.
Thirteen nonprofit organizations will serve approximately 44,000 children and family members, NVV said in a news release. Four new organizations, including the American Canyon Community and Parks Foundation and Hearts and Hands Preschool — the only full-day preschool in Calistoga— received grants in this cycle.
As part of the grant review process, the NVV and its nonprofit partners seek input from residents as to pressing needs in the lives of children in the county. Among the top concerns was accessible mental health services as part of the educational landscape.
One of the new grantees this year is the Napa Valley Education Foundation, which is helping local public schools address mental and emotional health needs within Wellness Programs in four middle schools and one high school, with additional school sites in the planning phase.
A coordinated team of counselors, nurses and social workers provides mental health support on the school campus, making it possible to support students before they seriously disrupt the learning process for themselves or others.
"Studies show that when children come into the classroom with reduced stress, they learn better and have better social skills, including less tendencies toward bullying," said Jennifer Stewart, executive director of the NVEF. "Both teachers and children are better able to do what they came to the classroom to do, namely, teach and learn."
"These grants provide much needed support to our nonprofit partners, all of whom do an amazing job helping the youth in our community achieve educational success," said John Hamilton, a community member of the NVV's Board of Directors. "We know that through education our children become not only more competitive for more rewarding and higher positions, but also have less health issues and become more active in the life of the community."
Additional grants in other funding area will be announced later.
Receiving grants in the "children's education" category are:
10,000 Degrees ($90,000). Supports students from low-income backgrounds to get to and through college.
Aim High ($80,000). Offers summer enrichment programs to ease the transition to adolescence.
American Canyon Community and Parks Foundation ($50,000). Provides in classroom and out of classroom activities involving science, technology, engineering, arts and math.
Boys & Girls Clubs of Napa Valley ($350,000). Offers young people a safe environment where they can be themselves and have fun while participating in interesting and constructive activities.
Boys & Girls Clubs of St. Helena and Calistoga ($200,000). Help children reach their full potential through programs that promote academic success, good character, citizenship and healthy lifestyles.
Child Start ($200,000). Provides high-quality, comprehensive and family-focused early childhood services.
Community Resources for Children ($200,000). Provides programming and support to promote quality early learning environments.
Hearts and Hands Preschool ($67,000). Helps children entering kindergarten on a level playing field with no language/achievement gap between dual language learners and their peers.
Napa CASA ($60,000). CASA volunteers support children in foster care, providing advocacy, support and mentorship.
Napa Valley Education Foundation ($120,000). Support teachers, students and public schools to ensure all students are engaged and prepared for success in college, career and life.
NapaLearns ($400,000).
Provides resources, funding and thought leadership to help school district staff adopt innovations focused on the demands of the future.
Co-creates culturally relevant programs with children, youth and adults, including VOICES, Youth Leadership Academies, Parent University and LGBTQ Connection.
Summer Search ($150,000). Offers a combination of mentoring, experiential opportunities, college advising, and support to strengthen student skills.