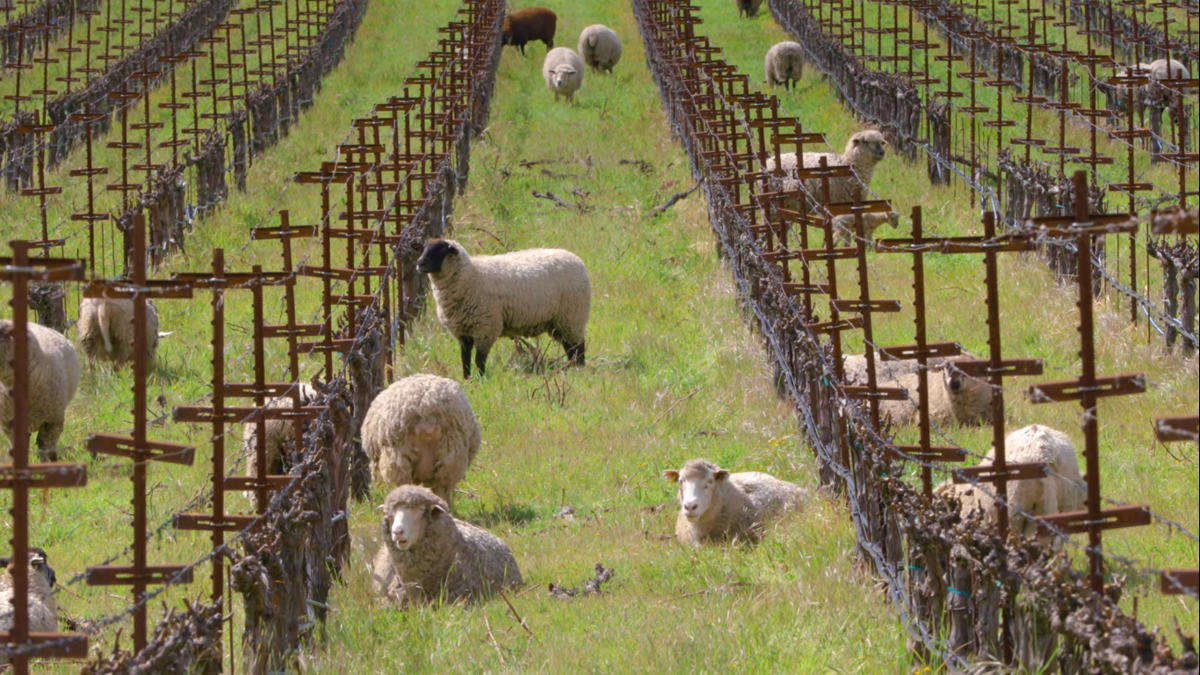 One of YouTube's newest videos has no chart-topping hit song, no catchy meme, no borderline-dangerous "challenge" to seize viewers' attention. What it does have are about 100 sheep grazing in a Napa Valley vineyard.
A nigh-endless loop of sheep placidly munching the sod at Shafer Vineyards east of Yountville has become one of the online world's quietest attractions since the winemaker posted the 6-hour, 13-minute video to YouTube April 5.
As of Friday, the slow-moving tableau of wine-country quietude had attracted more than 134,000 views, a number sharply boosted by an online New York Times column Tuesday that described its comforting effect on viewers homebound by the coronavirus pandemic and yearning for the sights and sounds of the outdoors.
Containing about an hour of footage shot last month by the Napa-based filmmaker Tim Kennedy and looped six times through, "Relax with Sheep" features a flock of the animals against the backdrop of trellises, oak groves and cloud-topped valley hills. Sometimes seen as puffy dot of wool barely visible in distant vine rows, at other times up close methodically nibbling at rain-swollen clumps of grass, the ruminants supply the video's minimalist soundtrack of "baaa" sounds – some low and guttural, some youthfully high-pitched – against a whistling wind and an occasional chirruping bird.
The pastoral scenes originally were to have been the source material for social media postings showcasing the Shafer winery's sustainable farming practices. Instead, they have become a virtual window into Napa wine country – and, its creators hope, a comfort to those who need it with businesses and daily life all but shut down by shelter-at-home orders.
"It makes me feel really good; it's very satisfying and heartwarming to get the calls, the comments, the emails we've gotten saying 'Thank you for this,'" said Doug Shafer, president of Shafer Vineyards. "There's a peace and quiet and hope and joy in this, when the days are filled with a lot of uncertain news and anxiety. It's great to be able to provide something that gives people peace and joy."
Both the sheep and the cameras capturing their four-footed mowing have been familiar sights at Shafer Vineyards, which hires the animals each spring from Wooly Weeders, a company that leases sheep to farms as a form of natural weed control. In addition to reducing the need for tractors and the fuel they burn, grazing herds can easily negotiate hilly terrain that would be dangerous to people operating farm machinery, Shafer said Wednesday.
"It's a win-win; they get free food for the sheep and we get a nice, sustainable method of weed control when the grass is growing near end of rainy season," he said. "They spend a couple weeks here, and they do great job mowing down all the weeds."
Recording the flock in action was Kennedy, who with his wife Kaethy founded Napa Films in 2012 and shoots video features for various hotels, restaurants and wineries, including Shafer. A pair of Canon cameras – one equipped with a wide-angle lens and the other with a telephoto – were set up at the winery's 50-acre Silverado Trail property for four days starting March 7 and ending on the 17th, just three days before California's stay-home order suspended all but essential business activities to slow the spread of COVID-19.
"I would find a place to put myself where I knew the sheep would have to come by me," said Kennedy. "Some of them were curious; they'd take 10 steps toward me and then just stop. Once I stood there for long enough, they would graze right up to me."
By the time filming finished, Kennedy and Shafer had agreed to use far more material than the brief clips normally used to promote the winery on Facebook or Instagram. What resulted was a long-running video Shafer compared to virtual Yule logs, videos of fireplaces meant to turn a television into a digital hearth of sorts.
Public response to the Shafer Vineyards video was slow at first; YouTube had recorded just more than 6,000 viewers for "Relax with Sheep" when the food writer Pete Wells highlighted it in his Times column. A day later, viewership passed 70,000 and has continued to grow.
"It's kind of peaceful and relaxing, especially since I'm alone and people are at home alone," said Shafer, who keeps "Relax with Sheep" running on his office computer. "It's like you're out in nature taking a walk. It gives you a little bit of a break from all the crazy stuff."