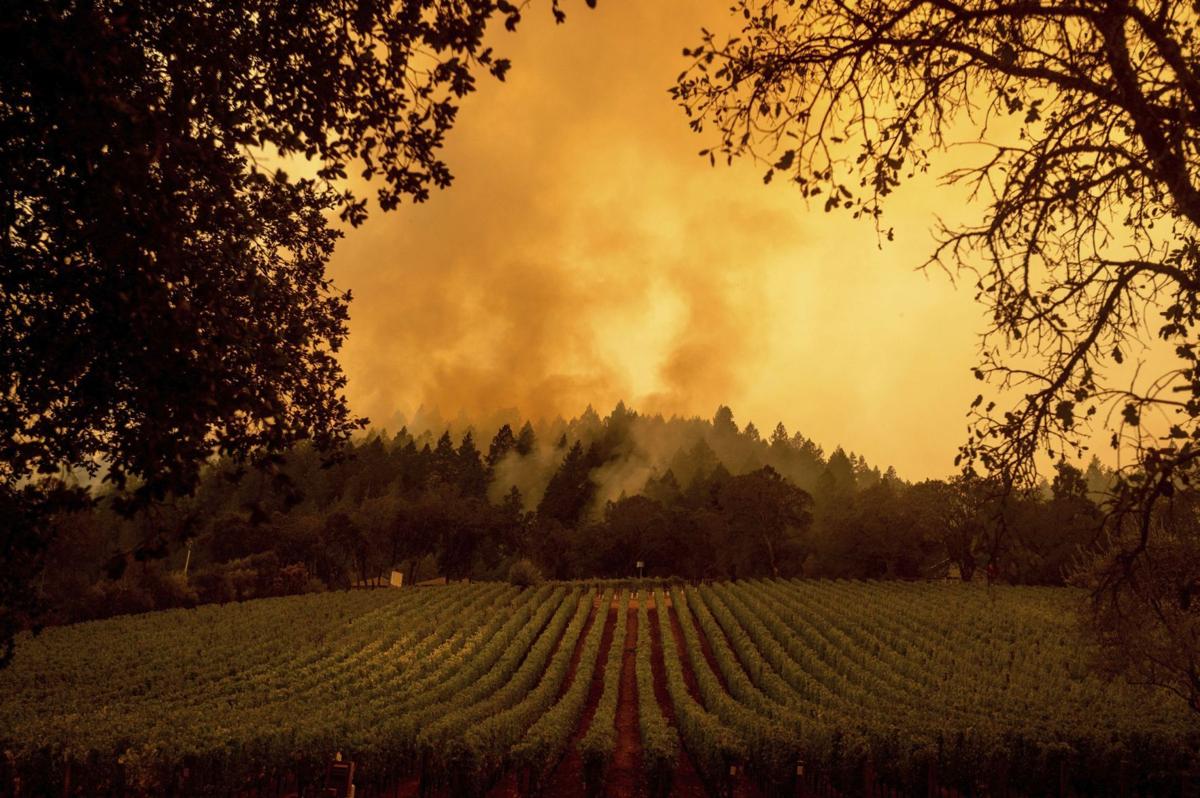 Even as it is desperately needed to put an end to the North Bay's fire season, experts say heavy rains could wreak havoc upon swaths of Napa County already damaged by wildfires.
Destructive wildfires like the Hennessey and Glass fires are devastating to soil, according to Toby O'Geen, a soil resource specialist with the University of California, Davis's Cooperative Extension. High-temperature flames can incinerate vegetation and destroy plant root systems. That, in turn, destabilizes the landscape, making it more vulnerable to serious erosion or flooding in the event of heavy rainfall, he said.
"The most important way to battle erosion is to have surface cover — living vegetation anchoring your soil," O'Geen explained. "We have none of that. If you have soil with existing susceptibility (to erosion) and now nothing to hold it in place, it's a disaster."
Especially catastrophic fire can make soil hydrophobic, or water repellent, according to O'Geen. In those instances, rain will fall onto the surface and just "pond up," he said. That creates higher concentrations of run-off rainwater amid even low rainfall events.
"That creates more massive erosive events — it gives rise to accelerated erosion, and in some extreme instances, mudslides," O'Geen said.
The majority of fire-impacted regions of Napa County seem to have escaped hydrophobicity, according to Patrick Ryan, engineering manager with Napa County planning, building, and environmental services. There are small portions of water-repellant land, he said, though mostly in areas where vegetation like madrone or chaparral trees provided significant fuel for flames.
The county has identified "debris flows, flooding and rock fall" as the biggest hazards associated with post-fire erosion, Ryan said. It has begun outreach to impacted property owners. The degree of risk for a property depends on the steepness of nearby terrain, soil type and burn severity, he said.
The Watershed Emergency Response Team (WERT), a multi-agency collaboration between Cal Fire and the California Geological Survey, this week released a report assessing risk to life and property from landscape made vulnerable to erosion by the Hennessey Fire. There are a handful of burned properties with erosion potential that could pose "a high threat to life-safety," the report said.
It identifies two in Napa Valley, as well as three in the Lower Putah Creek area as well as two located north of Pope Valley.
The report also describes "some risk to water supply infrastructure" from increased runoff into Lake Hennessey and Lake Berryessa, both of which provide drinking water to Napa and Solano counties. Runoff can pollute drinking water sources with chemicals, sediment or debris — a costly thing to remedy, according to Ryan.
A similar report for the Glass Fire is expected within the next week or so, Ryan said. That fire in particular burned in portions of the county that have a history of erosion and landslides, he added, including the Franciscan Formation, a geological area encompassing Sulfur Springs, Spring Mountain and the Conn Creek Tributary.
Spring Mountain, home to a number of vineyards and wineries damaged by the Glass Fire, is known for the steepness of its sloping hillsides.
"Some places are so much steeper than I'd even thought, because with all of the trees, leaves and vegetation, you couldn't really see it for what it was until now, when that's all gone," said Ashley Anderson-Bennett, associate vineyard manager at Cain Vineyard and Winery, describing the winery's property. Almost the entirety burned in the Glass Fire, she said, save for the vineyards, which acted as a natural fire break.
Crews have been working to assess erosion risk on Cain's property. It will depend heavily on the intensity of winter storms, Anderson-Bennett said.
"Within the vineyard, we have systems set up to prevent erosion — we just have to repair them," Anderson-Bennett said. For the wilder portions of Cain's property, she said, there's not much in the name of prevention they can do.
The thing to do now, O'Geen said, is to wait for new vegetation to sprout new root systems. In some portions of California, like Winters, vegetation seems to burn every year but recovers amazingly quickly.
"What worries me are the more forested sites, where you have larger, woodier trees, which take longer to establish root networks," O'Geen said. "I think those could be prone to slower recovery."
Although large areas of Napa County burned in the Atlas and Tubb fires in 2017, that year's winter was comparatively mild, reducing the risk of flooding and mudslides, Anderson-Bennett said. Light rain allowed for regrowth of vegetation and reestablishment of root systems.
A mild rainy season would be beneficial this year as well. "... People want rain — we do want rain," Anderson-Bennett said. "I'm just hoping it will come gently."



Watch Now: Impacts of California wildfires to wildlife