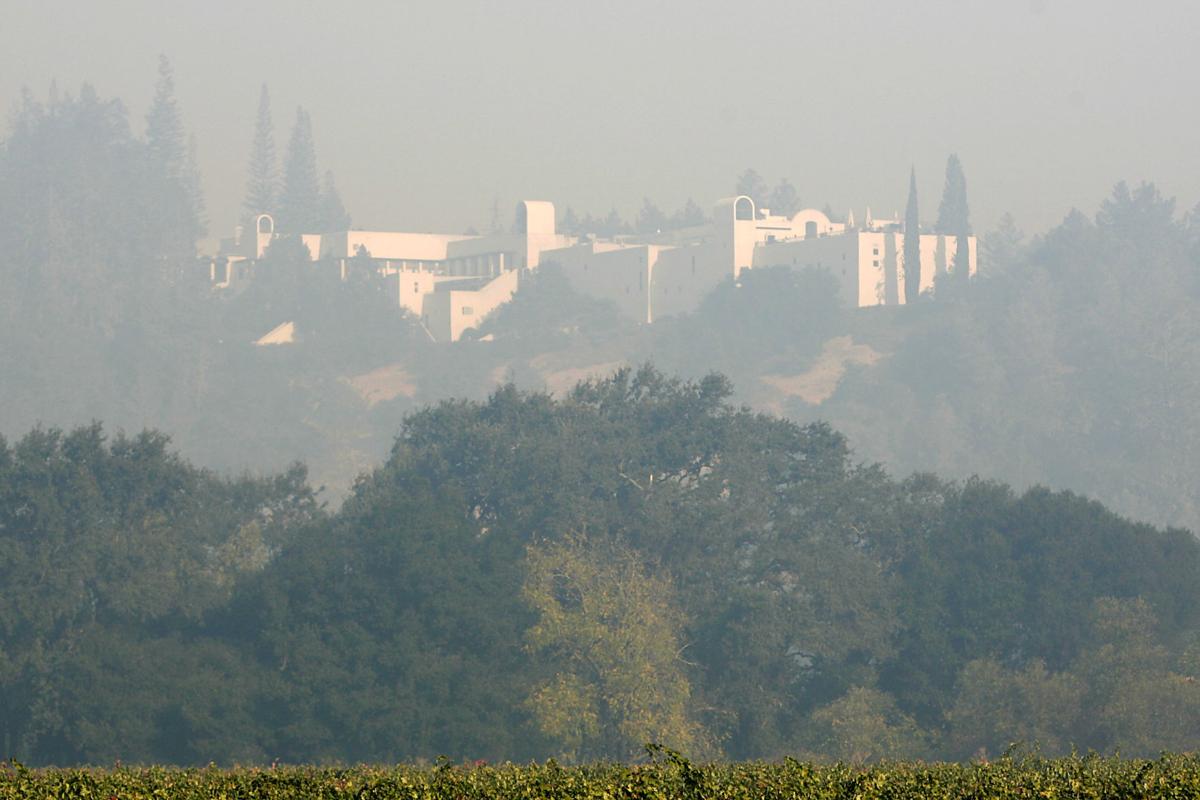 A trickle of assessments continued to flow in from the wine industry on Thursday, adding shape to the scope of destruction from the wildfires that have been raging across Napa and Sonoma since Sunday night.
In an update Thursday morning, the Napa Valley Vintners reported 160 of its more than 500 members had checked in with the trade group. A tally stood at 5 physical wineries that had suffered severe losses and 11 others that took damage to their vineyards, wineries or other buildings.
A complete roster of those affected was still unavailable Thursday, though reports indicated that in the Atlas Peak area, White Rock Vineyards, Signorello Estate and VinRoc winery had all suffered severe damage. Others nearby, including Robert Sinskey Vineyards, Darioush Winery, William Hill Estate and Stag's Leap Winery, also reported damage to their properties to lesser extents. Across the valley, in the Mount Veeder region, Segassia Vineyard also reported damage due to the Partrick Road fire.
It also appeared vintners in at least one affected region had been able to hold out at their property and as Thursday were still fighting to protect it. In a Facebook post Thursday morning, Fontanella Family Winery on Partrick Road reported being "right on the edge of danger," as the Partrick fire drew near. Owner Jeff Fontanella, "is spending his birthday recharging water tanks," the post read. Attempts to reach winery staff were not successful.
As for the many wineries that survived the initial firestorm physically unscathed, danger continues to loom as widespread closures and evacuations may now cause economic harm in the long run.
"This is the most critical time of year for us to be in the winery," said Barry Waitte, owner of Tamber Bey Vineyards, located on Tubbs Lane in Calistoga.
Waitte said he and his wife Jennifer and their employees were all safely evacuated, but Tamber Bey's wine had been left in the winery's tanks and more than a third of its vineyards were still unharvested. The Waittes were only able to return to the winery along with winemaker Andy Jones briefly Thursday morning to attempt much needed pump-overs of the tanks. Yet the power died as the trio set to work, Waitte said, allowing them to perform only a few punch-downs without electricity before having to leave again.
As of Thursday afternoon, Tamber Bey, which produces around 60,000 gallons per year, including wine for 19 other wineries, was still inaccessible. "All our wines are at risk now because we can't even get to the winery," Waitte said.
The economic fallout can likely be reduced if the team can return in the next several days, Waitte said. But as time mounts, "things just start adding up." With wine sitting in the tanks and valuable grapes – at this point almost entirely cabernet sauvignon – go unharvested in the vineyards, "all of that just has effects that I can't imagine at this point," Waitte said.
Like many wineries throughout the valley, Tamber Bey remained closed this week during what is normally its peak season for visitors. "We thought this was going to be one of the largest weeks, given our reservation calendar," Waitte said.
A silver lining for the winery is that its finished wines are stored in unaffected south Napa. That makes distribution to its wine club possible, which provides more than half of its business. "That side of the business is going OK," Waitte said.
The same could not be said for others, like Brian Arden Winery, which also sits in the evacuated Calistoga area. In a release Thursday morning, the winery noted that while it had recently processed its October shipment, the orders go through a company in Sonoma County that had also been evacuated. The winery also said it would remain closed "until further notice and at least through the weekend."
Meanwhile, with Wednesday's mandatory evacuation of Calistoga, all of the valley's three farmworker housing centers have closed. A spokesperson for the county Housing Authority said it was still unknown whether the Mondavi housing center, located on Silverado Trail near multiple damaged wineries, was itself damaged as of Thursday.