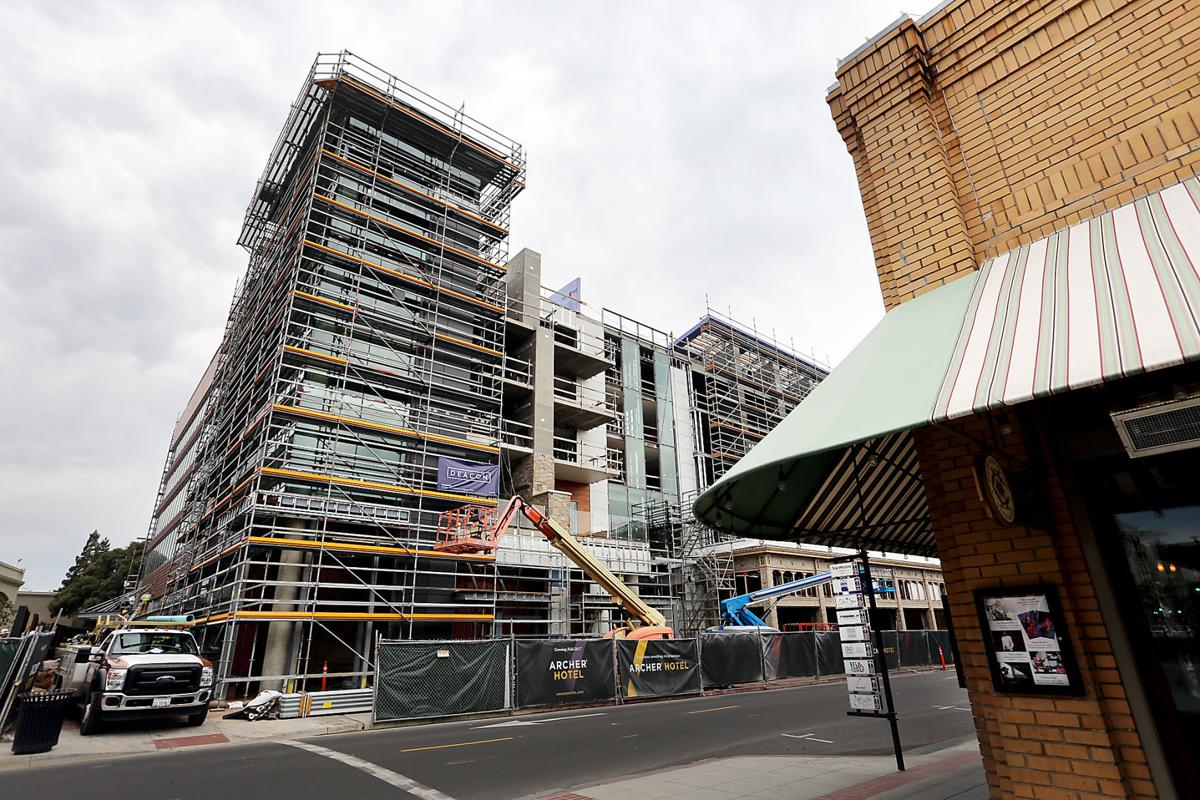 Napa finally is making some progress toward creating lower-cost housing, but an influx of workers in the a growing hotel industry will test an already scarce supply of affordable homes, city officials said in a report released last week.
Staff members outlined Napa's achievements and challenges in coping with inflated residential prices in a presentation to the City Council, which may overhaul hotel zoning policies in its next general plan.
The discussion marked a possible first step toward rethinking the standards by which Napa judges applications to build hotels, whose room taxes now supply a quarter of the city's annual revenue. While no immediate policy changes have been announced, council members began to hash out the ways by which hospitality businesses might support worker housing, lessen traffic congestion or otherwise soften the impact on daily life.
Approvals for housing construction surged in 2016 to 674 units, nearly as many as in the nine previous years combined. That total includes at least 282 dwellings planned at Vista Tulocay west of Soscol Avenue's Auto Row, as well as 171 units within Pietro Place at Central and Soscol avenues.
But developers' intensified interest in the Napa vacation market left city officials wondering how to cope with an increase in hotel and service workers who often must find housing elsewhere and commute into the city.
"We're missing the boat to encourage the hotels to come up with assistance programs to enable their employees to live in Napa," said Councilman Peter Mott. "That's a big part of what I hear from residents – they know the impacts that having that many more employees has on their community."
While not all city-approved hotel developments will ever break ground, interest in the Napa tourism scene remains keen.
Ten applications at varying stages of city review propose adding a total of 1,288 rooms or suites, led by the 275 envisioned for the mixed-use block of a combination housing, restaurants and retail that will fill the downtown sites of City Hall and the police station. Plans for a 250-room Marriott have been announced for the Napa Valley Commons in the south, and a hotel slated for the former Second Street post office would add 180 more.
With the increase in service-oriented jobs tied to hotels and restaurants, the gap between wages and housing prices has become a chasm for many Napa employees, the report stated. More than a third of local households earn less than $50,000 a year, and the gap between the rent affordable to a lower-income family and average local rents exceeds $500 a month, according to city staff.
So overheated has the real estate market become that a local real estate agent and housing advocate urged Napa leaders not to think of the housing crunch as a problem only of the poor.
"We are trying to reframe the discussion on affordable housing into housing that's affordable, said Eve Kahn, a member of the Napa Housing Coalition. "One woman who sits on this coalition represents Queen of the Valley, and she says there are doctors and nurses who want to come here but can't afford the housing."
With developers' payments toward the city affordable-housing fund unequal to the demand, Napa must consider steering some of its bed-tax funding toward housing attainable by lower-wage workers, said Vice Mayor Juliana Inman.
"This is not the most efficient way to build housing; we know the private world can build it better and cheaper and faster than with subsidized units," she said. "But we need to keep working and keep trying harder on that front."
However, Councilman Scott Sedgley saw changes in the labor equation as the only lasting hope for solving the shortage of lower-cost housing.
"If 70 percent of our hotel workers do live in Napa, it's because a lot of them are working two or three jobs so they can stay in Napa," he said, predicting that higher wages and union representation for hotel workers will be needed to turn more service workers into local residents. "… To help the solution of housing, you need to raise the standard of living, and to do that, you need increased wages."
Council members supported marking surplus city land for future housing and in particular pointed to potentially reusing the Napa city corporation yard – an 11-acre tract on Jackson Street and Lincoln Avenue near bus lines and within walking distance to schools and the downtown district.
On the hotel front, Councilwoman Doris Gentry questioned allowing developers to renew their building permits indefinitely while waiting to arrange financing, saying such tactics discourage or crowd out other builders pursuing the same scarce land supply. Among Napa's approved projects are those like a resort envisioned for Silverado and First Street, which passed city muster a decade ago and once had backing from the Ritz-Carlton chain but was stalled by the Great Recession.
"We shouldn't let these things drag on for 10 years," she said of such unbuilt hotels, suggesting a two-year window to act on a building permit. "It creates unstable expectations for the whole community. Other people will say, 'Well, I can't build a hotel in Napa, because someone else will build a Ritz here.'"
Get local news delivered to your inbox!
Subscribe to our Daily Headlines newsletter.