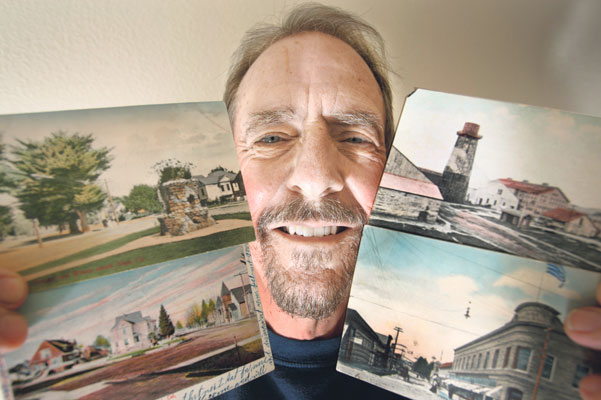 The year was 1909. On the back of a postcard depicting Napa's "State Hospital for the Insane," a Randolph Street woman dashed off a line to a farmer in Browns Valley.
"I would like another box of sauce apples as before if they are still 50 cents a box," she wrote.
Two years later, another postcard. The front shows a newly planted Fuller Park with a large artillery piece in the foreground. On the flip side, a guy named Dick wrote to his mother in San Jose.
"Dear Mother. A bum steer all around. The train that was supposed to go at 6:55 does not go till 7:40 and I do not think it will be worthwhile to come back," he said.
Skip forward a generation to 1938. The postcard shows the rustic dining hall at Lokoya Lodge in the Mayacamas mountains. On the back, a message to a Michael Thomas in Berkeley: "Would you like to swim with me sometime? Charlotte."
This is Napa's architectural, economic and social history, postcard style.
For those who don't want to plow through history books, old postcards — their black and white images often hand-tinted — are another way of discovering the Napa of yesteryear, said Stan France, an avid collector.
France has more than 200 vintage Napa Valley postcards preserved in plastic envelopes. When he wants to time travel, he slowly flips the pages.
"It's a lost Napa," France said. "You will see things in this collection that you'll be shocked at."
Shocked is a strong word, but consider a turn-of-the-century postcard of the Migliavacca Building. Such an impressive structure of native stone. Did something as handsome as this once grace the corner of First and Brown streets, the site of the current Dr. Dwight Murray Sr. Plaza? It did.
And did the women strolling in front of the Migliavacca Building really carry parasols? Like Victorians? Apparently so.
Napa Soda Springs, a long-gone 19th century resort, seems impossibly ornate for what we think of as pioneer times, but there it is — the magnificent rotunda, the cute "cozy nook."
"Where the bubbling sparkling water rises through the crevice of rock," a card gushes. And if bubbling water wasn't sufficiently seductive, the card also touts Napa Soda Springs as having "the finest specimen of Alligator Pear Tree in Northern California."
Bragging about a pear tree? That was a century ago, France said. Alligator pears must have been a big deal in those days.
Easier to comprehend, perhaps, is local pride in the massive, castle-like building that once housed Napa State Hospital, known in those days as the asylum.
With towers and turrets, it looked like something that a medieval king might have constructed to flaunt his wealth and power. But no, California's first residents built it to house the mentally ill.
One card shows the magnificent asylum in the background, while in the foreground a paddlewheeler steams down the Napa River. The postmark says the year is 1907.
"I have never visited the asylum, have you?" wrote an Oakville resident to a friend in Yountville. "I have always been afraid they would not let me out."
The stalest of jokes. Perhaps in 1907 it was a howler.
France, who once owned a local dental lab, acquired the core of his collection from his mother, Betty Anderson, a local antiques dealer in the late 1960s.
In those days, a vintage Napa postcard could be had for 50 cents or less. Today the going rate is between $5 and $10, but prized specimens have commanded $100 or more on eBay, he said.
If you happened upon a postcard of your house 100 years ago, you'd probably bid the moon, he said.
It's hard for someone today to appreciate how important postcards once were for everyday communication, France said. Today we pick up the phone, send a text message or drive over to visit. Back then, when phones were rare and horses greatly outnumbered automobiles, then they postcarded.
In 1913, on the back of a card of the "Amusement Hall, Veterans Home," a local resident wrote to "Dear Gertie" to report a vomiting incident. "Probably those green apples," she said.
The cost of mailing a postcard: one cent. It stayed that way for decades, France said.
France buys most of his new cards on eBay, where people who live all over the world promote their wares. "It always amazes me that someone in New York could have a Napa postcard," he said.
As his collection grows, it becomes harder for France to find images that he doesn't already own.
The Old Bale Mill, back in the days when the water wheel was shrouded in ivy? France has it many times over.
The California Glove Factory? Got it. The landscaped triangle, then with fountain, in front of the Napa Valley Register building at Second and Wilson streets? Got it. The Old Man with a Pipe on Monticello Road, back when the stone nose was longer? Got that, too.
France buys postcards. He never sends them.
"I haven't sent a postcard in years," he said. "They're not quite as cool as they used to be. They just don't tell the same story they once did."