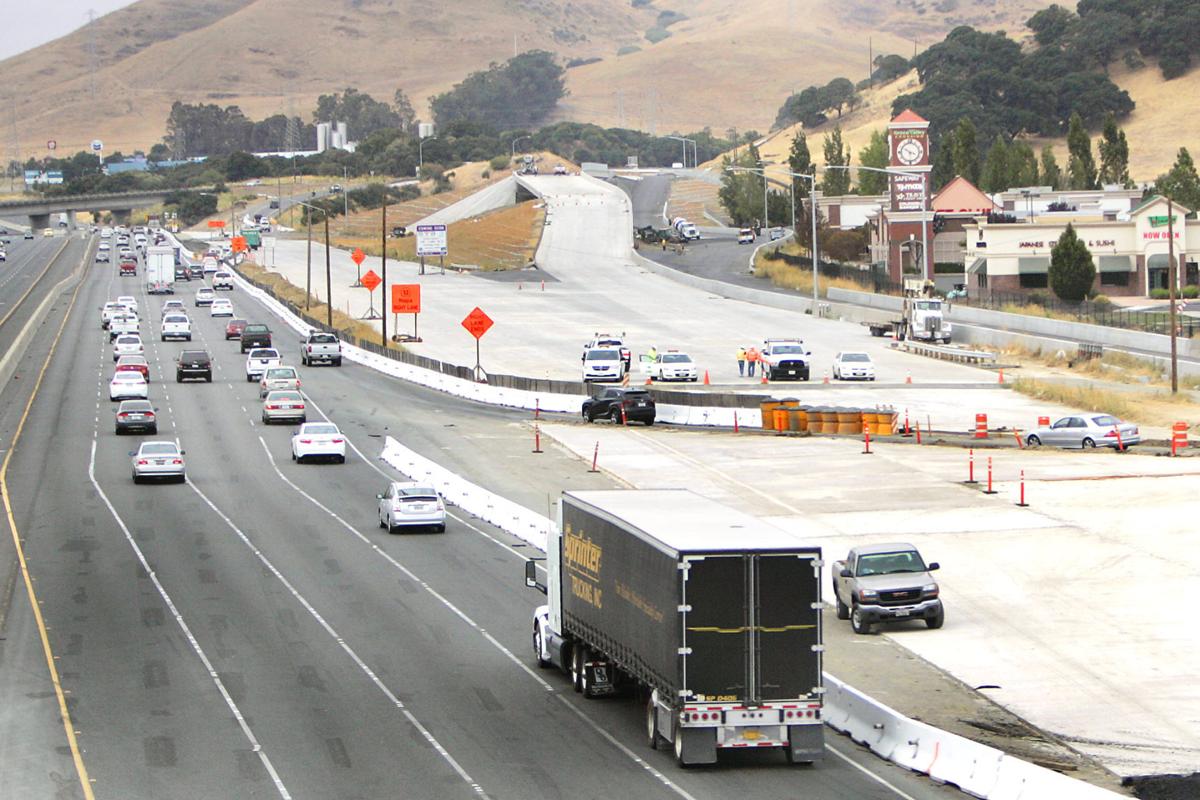 Jennifer Tydingco commutes to Napa from Vacaville. It takes her about 45 minutes to go to work in the morning through Highway 12/Jameson Canyon and about 75 minutes to 90 minutes to make the return trip. She blames a mile-long backup at the I-80 onramp.
"We're inching along maybe 5 mph, maybe 10 mph at the most," she said.
She sometimes takes the longer way home on rural roads over Mount George and through Wooden Valley and Suisun Valley. A lot of people go that way, she added.
Another way she's tried to deal with the problem is joining a Napa gym. She can work out before heading home and avoid some of the evening traffic.
Relief could be in sight for Highway 12/Jameson Canyon drivers such as Tydingco who are frustrated with the big Solano County-end traffic bottleneck that is the Interstate 80 onramp.
This six-mile highway segment has had two lanes going each direction ever since the Highway 12 widening project finished in 2014. But those two eastbound lanes squeeze down to one for the I-80 onramp, creating a long rush-hour backup.
A roughly $70 million project to create a two-lane ramp could begin in 2020, Solano Transportation Authority (STA) Executive Director Daryl Halls said. He sees better days ahead for those who want a backup-buster.
"Will it dramatically improve it?" Halls said. "Absolutely, yes."
Highway 12 in rural Jameson Canyon runs through both Napa and Solano counties. It is a major link between Napa County and I-80, Solano County and the Central Valley.
That gives Napans a stake in what happens with the I-80 ramp, even though the structure is in Solano County.
One key to the project's hoped-for time line is this Wednesday's California Transportation Commission meeting. The commission is slated to adopt spending for the state's Trade Corridor Enhancement Program that includes $53 million for the onramp project.
Kelly Beadleston is among the drivers who deal with the backup. Fed up with Napa's high housing prices, she moved to Fairfield a few months ago after living in Napa for 51 years. A two-bedroom, two-bathroom apartment with no pool in Napa cost $2,300 a month, she said.
Now she commutes to Napa for her job and that means going through Jameson Canyon. Her trip home in the afternoons brings her to the I-80 ramp backup.
"Two-thirds into it, it bottlenecks," Beadleston said, estimating vehicles back up for about 1.5 miles.
Ashley O'Brien travels from Napa to Suisun City in the evenings, which brings her to the bottleneck. Some people don't know how to merge properly from two lanes to one lane, she said.
"One minute, it seems like everyone knows what they're doing, but the next second, you have some bad drivers who mess up the whole pattern, she said.
Until last November, O'Brien lived in Napa with her mother, but balked at the local housing prices when looking for a place of her own.
"It's cheaper to live in Suisun than Napa, so I had to do it for that reason," she said. "I would love to live in Napa. That's where I work. That's where I was born and raised."
The bottleneck is more than a commuter problem. Anyone trying to leave Napa County using Jameson Canyon on a weekday or weekend might encounter the bottleneck, depending on their timing.
The STA and Caltrans for years have been working on a $740 million plan to fix to the Interstates 80 and 680 and Highway 12 interchanges. The goal is to create one merged interchange in seven phases.
Fixing that bottlenecked Jameson Canyon ramp was originally scheduled for Phase 4. Given Phase 1 only recently was completed – a new entrance to Jameson Canyon from the Solano County side – the day of the ramp widening looked far off indeed.
But last June, the STA decided to move the Jameson Canyon ramp project up to being the very next project. An agency report said the ramp fix would have a better chance of securing funding in a competitive environment than the other phases.
STA Deputy Executive Director Janet Adams said the project means building a new two-lane ramp bridge over I-80. Plans call for building a separate ramp to the Green Valley exit, eliminating traffic weaving.
Adams compared the proposed project to that adjacent, recently completed new entrance to Jameson Canyon from I-80 and Green Valley in Solano County.
"I consider it a mirror image of what we just built," she said.
Jameson Canyon drivers such as Tydingco are looking forward to the day a two-lane ramp becomes a reality and their backup woes end.
"That would be incredible," she said.