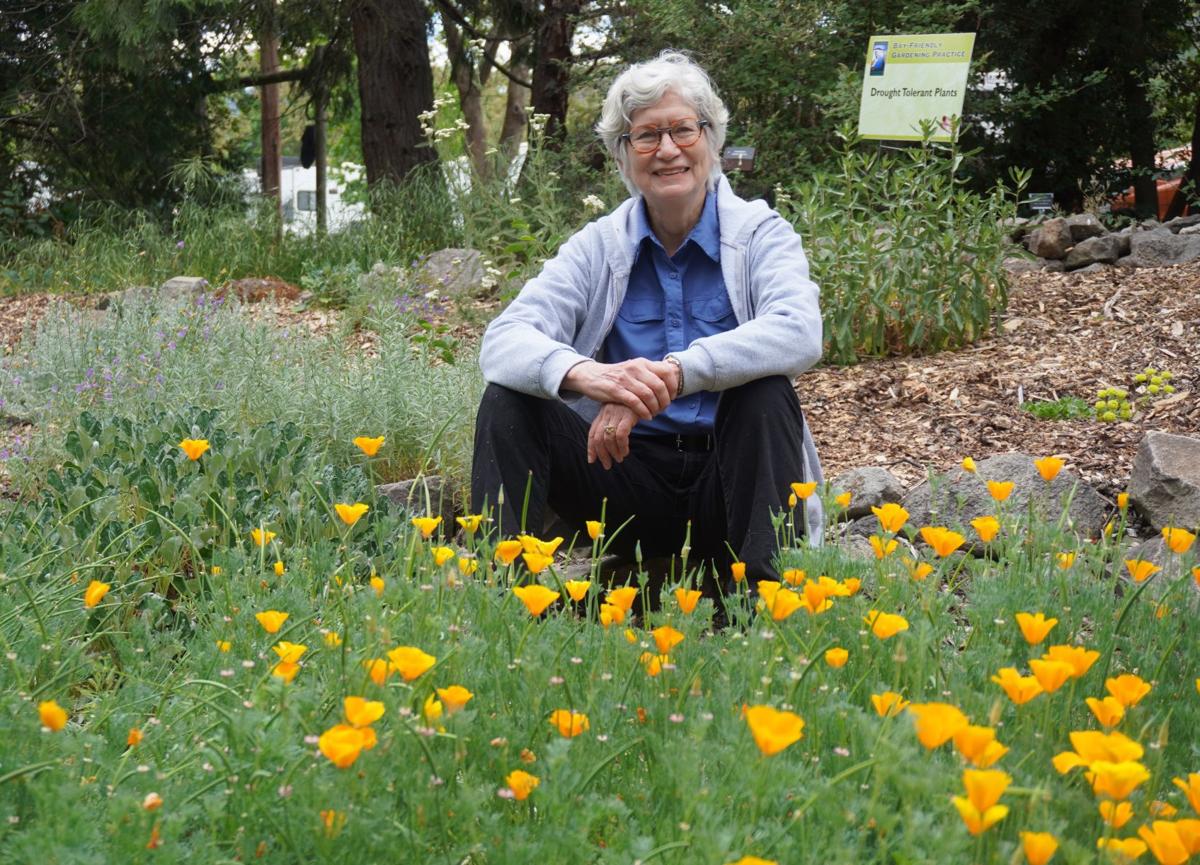 When Shelly Euser began gardening her nearly one-acre plot of land in Napa eight years ago, she started with a simple concept: "If it couldn't feed me or the habitat, I didn't want it."
Euser thought the approach would limit her garden, but she quickly found the sustainable techniques she used, like recycling water and gardening supplies, composting and choosing plants native to the soil, created biodiversity the lifelong gardener hadn't seen since she was a kid, all in her very own backyard.
Today, her urban garden – it falls within city limits – boasts a rare weeping mulberry tree, numerous walnut and apple trees, rows of lettuces, heirloom tomatoes, eggplants, citrus and an array of other fruits and vegetables, bountiful fresh herbs and a field for foraging wild arugula.
The fifth-generation Napan grew up in the dirt. Her family operated one of the area's first fruit tree nurseries, she says, and she's well-acquainted with the area's climate, soil and growing conditions.
Euser is one of five home gardeners opening up her yard to Napa green thumbs during this year's Bay Friendly Garden Tour. Now in its 10th year, this event normally occurs on a Sunday in May, with around a dozen individuals who practice Bay Friendly farming – an approach that prioritizes water conservation, waste reduction, soil nurturing and overall harm reduction to the natural environment – opening up their homes to participants to promote sustainable landscaping techniques.
"We feel like the best way to do that is to inspire people by showing them beautiful examples of how sustainable gardens can look and providing them with the opportunity to connect with local home gardeners," said Frances Knapczyk, program director for the Napa County Resource Conservation District, which co-sponsors the event along with the City of Napa Water Division.
COVID-19 and the subsequent 'shelter-in-place' mandate required organizers to rethink the program, leading to the creation of the current month-long event. Every week includes a Facebook Live informational tour shot by a small crew wearing masks and using cellphones with a different home gardener. The videos are followed by a number of hour-long Zoom videos throughout the remainder of the week all connected by a loose theme. The first two weeks, for example, focused on soil health, native plants and water-wise edible gardens. The second half of the month will look more at responsible irrigation practices and pest management.
All videos will remain up on the site for the entirety of May and likely for a number of months beyond that, according to Knapczyk.
Last year, 350 tickets were sold for $5 per person. With the new virtual format, all events are free, and organizers hope they'll reach as many as two or three times that number given the programming's newfound accessibility.
But what is sustainable farming?
Though this year's Bay Friendly Garden Tour is an overdue feel-good moment in an otherwise sobering time, it serves a very practical purpose too, Napa Water Resources Analyst Patrick Costello said.
According to Costello, 40% of the city's annual water use goes to irrigation, a high number especially considering the volatility of Napa's precipitation every year. His department manages the "critical resource," and seeks to inform residents of the importance of water conservation in ways that feel beneficial to them as opposed to restrictive.
The Garden Tour is one innovative and engaging way to do that.
"Educating our customers on ways to save water outdoors is important," he said. "While we can hold workshops and publish all the information we want, it's important to actually show people how beautiful and effective these landscapes and techniques can be."
Responsible water use quickly gives way to environmentally-friendly methods that serve to protect local natural resources and support animals, insects and plant life indigenous to the area. Examples of additional sustainable practices include up-cycling and recycling materials, adding compost into the soil, eliminating chemical products and growing plants that add nutrients back into the soil, Knapczyk explains,
"It's about taking care of the soil and the water and the wildlife that we depend on in our own backyards and figuring out how to create a lot of beauty and pleasure in a way that doesn't have a negative impact on our natural resources," she said, adding the hope is that these methods will allow future generations to enjoy the same variety of ecosystems and wildlife residents enjoy today.
More time for garden projects
Early indicators show there's an appetite for gardening and yard work as cities slowly ease into what's being dubbed as "re-opening." Plant nurseries and open air garden markets in nearby Lafayette, Oakland and San Francisco, for example, have reported consistently long lines of cars waiting to purchase flowers, seeds and plants while abiding to new social distancing shopping guidelines.
"It feels like there's quite a bit of pent-up gardening energy out there," Costello said, adding he hopes the Garden Tour can be a resource for people's projects.
Euser says gardening is just like any other craft: it takes time, but if you put in the work and "meet it with joy," it can be incredibly rewarding.
Her encouraging words were echoed by Knapczyk who emphasizes that while gardening can seem intimidating, those featured on the tour aren't doing anything out of reach for the ordinary individual.
"These gardeners, aren't professionals, they're amateurs. They're individuals who are passionate about surrounding themselves with beauty and also being really sensitive to nature as they are doing that," she said. "I would say all of them are nature-lovers and keen observers, and they want to have a lot of bustling activity in their home space their garden space."
Bay Friendly Garden Tour organizers are optimistic this year's virtual version will provide solace to residents looking for comfort during a difficult time.
"I think when you don't have as much contact with friends and family, you can bring that kind of living joy into your world through spending time around plants, insects and soil," Knapczyk said.
Get local news delivered to your inbox!
Subscribe to our Daily Headlines newsletter.