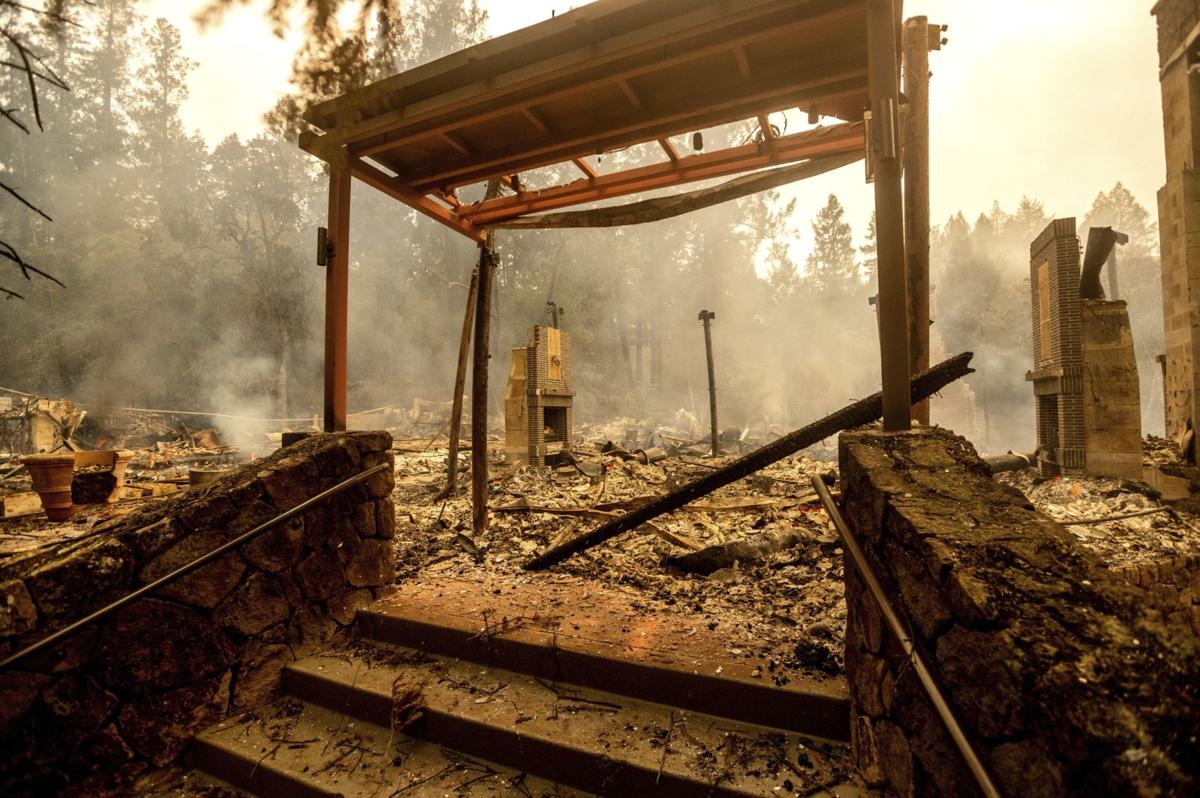 The Glass Fire is now 66% contained, but it will go down in the record books as the tenth most destructive California wildfire in state history, Cal Fire reported.
Cal Fire said the fire, which sprang up Sept. 27 near Deer Park in Napa County and raced into Sonoma County, has destroyed or damaged 1,536 structures in the two counties, putting it tenth on the all-time destruction list.
No dollar value is put on the damage, but the list includes wineries and several major Napa resorts.
The Camp Fire which leveled the town of Paradise in 2018 and incinerated 18,804 structures is number one on the list. The Tubbs Fire, which started in Napa County but did most of its damage in Sonoma County, is second on the list with 5,636 structures destroyed.
Unlike the other nine fires in the top 10, the Glass Fire has not caused any deaths, Cal Fire reported. The cause of the Glass Fire is under investigation.
For the first time since the Glass Fire erupted, there was no fire growth overnight Wednesday, with Cal Fire able to focus on smoldering flames inside the fire perimeter.
The Glass Fire has burned 67,429 acres in Napa and Sonoma counties. More than 40,000 acres are in Napa.
The fire has destroyed 307 homes and 343 commercial structures and damaged at least 100 more in Napa, while in Sonoma it has leveled 332 homes and destroyed 12 commercial structures.
The Cal Fire list of most destructive fires has Napa's Atlas Fire of 2017 number 19, with 738 structures destroyed. That fire killed six people.
Cal Fire estimates that it will have full containment by Oct. 20. It still had 2,322 firefighters committed to the Glass Fire as of Thursday morning.
Most mandatory evacuation orders have been lifted, but there are still 2,807 Napa County residents who are not allowed to go home, said Janet Upton, the county's public information officer.
At the peak of evacuations, 1,921 people were being sheltered in hotels. As of Thursday, this number has dropped to 987 people, Upton said. In addition, 273 animals were being sheltered, she said.
Cooler weather and rising humidity have made a big difference in Cal Fire's ability to gain control over the fire, Upton said.
As of Thursday afternoon, major road closures included Silverado Trail between Deer Park Road and Picket Road, Highway 29 between Tubbs Lane in Calistoga and the Lake County line, Deer Park Road between Silverado Trail and South White Cottage Road, Spring Mountain Road west of the St. Helena city limits and White Sulfur Springs Road west of the St. Helena city limits.
Napa has opened a Local Assistance Center at Napa County Health and Human Services, 2751 Napa Valley Corporate Drive, Building A, Napa.



Watch Now: Dr. Fauci's flu season tips