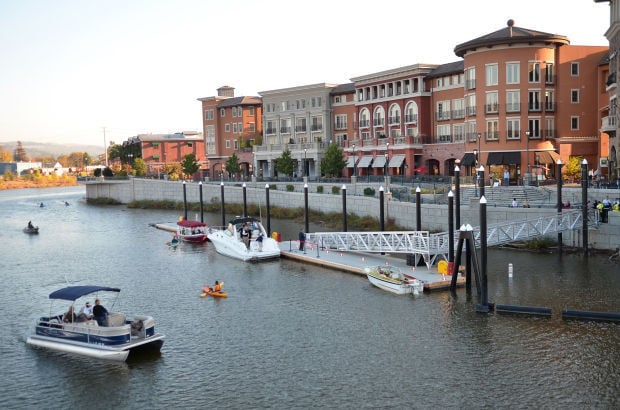 A private company has been picked to manage Napa's downtown river dock and use it as the launching point for boat excursions across the Bay Area.
Tideline Marine Group's offer to run daily operations at the three-year-old Main Street dock won the City Council's unanimous support Tuesday afternoon. The seven-year agreement, which includes a five-year extension option, would give Tideline the right to run water taxis from downtown to other regional ports, as well as putting it charge of kayak rentals and other commercial activities envisioned for the dock.
Tideline's founder and chief executive, Taylor Lewis, took pains to pitch the company's water shuttles as a scenic experience to let passengers enjoy the Napa River, not as rapid transit for commuters. John Coates, the city parks director, predicted excursions could take about two hours to Vallejo and three hours to San Francisco.
"If it takes six hours to get from Napa to Vallejo, then that's what it takes," Lewis told the council. "We're not a speed-driven service."
Even at such a leisurely pace, though, such trips stirred worries among several residents on Milton Road in the Edgerly Island area south of Napa, who asked Tideline not to agree to anything that would increase water turbulence and possibly weaken levees on their stretch of the river.
The flood wall protects 135 homes, but a recent grand jury report rapped its operator, the Napa River Reclamation District, for its inability to impose uniform design and maintenance standards on the levee, where homeowners own and keep up only the sections on their own properties.
Some property owners simply asked for strict enforcement of speed limits and safe boating, but others went further.
"I don't have paint anymore on one of my boats, it's been slammed against the dock so many times," said Jim Winters, echoing complaints of neighbors about speeding, reckless and wake-creating boaters.
"You're impacting us and you didn't bring us into the process until the very end, and I'm a bit upset about that," he told council members. "We're not being compensated in any way for the damaged that will be done to our levees."
With months to go before any shuttles can run, Tideline directors promised to reach out to the Milton Road community to learn how to assuage such worries. Nathan Nayman, the company president, said the carrier likely would organize forums to meet with the property owners in person during the wait for state approval.
Councilwoman Juliana Inman argued in favor of boating services like Tideline's, which she said have operated safely and with respect for their surroundings in San Francisco, Sausalito, Tiburon and other ports. Furthermore, she said, more use of the Napa River will throw more visibility – and support for preservation – to a once-busy industrial waterway that long was neglected and struggled to gain federal money to keep it clear of sediment.
The U.S. Army Corps of Engineers is slated to dredge sections of a 13-mile stretch from Napa to Vallejo as early as September, its first such project there in 18 years.
"I don't believe that having this operator use the dock is going to increase damage along the levees," said Inman. "The navigable river (the portion north to the Third Street bridge, overlooking the dock) has been used for over 150 years. This has been a place for sailboats, steamboats, every kind of boat (that) has come up the river for a very long time.
"The fact that no commercial boats have gone up the river for several decades is no reason not to have commercial boats again. If we don't have a commercial river, we don't need to dredge it and we can let it silt up and have it just be used by kayaks."
The city and company partnership requires approval from the State Lands Commission, which oversees California waterways and leases the dock site to Napa. An application to allow commercial activity at the dock should be filed within the next week, according to city parks director John Coates, and the review is expected to take six months.
With the state's buy-in, Tideline expects to begin offering hired, point-to-point excursions as early as next spring, along with a kiosk above the slip at Napa's Riverfront to sell tickets for shuttle rides and other river activities.
A single quarterback for river recreation has been the hub of Napa's efforts to increase the number of visitors at its 176-foot-long dock, which opened in October 2013 beside the Riverfront housing-shopping complex but has been only lightly used thus far, mainly by those in kayaks and other small craft.
Tideline's agreement puts it in charge of subleases for other commercial dockside businesses. Proposals to the city have included renting kayaks and solar-powered boats, offering yachts on call, and a return of the Gondola Servizio touring vessel that plied Napa waters until the city's previous downtown launch closed in 2006 for flood control work. Parks officials also have entertained the idea of hosting boats offering lunch and dinner cruises on the river.
Napa will collect 20 percent of the gross revenue from commercial activities from the dock, although that amount will not include water taxi revenues until the third year.
Tideline, which already operates boats serving San Francisco and about two dozen other destinations, plans to use three vessels to serve Napa passengers. Two of the boats can hold up to 43 people and the third accommodates 22, and all would be hired for direct journeys, rather than running on fixed schedules like Bay Area ferries. Company leaders expect to offer most service from spring to late November for weather and tide reasons, but have said Tideline could serve wintertime charter groups, as well.
Get local news delivered to your inbox!
Subscribe to our Daily Headlines newsletter.