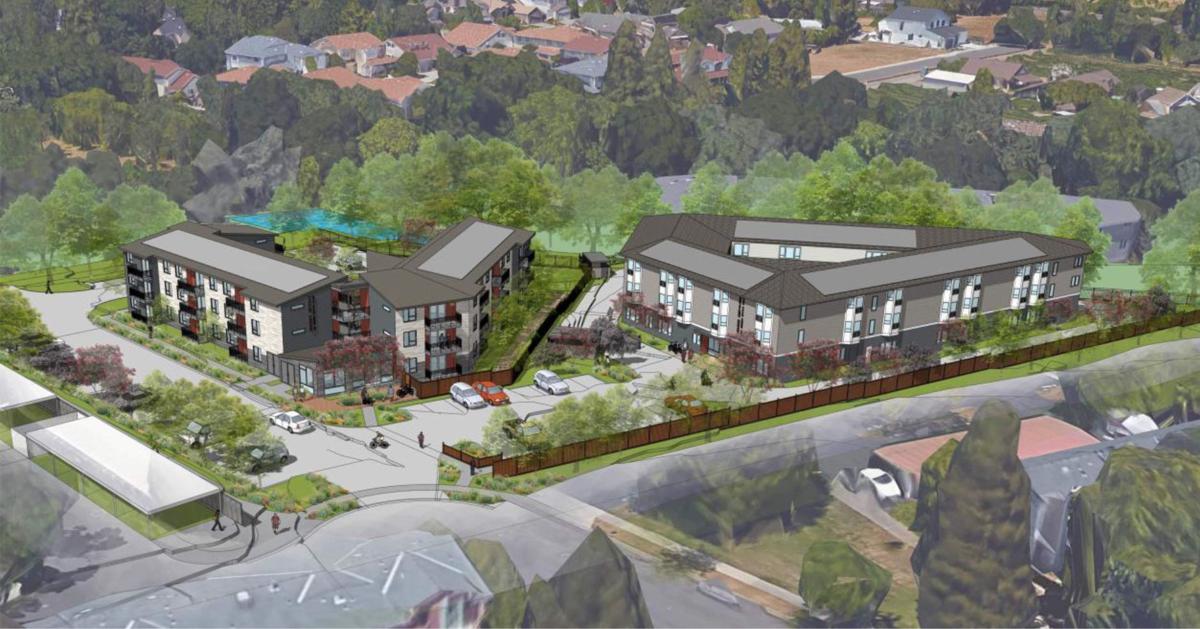 The design and mission of a housing complex planned in north Napa have changed. But on Thursday night, the blowback from its would-be neighbors proved as fierce as ever.
A city Planning Commission discussion of Heritage House – which had been scheduled to deal solely with its environmental footprint – instead became a gauntlet of warnings from homeowners that the project's goal of re-housing homeless and those coping with addiction and mental illness would put children, seniors and themselves in danger of property crimes, violence or worse.
"We have literally dozens of students walking to Vintage and runners on Vintage track teams," said Clay Parker, one of more than 15 residents to speak out against the supportive-housing project. "Lots of seniors walk their dogs, some on walkers. We are very concerned for their safety, given what the population of that housing is likely to be … Think about safety, safety, safety," he implored planners, to the cheers of other residents.
Although an approval vote on Heritage House is not expected until the fall, the unbending and often emotionally raw opposition from much of a 60-person audience at City Hall showed the lingering hard feelings over years of attempts to build housing at the former site of Sunrise Assisted Living, a retirement home that operated at 3700 Valle Verde Drive before closing in 2004.
An earlier project, the Napa Creekside Apartments, foundered when neighbors successfully sued the city to overturn its approval of the 57-unit affordable housing complex, citing inadequate environmental review of its impact on Salvador Creek's fish population. Napa Creekside's developer Bridge Housing Co. canceled its project in 2016 and sold it to The Gasser Foundation.
The latest project, a partnership between Santa Rosa-based Burbank Housing and the Napa County's homeless outreach contractor Abode Services, would involve renovating the former Sunrise home to hold 58 single-room-occupancy units and eight one-bedroom apartments. Half the units are to be set aside for people emerging from homelessness, with the rest to be rented to others earning less than the local median income. Joining Heritage House on the 2.88-acre property along Salvador Creek would be a new, three-story apartment building with an additional 24 dwellings.
To prepare for the Heritage House hearings, three planning commissioners and two council members toured two supported housing projects in Fremont earlier this month where Abode provides services to residents.
What raised the hackles of many speakers on Thursday night was a condition for a major state source of funding for the home.
The No Place Like Home program, which draws on the sale of $1.8 billion in state bonds to pay for housing for the chronically homeless and mentally ill, has awarded the Napa project $7.9 million, more than a quarter of the estimated $28.5 million cost. Funding terms include a requirement for such housing to accept tenants "regardless of sobriety, participation in services or treatment, history of incarceration, credit, or history of eviction."
You have free articles remaining.
Without a hard requirement for Heritage House residents to stay sober and attend treatment, the facility – on a parcel surrounded by houses, apartments and a retirement home – will jeopardize the safety of those living or walking nearby, predicted Suzanne Berry. "A population with several mental disorders, substance abusers, possibly sex offenders … what could possibly go wrong?" she asked the commission.
Other residents, while supporting the idea of Heritage House, called Valle Verde Drive a poor location for tenants in constant need of counseling and treatment. Describing the program as more treatment than housing, Jennifer Hopkins urged its relocation nearer to Napa State Hospital or the county Health and Human Services department in south Napa.
"We need it in Napa, but let's set it up for success," she told planners. "Setting up housing at the north end of Napa when all the services are at the southern tip of Napa, that's a long trek for them – a lot of them don't even drive. Let's move that part of the project closer to where they can get services."
One of the few voices in support of the project came from Bonnie Richardson, a Napa resident and physician who warned a lack of such housing would only cause more troubled people to stay in the tent communities feared by many of the other speakers.
"They're us, they're our children, they're our friends, they're our neighbors," she said of those passing through recovery. "We tend to think of them as 'other,' but they're a part of Napa."
Very few of the neighbors speaking out against Heritage House addressed the announced topic of Thursday's meeting – the project's environmental impact report, which addresses impacts to the surrounding soil, water, air and wildlife. The meeting played out midway through a state-required comment period on the study, which runs through Sept. 5.
While planners did not directly answer residents' pleas to block the housing development, some questioned the adequacy of its parking arrangements and its nearness to public transit. Applicants are seeking an exemption from a requirement for covered parking on the grounds, as well a path to the nearest bus stop on Trancas Street that is 360 feet longer than the standard 1,200-foot limit.
"It feels like it's too far away, if you have that many people on site, to not have public transportation" close by, said Commissioner Paul Kelley.
In light of the neighborhood resistance that led to litigation and the end of the previous attempt to build housing on Valle Verde Drive, Kelley called for an environmental study "to try to consider everything and the kitchen sink" to put the latest project on as firm a footing as possible. "I think everybody deserves to know how this program really will be run and operated," he said.
Heritage House's final environmental report is expected to be published in early October, 10 days before a Planning Commission review and vote tentatively set for Oct. 17. A final vote by the City Council would then take place as early as Nov. 5.