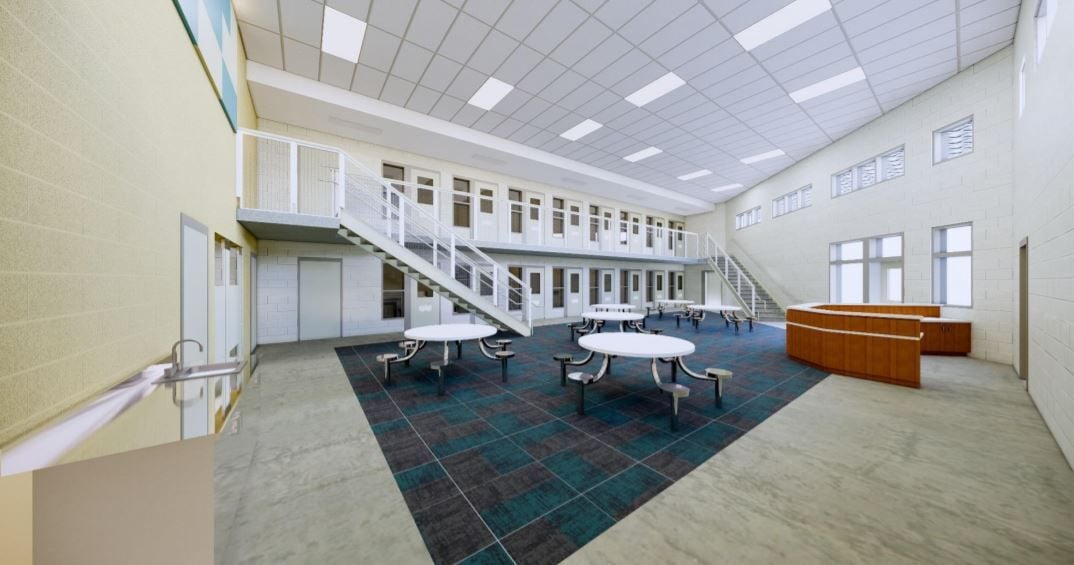 Construction of a new, $128 million county jail could begin next April and that's raising the enticing question about what will replace the existing jail when it's no longer needed in downtown Napa.
Workers this summer readied the new jail site on the edge of town. They cleared brush, removed concrete foundations from old buildings, excavated a vast hole, refilled it to geotechnical specifications and smoothed everything out.
The result — building pads along Highway 221 near Syar quarry ready for construction. County Deputy Public Works Director Juan Arias called the work a "head start."
That planned, 304-bed jail with an additional 28 mental health beds will be one of the biggest public works projects ever undertaken by the county. It will replace the 276-bed downtown Napa jail built in 1976 and expanded in 1988.
"Our jail right now is old, broken and outdated and it comes with a set of liabilities that's stayed that way for too long," county Supervisor Ryan Gregory said.
The county Board of Supervisors on Tuesday heard an update on the jail construction project. Gregory was beginning to think about what to do with the downtown jail when it's no longer needed.
Certainly the downtown jail site has that real estate selling point of location, location, location. One side fronts Main Street a short distance from the Napa River and from the shops and restaurants of Napa's Riverfront and Historic Napa Mill complexes.
"The great part of this is we get to get rid of the old jail, tear it down and do something else that will benefit downtown," Gregory said.
He sees the timing as being right to start discussing the issue. The city of Napa is updating its general plan and that could lead to new zoning for the site.
Supervisor Alfredo Pedroza agreed it's not too soon to start looking ahead at the future of the downtown jail site. County officials responded they will start brainstorming.
The new jail comes with more than that $128 million construction price tag. County officials estimate running it will cost $23.8 million annually, compared to $20.4 million for the downtown jail. That's an additional $3.4 million.
Added costs include an additional cook, two additional maintenance employees and 15 additional correctional officers. The county will need to run a downtown holding facility for inmates going to hearings in the county courthouse.
Supervisor Belia Ramos stressed that with the added operational costs comes more jail beds and facilities suitable for inmates facing mental health challenges.
The county has looked at considering building a new jail for more than a decade. The latest schedule has the 304-bed jail along Highway 221 being finished in October 2022.
"October 2022 in the context of this project seems around the corner — almost there," Board of Supervisors chairperson Diane Dillon said.



Watch now: Howard Lahr recalls his World War II service
See a Disneyland-like rollercoaster in a Carneros backyard(tncms-asset)7b8800f2-1fb6-11eb-83cb-00163ec2aa77[1](/tncms-asset)
Catch up on Napa County's top news stories
Get local news delivered to your inbox!
Subscribe to our Daily Headlines newsletter.