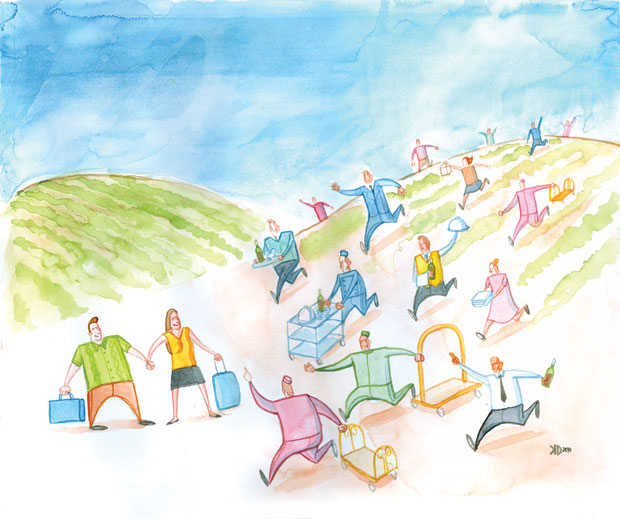 If all goes as planned, there could be a whole lot more room at the inn around Napa.
According to hotel plans under discussion, more than 1,100 hotel rooms may be coming to the city center and surrounding areas in the coming years.
• The already approved Ritz-Carlton is slated to have 351 rooms,
• Another 300 rooms in the new downtown specific plan
• George Altamura plans a 90-room hotel on Soscol Avenue
• The St. Regis resort at Stanly Ranch includes 245 rooms
• A business traveler hotel with 120 rooms could eventually open next to the new Cinedome in south Napa.
But how many hotel rooms does Napa Valley need? And could there ever be too many?
The answer varies depending on whom you ask.
"It's not likely in the near term that we would have too many hotels," said Napa hotel consultant Don Winter.
"Yes, some of the new hotels will impact existing hotels but it's all about competition. The existing hotels will compete better because they have more competition," he said.
"The market demand for Napa Valley hasn't changed, it's gotten stronger," Winter said. Besides being a world-renowned wine growing region, "It's bucolic and pastoral, and we have a spectacular climate" in the Bay Area.
"Almost every other county would kill to get the market we have here," he said.
According to Clay Gregory, CEO of the Napa Valley Destination Council, there are 5,232 hotel rooms in Napa County. That's a 42 percent increase — more than 1,500 hotel rooms — since 2002 when there were 3,693 rooms.
New properties built in the past decade include:
• Fairfield Inn and Suites
• Holiday Inn Express & Suites.
Gregory said supply and demand shapes the local hotel market. "Of course there can be too much supply," but, "our whole goal is to make hotels do better and, therefore, they might need more hotel rooms," he said.
Thomas Callahan, co-president with hotel consultant PKF Consulting USA, agreed. Napa Valley is a "world-class" destination, offering food, wine and luxury living, he said. "It's as simple as that."
However, it becomes hard to find room to build larger hotels north of the city of Napa, he said.
"Everyone wants to be in Rutherford or Yountville," Callahan said. But without larger blocks of available land, some operators are turning to south Napa, like the Meritage, and the budget hotels of American Canyon.
Callahan said the industry is picking up.
"The economy isn't coming back in gangbusters but the hotel industry is coming back," he said. A recent survey from PKF Consulting showed that for the end of 2011, the local occupancy rate was 72.7 percent. In 2010, occupancy was 65.6 percent; in 2009, 65.8 percent.
Napa's draft Downtown Specific Plan, includes provisions for 300 hotel rooms in downtown, in addition to three hotel projects already approved for central Napa and Carneros, said Cassandra Walker, director of redevelopment for the city of Napa.
"There are number of properties that are looking at hotel uses," including the Town Center, Copia and where the Cinedome is currently located, Walker said. "We will evaluate the sites and projects as they come forward," she said.
The three approved projects — the St. Regis in Carneros, a  Ritz-Carlton on First Street at Silverado Trail and a hotel by George Altamura on Soscol —  have yet to start construction. There is nothing else in the pipeline, Walker said.
Altamura  said he doesn't think occupancy rates are too low to warrant building another hotel in Napa.
"There are too many people that can't stay in Napa, especially starting in May," he said. "People want to come but can't get a room because they are all full."
Altamura couldn't say when he will start construction on his hotel. "I'm getting the figures and costs together. I'm working on it," he said.  
Brad Weiser, developer of the proposed Ritz Carlton and Jeff Selby, developer of the St. Regis, could not be reached by phone.
Walker said she's not sure how many other hotel rooms the city needs.
"It depends on the market" and what is proposed, Walker said. "The city wants to have a diversity of hotels in the market," she said. "We will evaluate each of those proposals depending on the location."
It's possible to have too many hotels, said Rick Swig, hotel consultant, investor and owner of the Harvest Inn in St. Helena. Occupancy percentages need to be closer to the high 70 percents to justify more hotel rooms, Swig said. He said he doesn't believe we need more supply today.
According to Swig, "Average daily room rate and occupancy haven't kept up with what it costs to operate and build and therefore new construction is probably not justified," he said.
"Banks aren't dummies," Swig said. They say 'You can't support what your debt would be.' Investors say, 'You can't give me a return on that investment.'"
New construction is justified when occupancy increases, Swig said. "It's happening in San Francisco now. San Francisco is now headed toward 80 percent occupancy. Room rates will rise again in San Francisco."
With the 2011 occupancy rate of 72.7 percent, "We have more supply than demand, and significant discounting goes on," Swig said.  
Swig said Napa Valley occupancy rates might edge up to 73 percent this year "but not much further."
How many hotel rooms can be supported in Napa? "I can't give you an exact number," Callahan said. "There is no question that more rooms can be absorbed at all levels," especially during peak travel times like weekends, summer and the grape crush.
"There is an opportunity for hotels catering to individual travel and group meeting market" in Napa, Callahan said. "There are a lot of groups that might like to meet in Napa but don't have enough meeting space."
Callahan said economics is the reason Napa sees more higher end and luxury properties opening. "It's hard to make budget-oriented properties work financially" because land is expensive to buy and develop, he said. To make it work financially, "You need a higher room rate and most developers then go to the upper tier of the market."
"Competition is healthy," said Michael Palmer, general manager of the Meritage Resort said. "It brings more business to everyone." But growth "needs to be tempered with caution. Transportation is my biggest concern" about adding new hotels in the valley, he said. How would an increased number of cars impact area highways or roads?
The Meritage is one  hotel that is expanding. The hotel found that it didn't have enough guest rooms for its meeting space, he said. The resort is about to debut 165 new rooms and 7,400 square feet of conference space.
"It made sense for us, and we're on pace for this year. We know it was a smart move," Palmer said.
Much of the demand for Napa Valley is driven by the Bay Area, and particularly San Francisco, said Dennis Gemberling, president of hotel consultant group Perry Group International.
"San Francisco is the dog that wags the tail and Napa Valley is the tail," Gemberling said. With the hotel market rebounding, "That bodes well for Napa." The 2011 year-end PKF hotel report showed that San Francisco hotel occupancy rose 3.1 percent and the average daily room rate rose 15.6 percent.
He doesn't expect to see many more budget hotels in Napa Valley.
"There is enough of that in the surrounding areas," such as American Canyon, Vallejo and Fairfield. Those travelers don't mind staying outside of the area and coming into Napa, he said.
"We can't all stay at the Ritz or St. Regis," Chris Messina, CEO of the Napa Chamber, noted. Hotels with a variety of price ranges are good for the market, he said.
However, "We should have higher-end hotels to fulfill the demographics coming this direction that want overnight stays. Higher-end hotels add more credibility to our brand," Messina said.
"Sure, way down the road you could have too many" hotels, Messina said, "but if you look at the occupancy rates, there is a definite need for more hotels. And they need to be strategically placed. Downtown would be beneficial."