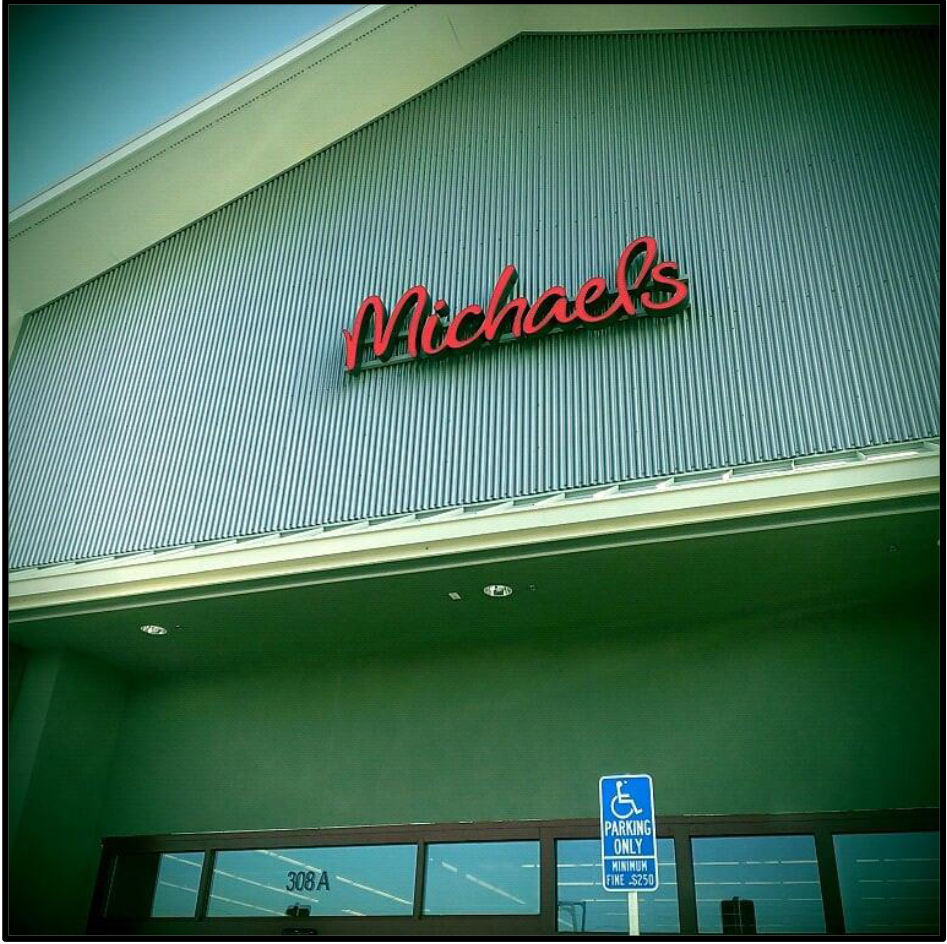 Future store signs in Napa could be prevented from being too small for a building's size – or blanketing the space above the front door – under new design rules approved by the City Council.
The modernized ordinance will change the way city planners compare a sign's lettering to the size of a storefront. Strict limits on letter height and the percentage of a façade that may be covered will be dropped in favor of a new standard basing sign size on a storefront's width – a change planners have said will avoid saddling merchants with hard-to-see labeling obviously undersized for a storefront.
Passed in 1994, the current sign law limits storefront labeling to no more than 10 percent of a business' front-facing area, and requires letters and numbers to be shorter than 24 inches. Such rules put larger spaces at a disadvantage to smaller ones, according to city planners, citing examples like a Michaels craft store on Soscol and Kansas avenues where the chain's logo is squeezed into the center of a wide swath of corrugated metal between the shop windows and roofline.
By contrast, Mod Pizza – which shares a parking lot with Michaels at Napa Crossing South – could legally have hung a 66-square-foot sign over its much smaller storefront, although its actual signage is a modest 16-square-foot rectangle.
Future Napa stores will be entitled to a sign size based on the business' linear width under the new ordinance, with a 40-foot-wide space eligible for up to 40 square feet of wall-mounted labeling. Combined with the elimination of letter-height limits, signs shaped by the new rules should be in better proportion to their buildings, senior planner Michael Walker told the Planning Commission before it endorsed the changes last month.
Other parts of the new sign code encourage greater use of vertical lettering on taller structures like Archer Hotel Napa, which opened last year on downtown First Street with a top-to-bottom masthead. Such signage will be permitted on buildings with three or more floors if the characters are attached to an "architectural element."
While council members accepted the rule changes for business signs with little comment Tuesday, other parts of the ordinance aroused disagreement – enough for the council to leave additions to the law for another day.
A ban on A-frame displays outside stores remains in effect, despite a call from Councilmember Mary Luros to allow such street signs in cases when closures or road work threaten to keep would-be customers far away from local businesses.
The November elections also entered the debate as council member debated whether and how to loosen the rules for posting campaign signs – especially in the grassy strips between street curbs and sidewalks, which homeowners are responsible for maintaining but remain under city control.
"Removing those 3-by-whatever-foot signs is an overreach, in my opinion," Scott Sedgley said about requirements for markers to be moved from parking strips to front lawns, which are private property.
However, City Attorney Michael Barrett cautioned any carve-out to loosen the rules for election signage risks running afoul of First Amendment free-speech protections as well as court rulings that require governments to treat different kinds of content with neutrality. In particular, a 2015 U.S. Supreme Court decision voided a sign ordinance in Gilbert, Arizona for imposing stricter rules on signs advertising church services than on political and other noncommercial displays.
Get local news delivered to your inbox!
Subscribe to our Daily Headlines newsletter.