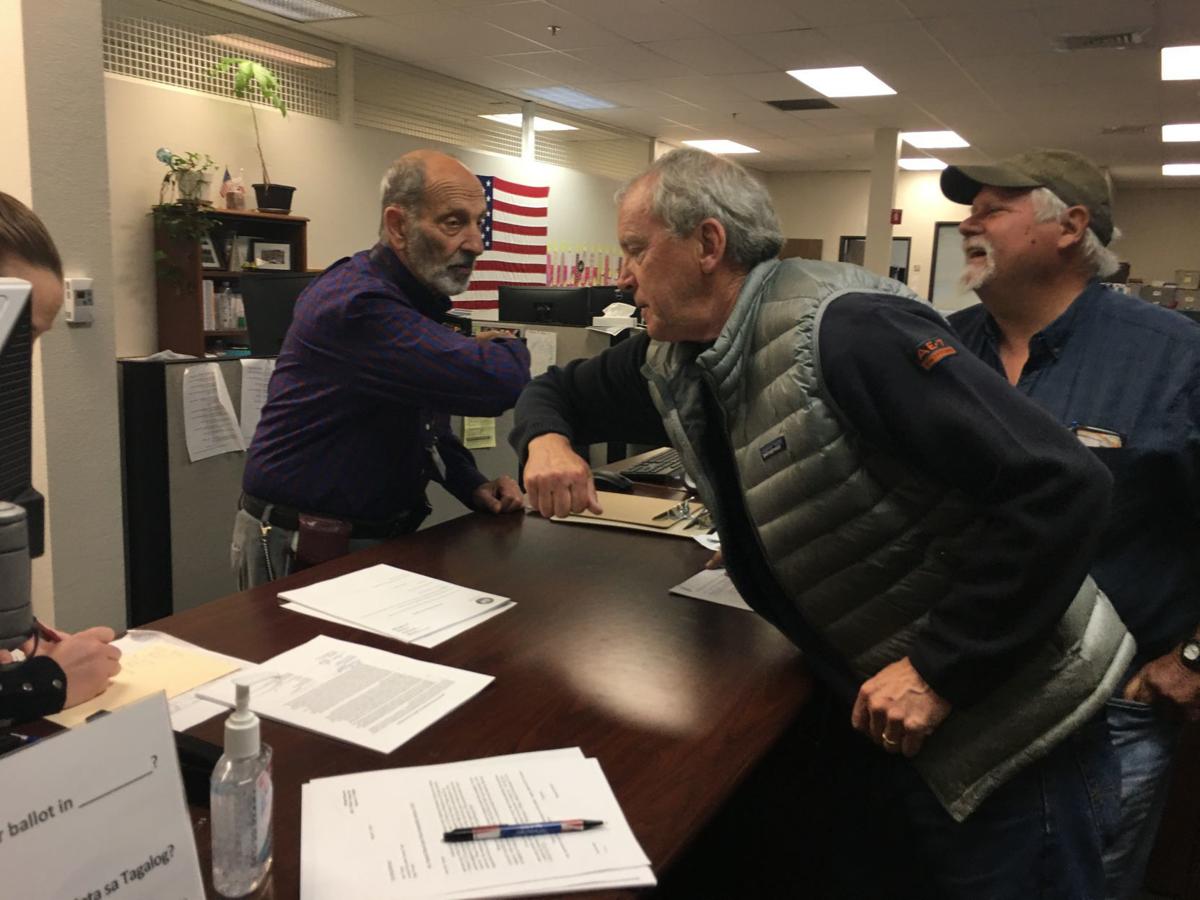 Napa County voters in November may once again have the chance to vote on stronger protections for trees in the unincorporated area's rural watersheds.
It remains to be seen if the quest results in a ballot box battle, as happened with Measure C in 2018. But watershed protections could once again be in the spotlight.
Local environmentalists on Friday, March 6 filed at the county Election Division their intent to gather signatures for the Napa County Water Sustainability Initiative of 2020. They need about 7,000 signatures by May 8 to qualify a measure for the Nov. 3 ballot.
"Our intent is the preservation of our watershed lands for the long-term sustainability of our water," proponent Mike Hackett said. "And we need a plan to do so."
Proponent Jim Wilson, who was standing nearby, had something to add.
"In a climate change world, destroying our forests is not going to cut it for our kids," he said.
Napa County Farm Bureau CEO Ryan Klobas on Friday said the group hadn't seen the text of the proposed initiative. The group opposed Measure C, which narrowly lost after a hard-fought campaign.
"I think it's rather frustrating to see ballot box planning again," Klobas said. "We know that doesn't work. Rather, we should be engaging in a collaborative process that works for everybody."
An initiative doesn't allow for public comment, but is a take-it-or-leave-it approach, Klobas said.
"The loopholes in the county ordinance are big enough to drive an earthmover through," Hackett said.
Specifically, he said, the county's ordinance allows a property owner to cut down trees for development on flat land and meet county mitigation requirements by preserving trees on slopes. The ordinance seeks to put the tree canopy mitigation on developable land.
"If you can mitigate on forested land that's already steep, already protected, you can take all the flat land and develop it all," Hackett said.
Board of Supervisors Vice Chair Alfredo Pedroza said on Friday he had only heard about the proposed initiative without having seen the language.
"I would first want to see what their objective is," Pedroza said.
But, he said, the Board showed leadership last year by strengthening conservation laws. The county also led the effort to bring local communities together to talk about climate change.
Pedroza noted the county and city of Napa have teamed up to collect water quality data in city watersheds. If the data shows that protections are inadequate, the county will address the issue, he said.
"We want water quality, we want healthy watersheds, that's why we have this ordinance," Pedroza said.
Napa County last year increased tree canopy protection for development projects in municipal watersheds from 60 percent to 70 percent. It extended the 70-percent protection to all unincorporated areas designated as agricultural/watershed.
The county increased tree replacements for removed canopy from 2-1 to 3-1, though 2-1 would still apply with certain exceptions, such as within stream setbacks. That means that someone who removes one acre of trees must replace or preserve three acres.
Canopy mitigation is to first be accomplished on slopes less than 30 percent. If that cannot reasonably be done, mitigation can take place on slopes greater than 30 percent and up to 50 percent in areas that result in the highest biological and water quality protections, the revised law said.
Amber Manfree, a Soda Canyon resident with a doctorate in geography, analyzed the changes for the Growers/Vintners for Responsible Agriculture. She concluded last year that the county's strengthened laws still put 28,000 acres of trees at risk.
The proposed ballot measure uses existing county laws as a springboard. Among other things, it removes exceptions to 3-1 canopy mitigation and requires mitigation to be on slopes 30 percent or less. Offsite mitigation would be at a 6-1 ratio.
The Water Sustainability Initiative isn't a carbon copy of Measure C, which sought to impose an acre cap on removing oak woodlands and beef up stream setbacks.
"It's not necessarily taking care of everything Measure C did," county farmer Cio Perez said.
Proponents say they could begin gathering signatures the last week in March. If they qualify a measure for the ballot, the Board of Supervisors could have a report done to analyze the measure's potential impacts.
Get local news delivered to your inbox!
Subscribe to our Daily Headlines newsletter.