Most newlyweds spend their first months as a new couple celebrating their marriage.
Sydney Ferris Williams and Patrick Williams have barely had the chance.
Married at their Napa home on Oct. 8 — the same day the Napa fires began — the couple's wedding day ended with not one but two evacuations – first from their Dry Creek house and then secondly from their honeymoon room at the Carneros Inn.
Fortunately, their house wasn't damaged by the fires.
Then, just weeks later, the couple faced another emergency.
Pregnant with their first child, the two were expecting a baby on March 3.
In early December, Ferris Williams was only 27 weeks pregnant when a sudden health crisis led to an emergency cesarean section.
Ferris Williams, who works for Child and Protective Services in Sonoma County, had just finished her last semester of law school at the University of San Francisco and was settling into her pregnancy.
Ferris, who is 33, said she didn't have any premature delivery risk factors.
However, by early December, "I had some swelling in my hands and feet," and her blood pressure was high, she said.
By Dec. 5 it was so high that she was immediately admitted to Kaiser Oakland, the site of a high-level neonatal intensive care unit (NICU).
"They were trying to keep me pregnant to 32 weeks," she said. But tests showed that her kidney and liver function was decreasing.
By Dec. 6, "I had progressed from preeclampsia to severe eclampsia to going into HELLP syndrome," a life-threatening pregnancy complication.
A team of obstetricians rushed into her room, she recalled. Her baby needed to be born immediately, they told her.
Doctors warned her about possible serious complications. There was a chance her blood might not clot and she could bleed to death.
"They told Patrick and I that we had to have an end-of-life discussion," she said, her voice breaking. "That was really scary," she said. "I still get emotional about it."
But, "Within an hour, they had me on the table," for the c-section.
The couple's first child, a son named Livingston Otto Williams, was born on Dec. 6. He weighed just 2 pounds, 5 ounces and was 14 1/2 inches long.
Livingston "came out yelling and did really great the first day," the mom said.
But after that, the newborn had to be placed on a breathing machine and then onto a ventilator for several days.
"He was really struggling," she said.
Since then their son has faced many ups and downs. He has a heart murmur. He's endured several blood transfusions, fluid in his lungs, a fever and anemia.
"It's really hard to see your baby for the first time on all these machines," said Ferris.
Five weeks after his birth, little Livingston is still in the NICU in Oakland.
"They say the NICU is like a roller coaster," said Ferris. "You take one step forward and then backwards," she said. Even though their baby can't come home yet, "We feel fortunate he has 10 fingers and 10 toes and he's slowly gaining weight."
To stay near their son, the couple first stayed at a hotel in Oakland near the hospital. In January, Ferris moved in temporarily with an aunt who lives in the Oakland area.
This aunt also happens to work at Kaiser Oakland, so Ferris has been going to and from Kaiser with that aunt every day to visit Livingston.
Patrick, a plumber, had to return to work after Christmas. He visits the hospital on the weekends and at least one weeknight, said Ferris.
"It's hard for him" to be apart from his family and in this situation, she said. "It's stressful."
Ferris said they chose the name Livingston after he was born because they liked the name and it has the word "live" in it.
It also didn't hurt that the name is shared by NBA player Shaun Livingston of the Golden State Warriors basketball team.
Both parents are "huge Warriors fans," she said.
Knowing this, friends surprised the couple with tickets to the Warriors Christmas Day basketball game.
Even better, after Warrior team member Shaun Livingston heard about little Livingston via social media, the new parents were invited to meet the athlete.
After the game, they gathered in the player's tunnel in the stadium to visit with Shaun Livingston and his own family.
"It was pretty cool," but "I don't even remember what I said to him," she said. "It all happened so fast." Chatting briefly, the couple took photos together for Livingston's baby book.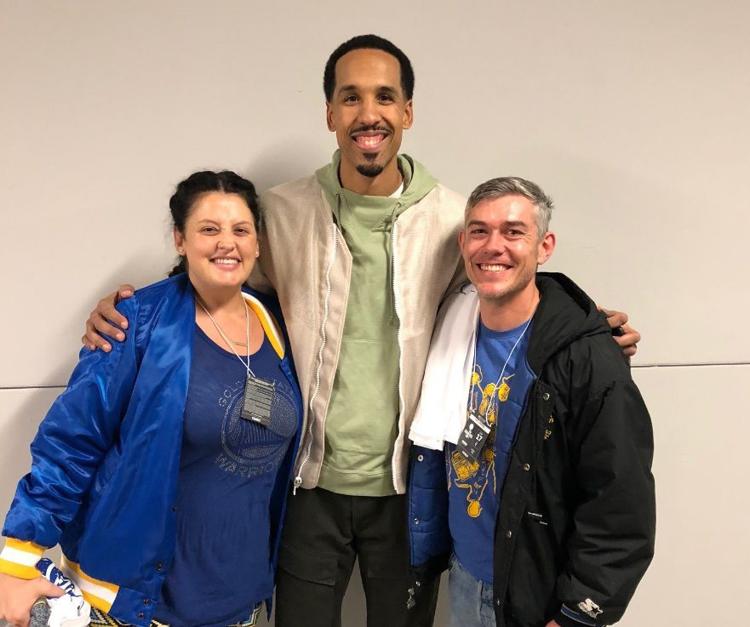 As the weeks passed, the new parents have faced other ups and downs.
On Jan. 3 someone broke into the family's car while it was parked on College Avenue in Oakland.
Ferris' law school laptop, her iPad, disability paperwork, financial information and Livingston's medical paperwork and documents were all stolen.
"They got a lot of confidential personal information," said Ferris. "That almost put me over the edge."
When asked how she's managing to get through this difficult experience, Ferris credited her husband, family, friends and supporters.
The two met as students at Vintage High School and have been together for 16 years.
"Patrick and I have been a strong team for a long time," she said. "I think that's the most important thing."
"He was such a warrior through this whole thing."
People have been wonderfully supportive, she said. Another comfort has been talking to other families who have delivered preemies.
"They really get what it's like," she said. "You don't know what this world is like unless you've been here."
Ferris also credited her recovery to "the power of prayer and positive thinking. That helps you because if not you'd just get into this real depression."
She and her husband are very appreciative of the Napa community and others supporting the couple. A GoFundMe account has raised more than $7,212 of a $7,500 goal.
The money will help the couple pay for their hotel stay, gas, missed work and other expenses.
"We feel really thankful," said Ferris. The offers of help and donations on the GoFundMe account "make this so much easier. We want people to know what a difference that makes."
As parents of preemies are often told, Ferris said they expect Livingston to stay in at Oakland Kaiser until his original due date of March 3.
"We're planning to be here until then and watch him grow."
There are certain milestones Livingston has to reach before he can come home.
For example, "They'd like him to gain 30 grams a day," she said. "But he's been slow to gain weight."
Their baby also needs to be able to breathe on his own without any difficulty and gain more body fat to maintain his body temperature.
Ferris said she originally planned to take the bar exam on Feb. 27, while she was still pregnant.
That plan is definitely on hold, she said.
"I can't even think of studying right now." She might try taking the bar in July. "I pray he'll be home by then."
On Friday, Livingston weighed 3 pounds, 2 ounces, his mom reported.
"He's our little warrior."