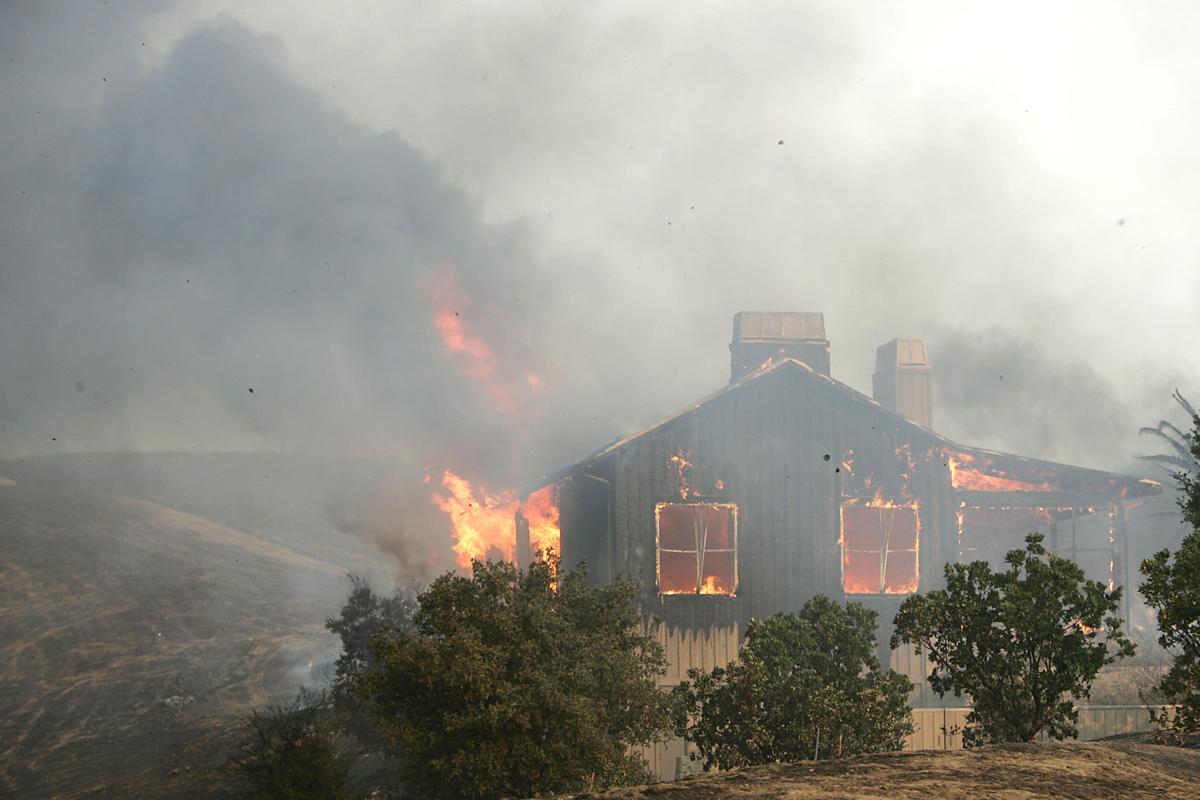 In the 2020-21 academic year, the Napa Valley Unified School District will avoid scheduling classes on three days in April and May, leaving them as a backup for class time that may be lost to fires, smoke or public safety blackouts by Pacific Gas & Electric Co.
District trustees unanimously approved the plan Thursday night, saying it must account for such emergencies in a time of growing fire danger to ensure full repayment by California for disaster-triggered closures.
"We're having to deal with a new normal," said Joe Schunk before the vote. "I've raised the concern (before) about smoke days and shutoff days, and that's the unfortunate new normal that's affecting our cities and our schools."
The decision follows a three-year string of disruption brought on by firestorms that have become increasingly dangerous in a hotter, drier climate. Local school systems shut down for two weeks in October 2017 as fires swept across much of Napa and Sonoma counties, and windblown smoke from the Camp Fire in Butte County caused more cancellations in November 2018 amid record-setting air pollution measurements in the Bay Area.
The most recent unscheduled closures were not the result of flames threatening Napa, but of PG&E's power shutoffs due to high winds that might topple power lines and trigger wildfires. NVUSD canceled several days of classes in October 2019 during a series of public safety power shutoffs.
Under the new schedule, NVUSD will reserve April 5, April 30 and May 28, 2021 as non-teaching days. However, classes will be scheduled for those days if the district shuts down campuses during the autumn due to fires, air pollution or pre-emptive power cuts. The district will decide by Jan. 11, 2021, after California's peak fire season, whether to open schools on those three dates.
While the calendar aims to ease the recovery of lost school days during fire season, NVUSD history teacher Patricia Woichik objected to the schedule for other reasons – among them a school end date pushed out by more than a week to June 16, which she said placed only 80 of the state's required 180 instruction days in the fall semester and can disrupt families' summer plans.
With fewer days available in the fall, "you don't do more with less, you do less with less," she told the NVUSD board. "I'm losing an entire month of instruction in a class they're required to take in order to graduate. This isn't fair, this isn't equitable, and my students deserve better."
If fall class days are not canceled, the three extra spring days without school will unfairly burden working parents who must scramble to find day care for their children, said Lisa Chuang, whose sons attend first grade and kindergarten in the Napa district.
Trustees conceded that no solution to the problem of fire-related disruptions is likely to satisfy all parents or teachers involved, but added that state educators are strongly urging school districts to have firm makeup plans for cancellations to ensure they can be reimbursed for class time lost to natural disasters and their aftereffects.
NVUSD, like most other school districts in California, receives state educational funding on a formula based on attendance, and districts can apply to gain funding credit for school days lost to emergencies.
"It's not something we were looking to do; it was something that was foisted on us by the state of California," said David Gracia.
In an online advisory, the state Department of Education instructed school districts to consider all closures in the past five years "to help establish a case for the number of days that school may reasonably be expected to be closed due to extraordinary events or conditions.
"In locales where an emergency event will predictably force school closure for a day or more every year, the school should foresee the need to close and build in emergency days to their school calendar in order to compensate for the foreseeable loss of instructional time," the agency said.
NVUSD officials said the district is likely to organize an advisory committee to forge an agreement on how to handle fire-season school closures in 2021-22 and beyond. "It does deserve a broad discussion with more stakeholders and more parents," said Dana Page, assistant superintendent for human resources.
Get local news delivered to your inbox!
Subscribe to our Daily Headlines newsletter.