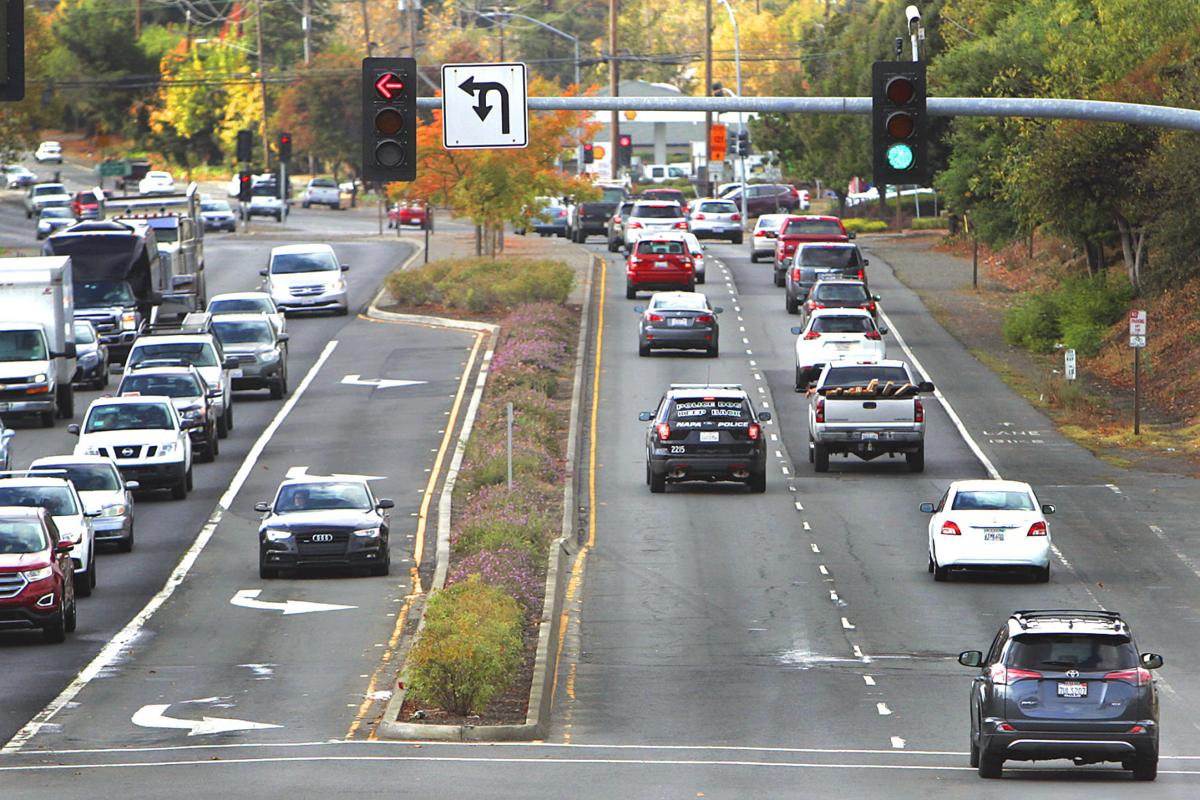 A proposal to transform car-centric Imola Avenue into a road that also emphasizes walking, cycling and mass transit comes with an estimated $14.3 million price tag.
This 3.5-mile-long street is a hodgepodge of eras, looks and neighborhoods. Some parts have sidewalks, others don't. One section passes homes, another bustling shopping centers, another vineyards, another the oak-covered hills of Skyline Wilderness Park.
The recently released draft Imola Corridor Complete Streets Improvement Plan spearheaded by the Napa Valley Transportation Authority (NVTA) seeks to create a better Imola Avenue. Once the vision is finalized, transportation officials will seek money to make it a reality.
"We want to provide an equitable corridor that serves everyone's needs, including those who can't just hop in a car and drive," said Todd Tregenza of GHD consultants, which worked on the plan.
The question facing the NVTA and residents in coming weeks: Does the draft plan get it right?
Among the proposed pedestrian improvements is adding curb extensions at busy intersections to lessen crossing distance. Sidewalk gaps would be filled in. Eye-catching crosswalks with multiple pavement lines would be added.
A system of bike routes, protected bikeways and multi-use paths would go in. Transportation planners talked of making an Imola Avenue bike ride a pleasure for all, compared to today's white-knuckle experience for less experienced cyclists.
One feature is creating "transit islands" for bus stops where buses stop in the travel lane. These concrete islands for those boarding buses allow the on-street bike lane to pass behind the bus stop, eliminating potential conflicts between buses and cyclists.
While the plan's focus is on walkers and cyclists, Tregenza also talked of keeping vehicles in mind. After all, much of Imola Avenue is also state Highway 121.
"Needless to say, we don't want to develop a plan that would bottleneck the whole corridor," Tregenza said.
The NVTA held an online public workshop on the draft plan on July 13. Listeners could ask questions.
"All of this seems very necessary," county Supervisor Brad Wagenknecht said. "How long will it take for it to be done?"
That, in essence, is the $14.3 million question.
Tregenza mentioned a variety of potential funding sources, from the state Active Transportation Program to the local Measure T sales tax to traffic impact fees to environmental mitigation.
NVTA Executive Director Kate Miller said all of the money won't come at once. Instead, the idea would be to seek funding for this project and that project.
The draft plan includes a benefit-cost analysis. This analysis seeks to put a money value on such things as pedestrian and cyclist accidents avoided because of the safer street and air pollution avoided because more people ride bikes.
Total benefits over 20 years would be $83 million, using Caltrans benefit-cost methods. That compares to $14.3 million to build the projects and another $2 million to maintain them over 20 years. The benefit–cost value is 5.15-to-one, which Tregenza said is a good sign.
"We can use that number to seek grant-funding opportunities," he said.
Not all of three Imola Road segments are equal, though. The west segment from Foster Road to Jefferson Street has benefit-cost ratio of almost 13.9-to-one; the Jefferson Street-to-Soscol Avenue segment 2.76-to-one and the Soscol Avenue-to-Fourth Avenue segment 1.82-to-one.
Sergio Ruiz of Caltrans noted that the agency is planning in 2024 to start repaving Highway 121 from Highway 29 to Vichy Avenue near Silverado Trail. The cost is to be $32 million. Of those more than five miles, about 1.3 miles is along Imola Avenue.
With the repaving comes restriping, so that can provide opportunities for the Imola Avenue plan, Ruiz said.
"I really like the proposals here," Ruiz said. "They're very much in line with Caltrans' goals – meeting the needs of all ages and abilities."
Miller said the NVTA Board of Directors will consider adopting the draft plan in September. Meanwhile, the agency is accepting comments from the public.
Watch: Diagnosing a heat-related illness