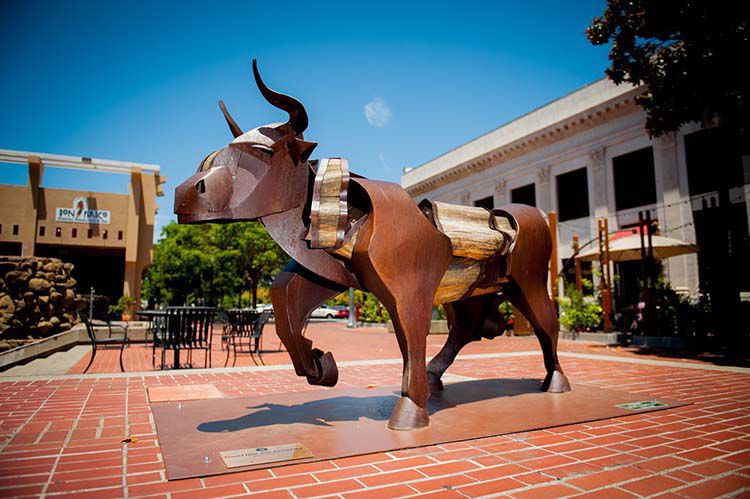 Bulging muscles, fishhook horns and blocky hooves in rust-red steel and wood add up to the image of a towering bull stalking downtown Napa – as well as a public art award for its creator.
Online voters have chosen "Guermo en Inverno" as the People's Choice winner of the 2015-17 Napa Art Walk, the city announced. The metallic sculpture by Jamie Burnes of Santa Fe, New Mexico, led a field of 14 installations with 20 percent of the ballots in the fifth edition of Napa's outdoor art exhibition.
Receiving the honor at Tuesday's City Council meeting, Burnes called the existence of the Art Walk, and of Napa's commitment to beautifying its public spaces, a victory in itself.
"I appreciate the people of Napa voting for my piece, and I appreciate the city of Napa having such a prolific art program," he said while accepting the award from Mayor Jill Techel at City Hall.
"Guermo en Inverno" has greeted passers-by at Dwight Murray Plaza on First Street since the current Art Walk entries were installed at various downtown locations in mid-2015 for a two-year showing. With legs of rust-coated Cor-Ten steel, and a locust-wood midsection and feet, Burnes' sculpture evokes a bull starting to trot forward toward the southwest, its right forefoot lifted off the plaza's brick-like surface.
Artists selected for the People's Choice award receive gifts from Napa Valley businesses, which have included overnight vacations, restaurant dinners and spa treatments.
Burnes' sculpture and the 13 others will be removed by month's end, said Robin Klingbeil, Napa's senior development project coordinator.
In their place will arrive 11 installations that will go on display in May and June, on various sidewalks, plazas and private properties in central Napa.
The upcoming Art Walk exhibition is titled "Shifting Perspective" for its themes of changing appearances based on time and location, unusual environments and contexts, and images meant to cause reflection and reconsideration in their viewers.
"The idea is when you change the way you look at things, the way things look starts to change," Klingbeil said Tuesday.
A team of three art professionals chose the finalists from hundreds of submissions the city received into early February. All of the featured artists except for two from Colorado are based on the Pacific Coast, and four are based in the Bay Area, including Mikey Kelly of Napa, who also is designing an artwork for the city corporation yard fence facing the Vine Trail.
The city provides a $1,500 stipend to each Art Walk artist; they receive half when they come to do the installation, and receive the remainder upon removal. It is intended to help offset some of the travel and installation costs the artist incurs, especially those coming from outside California, Klingbeil said.
The sculptures are on loan for the two-year exhibition period, but they are also for sale to interested buyers. Upon closure of the exhibit, a piece may be sold if there are offers, but it has to remain part of the exhibit until it is over, she said.
The city pays for the concrete pedestals and pads, as well as provides a public works street crew to assist with equipment and tools if necessary. Some pieces are easily moved about, but some require a forklift or crane, which the city provides.
Get local news delivered to your inbox!
Subscribe to our Daily Headlines newsletter.