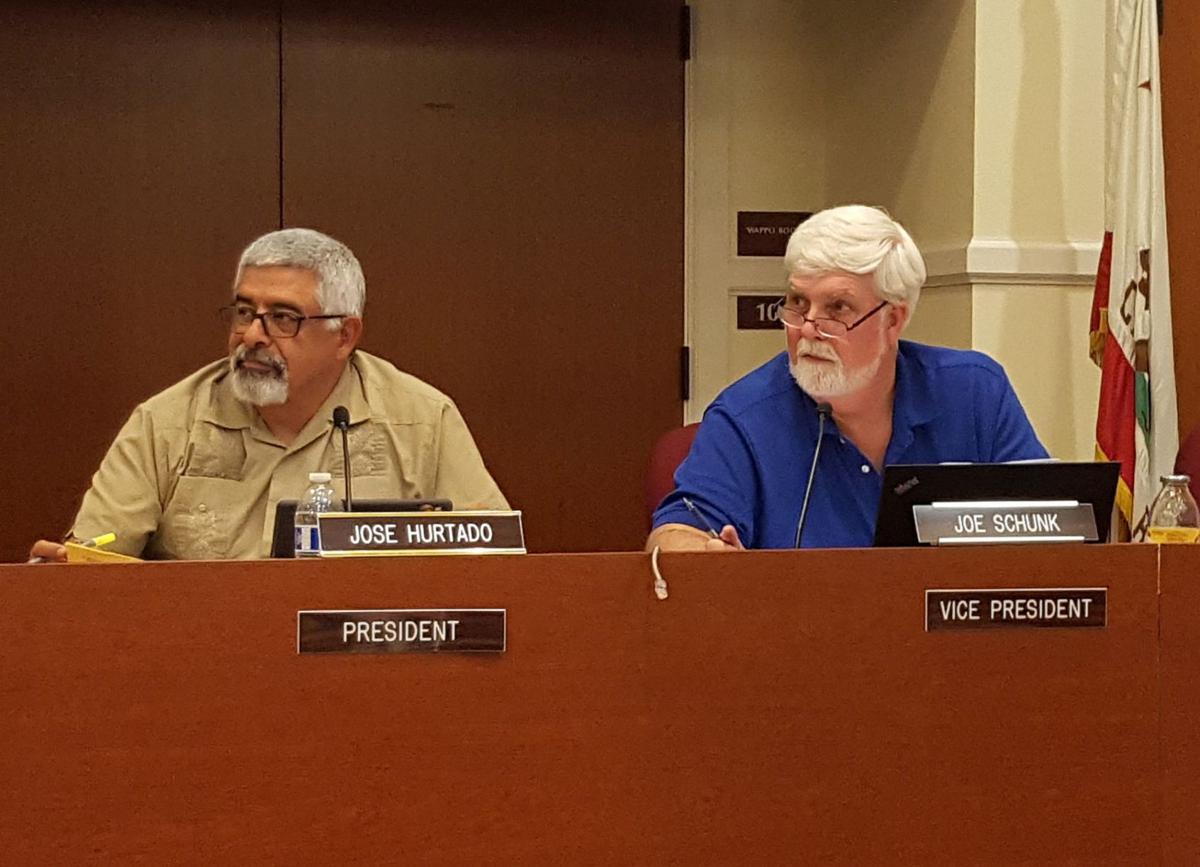 A campaign is underway to recall the entire school board for the Napa Valley Unified School District, which has been criticized by Napa High parents, students, alumni and others for their handling of the Indian mascot and football hazing controversies, plus the district's multi-million-dollar budget deficit.
"We'll see you guys at the polls," said Tom Jinks, a Napa High alum (Class of 1970), to the NVUSD Board of Education on Thursday.
The recall effort began two weeks ago when a group of residents delivered to the school board written notification of their intent to recall all seven NVUSD trustees. Walt Price addressed the board on May 4 and cited several reasons for the recall campaign, including the expulsion of football players for hazing activities.
The board has expelled five students so far. One of those students, JV Quarterback Johnny Torres, had his expulsion overturned after he appealed to the Napa County Board of Education.
Price also accused board Chairman Jose Hurtado and Superintendent Patrick Sweeney of having "a silent agenda" to replace the Napa High Indian mascot.
"I think you need to be replaced," said Price, "and Dr. Sweeney needs to be fired."
Hurtado declined to comment on the recall. Sweeney did not respond to requests for comment.
The board chairman previously told the Napa Valley Register that he's "always been uncomfortable" with the Indian mascot, "and that I would probably vote to eliminate it."
Recall sponsors have filed Notices of Intention with Napa County Registrar of Voters John Tuteur in which they explained their rationale for wanting the trustees removed from office. These reasons will be included on petitions to gather the necessary signatures to qualify a recall election.
They claim the trustees disregarded "substantial input from the public regarding the replacement of Napa High School's Indian Symbol," and mishandled the "Napa High Football team hazing issues, which led to the resignation of the entire football coaching staff."
A district committee recommended in February that Napa High change its mascot, setting off a fierce community debate between mascot supporters and opponents. The school board has yet to vote on the committee's recommendation, but it may do so this summer.
Hazing allegations involving Napa High JV and freshmen football players sparked separate investigations by NVUSD and the Napa Police Department. Police identified 16 student victims, and submitted a criminal case against 15 offenders — 14 students and one adult — to the Napa County District Attorney's Office for review. The DA's office has not yet announced its decisions.
They further state the school board demonstrated a "complete lack of fiscal responsibility" as evident by NVUSD's "$12.8 million deficit," and failed to "listen to the wishes of a vast majority of the students and parents you claim to represent, reflecting an ignorance and arrogance that alone are grounds for your replacement."
Assistant Superintendent Wade Roach said Thursday the district has a $12.3 million deficit, prompting cuts in programs and staffing to balance the budget for next year.
Each of the trustees filed official responses with Tuteur's office rebutting the reasons for recall. The rebuttals will also be included on recall petitions, which have not yet begun circulating.
The responses did not address either the hazing or mascot controversies mentioned by recall supporters. Instead, the trustees focused on fiscal issues, the district's high graduation rate, and their support for education.
Nearly all of them cited NVUSD's graduation rate of 92 percent, noting that it is 9 percent higher than the state average. District spokesperson Elizabeth Emmett confirmed the NVUSD rate is 92.2 percent, and that the statewide average is 83.4 percent.
The trustees also said the district has been fiscally responsible, conducted audits, and been transparent with its budget process.
"We have been committed to fiscal responsibility, acting as good stewards of limited resources to protect all the students in our diverse community," wrote Robb Felder, a 10-year trustee.
"Our Board respects and listens to the Napa Valley community," Felder added. "We are open and transparent."
Trustee Joe Schunk, who represents American Canyon, wrote he has "a single minded focus on providing high quality education to all our NVUSD students with the support of our outstanding community."
"HELP US STAY THE COURSE," he wrote in all caps.
Trustee Tom Kensok urged voters to not sign the petitions, saying in his response the "sponsors have personal agendas that do not address education."
Recall petitions can't be circulated until the sponsors publish their Notice of Intention, and get Tuteur's approval of the petitions. If Tuteur does so, supporters will have 160 days to gather signatures.
The proponents will need at least 10,000 signatures on each of the seven petitions (one for each trustee) to qualify for a recall election.
"Any registered voter in the NVUSD can sign one or more petitions because the trustees run at large (they are only nominated by trustee area)," Tuteur explained in an email.
Recall elections targeting school board trustees in the Napa Valley have had mixed success in the past.
A 1982 recall election targeting two NVUSD trustees — Donna Heine and Betty Griffin — failed by about 3,000 votes out of more than 12,000 cast.
In 2010, four trustees of the St. Helena Unified School District were successfully recalled in a special election.
Supporters of the current NVUSD recall campaign have vowed to gather signatures and put the matter before voters.
"Don't fool yourselves," Price told the school board on May 4. "We have the resolve to see this through to your end."
Get local news delivered to your inbox!
Subscribe to our Daily Headlines newsletter.