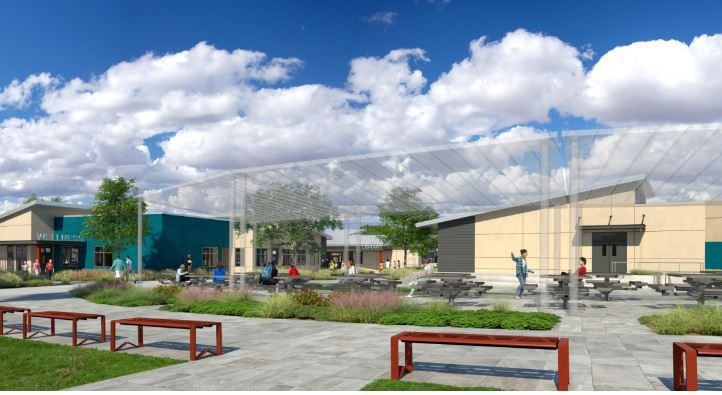 AMERICAN CANYON — Fast-growing American Canyon will get a second middle school at a location that has some residents worried about traffic and how students can safely walk and bike to the new campus.
The 17.5-acre site along American Canyon Road next to American Canyon High School is all but etched in stone. Napa Valley Unified School District bought the high school land in 2003 and the middle school land in 2004 from the same property owner.
"We kind of put this together as a package to do this," district Executive Director of Facilities, Maintenance and Operations Mike Pearson said. "All along, the thought was we were going to put the middle school there."
He described how hard it is to find an appropriate middle school site to about 30 people attending a Tuesday district community meeting on the new school.
The district is far along in planning the estimated $45 million, 650-student school. The Board of Education on Thursday, Jan. 23, was scheduled to award a lease-leaseback pre-construction services contract to Lathrop Construction Associates of Benicia.
Using the 17.5-acre site means dealing with busy American Canyon Road, given the main entrance to the school is located there. American Canyon Road is a link between the city and nearby Interstate 80, and some drivers apparently still have that freeway mentality as they motor into town.
"People are screaming down that hill," American Canyon City Councilmember David Oro said.
Then there's the traffic heading to American Canyon High School to take into account. Otherwise, the area near American Canyon Road and Newell Drive could end up being one big, multi-school rushhour mess.
Having crossing guards, flashing yellow crossing lights, signs and staggered start times with the high school are among the ideas that came up at the meeting. Pearson mapped out safe routes to school that are direct enough that students walking and biking might actually use them.
"Kids always follow the path of least resistance," he said.
One suggestion to make certain bicycling students aren't hit by cars was a non-starter – ban bicycling to school.
The project draft environmental impact report chose the bike ban as the "environmentally superior" alternative for a new middle school. It did so even though the usual green objective is to get people out of cars.
"I don't think that was ever entertained," said Kelli Jergenson, a consultant who does construction management for Napa Valley Unified School District.
For that matter, even the environmental report recommended against a bike ban for practical reasons.
About 1,300 autos will travel to and from the new middle school daily, the environmental report predicted. The main entrance and exit will be from American Canyon Road crossing over a creek on an existing bridge that serves the high school.
Two major entrances would be better than one, some have reasoned. But Pearson recounted the difficulties obtaining permits from the U.S. Army Corps of Engineers and state Department of Fish and Wildlife for the existing bridge.
"We've gone back and we've talked to these various entities," Pearson said "And the likelihood is, sure, you can potentially go through that process. But it's going to be out there a long, long time."
That would delay building the school, Pearson said. Plus, there's no guarantee the agencies would approve building another auto bridge or a pedestrian bridge over the creek.
Pearson told the gathering that the goal is to open the school in August 2020, though he didn't make that a promise. The contractor will submit a construction schedule.
"I want to make sure this school is done right … I don't want to piecemeal it together or something like that," he said.
Jergenson stressed that building a new school isn't like building a new McDonald's.
"Every time we build a school, its unique," Jergenson said. "It's unique to that community and we're doing that school for the first time."
Pearson said he thinks people will like the results.
"It's just going to be an amazing, beautiful middle school," Pearson said.
The school district is also preparing to build a Napa Junction replacement elementary school in American Canyon on Eucalyptus Drive. It will hold a community meeting at 6 p.m. Feb. 5 at the existing Napa Junction school, 300 Napa Junction Road.
Get local news delivered to your inbox!
Subscribe to our Daily Headlines newsletter.