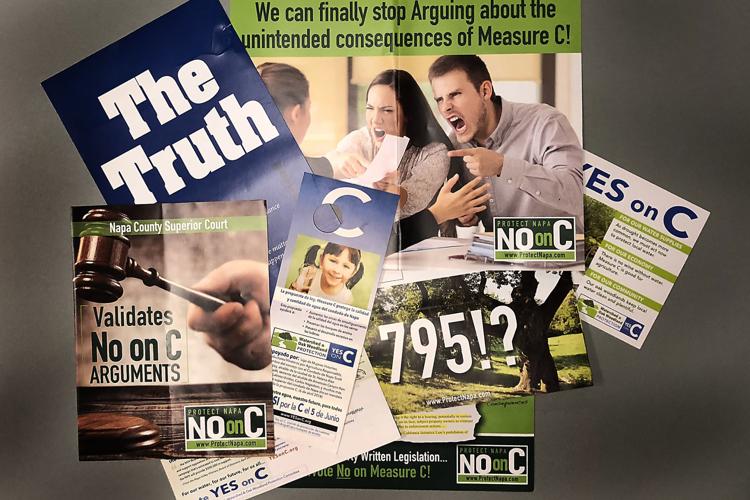 Napa County's bitter, in-your-face Measure C election battle features mailers, signs and phone calls from the pro and con sides with enough conflicting claims to make a voter's head spin.
Measure C will preserve watersheds. Measure C will encourage the construction of traffic-inducing winery event centers in the watershed. Measure C will help agriculture. Measure C will hurt agriculture.
Measure C co-author Mike Hackett said the No on Measure C campaign is making false and misleading statements in its mailers and on its signs.
"That's an insult to the citizens and voters of Napa Valley," Hackett said. "They see through this flipped reality. There can only be one reality. There can be lots of opinions, but only one reality."
Ryan Klobas of the Napa County Farm Bureau doesn't see the "No on Measure C" view of reality as flipped.
"I don't believe that at all," he said. "I believe we have studied the initiative extremely closely and we are pointing out to the public the unintended consequences this initiative will have."
Measure C on the June 5 ballot calls for stronger development setbacks from streams and limits on how much oak woodland can be cut down for new vineyards in the mountains, among other things. Proponents say these steps will protect water quality in local reservoirs.
Opponents include Napa County Farm Bureau, Napa Valley Vintners, Napa Valley Grapegrowers and Winegrowers of Napa County. They depict Measure C as hurting agriculture.
The ballot box battle is also a mailbox melee. For some Yes on Measure C backers, the No on Measure C "court"-themed mailers stick in the craw.
"Napa County Superior Court validates No on C arguments," the mailer announces, with photo of a judge's gavel about to pound the table. The mailer says Measure C backers in a court-approved stipulation recognize their initiative has such unintended consequences as encouraging event center and luxury home development.
The background is this: both sides get to place arguments in the official Napa County voter information guide mailed by the county to all voters. A Measure C proponent claimed the opposition submitted false statements and sued to force changes before the guides were printed.
The two sides reached a court-approved settlement. The opposition agreed to change five of six challenged statements. For example, a claim that Measure C will "outlaw" agriculture became "restrict" agriculture.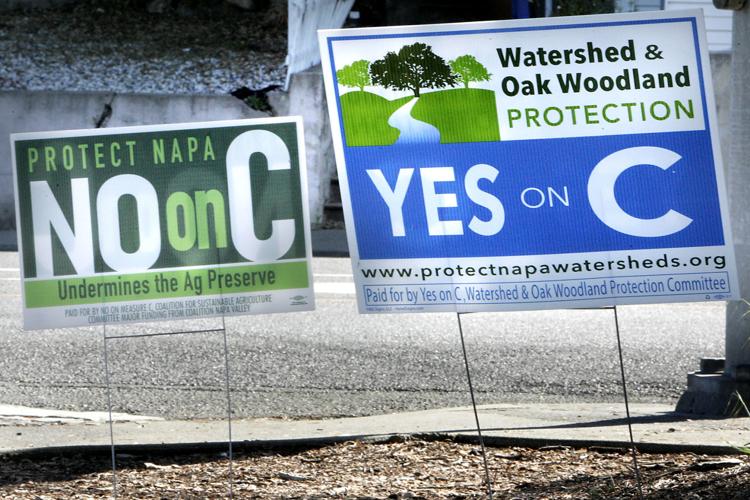 But the settlement allowed to remain the claim that Measure C will encourage non-agricultural development, "opening the door for more event centers and more luxury homes to be developed across our agricultural watershed."
"During negotiations, we kept that language in the ballot argument," Klobas said. "We submitted it back to the other side and they came back and agreed to keep the language in. Which means they stipulated to it."
Klobas described Measure C as having no exemption to its oak-cutting cap for agricultural while still allowing oak removal for homes and event centers. He sees this as conflicting with the oft-stated county claim that agriculture is the highest and best use for rural land.
But Yes on Measure C proponents say they don't view their initiative as being an event center catalyst. Co-author Jim Wilson said in an April interview that county law requires public hearings and Planning Commission approval for event centers. Measure C doesn't change this.
Still, proponents ultimately agreed in the settlement that opponents can make the winery event center claim in the voter information guide.
"That (the event center claim) is an opinion. You cannot make someone change their opinions … they can put anything in as opinion, but they cannot change facts," Hackett said.
The Yes on Measure C campaign, in announcing the court settlement in an April 6 press release, said the opposition had "thrown in the towel" by changing five of six contested statements in the voter information guide. They also noted the opposition agreed to pay Yes on Measure C $54,000 in legal fees.
Klobas said the payment of legal fees wasn't an admission of defeat, but rather was done to avoid further court expenses so the campaign could move forward. He noted the settlement says no parties admit liability.
"No side won," Klobas said. "It was an agreement."
A Yes on Measure C mailer features a photograph of a child drinking water from a tap. It says that the initiative's requirements "are rooted in peer-reviewed science that is contained in documents prepared by and for the county."
Hackett said these documents include the county voluntary oak woodland management plan, environmental work done for Measure P, the Napa River basin analysis and the county's draft climate action plan.
But could someone read all these documents and conclude that Measure C isn't the solution?
Hackett answered "no." He explained how oak canopies hold water that drips and recharges groundwater supplies. He said watersheds are the major source for groundwater beneath the valley floor used to grow grapes. He talked about reservoirs for local cities that are fed by the watershed.
He sees a need to act now to protect oak woodlands and watersheds as opposed to waiting for more data, adding, "We won't know it's too late until it's too late."
Klobas disagreed that science points to Measure C as being the answer. The opposition has repeatedly asked for data-driven science and not received it, he said.
"You have experts disagreeing on this," Klobas said.
As of Friday, the No on Measure C campaign reported to the county it had raised more than $494,000. The Yes on Measure C campaign had raised more than $173,000.
Campaign financial forms filed with the county Election Division show that the No on Measure C is using Muelrath Public Affairs as its campaign consultant. The firm with offices in Sacramento and Santa Rosa says on its website that it has run campaigns for everything from county offices to initiatives.
That includes Napa County Supervisor Ryan Gregory's successful 2016 campaign to unseat incumbent Mark Luce. But that race proved far less controversial, with much of the campaign material devoted to introducing political newcomer Gregory to the public.
Yes on Measure C reports using Public Good PR of Oregon as its campaign consultant. The firm says on its website it does projects on behalf of "nonprofit organizations, socially responsible businesses and progressive law firms." Among the latter it lists Shute, Mihaly & Weinberger, the law firm that drew up Measure C.
Napa County has seen election campaigns with controversial mailers and heated campaign rhetoric before.
For example, in 1996, Texas-based Richland Interests unsuccessfully asked voters for permission to build 1,700 homes in the hills southeast of the city of Napa. It sent out slick mailers warning that Napa faced rising crime unless the development went forward, prompting outrage from opponents.
Opponents in that case tried to rent space on a billboard located on the Richland property. They planned an advertisement showing a smiling cowboy with a money sign on his belt looming over a new, traffic-choked city in the hills, but Richland wouldn't allow such an ad on its own land.
A big difference with Measure C is both sides are from Napa County. That raises the question of whether bitterness will linger after the June election.
"I can work with anybody, of course, why not?" Hackett said. "This issue is not going to go away. We're going to deal with this regardless of the outcome. (Everyone) will have to work together."
Klobas struck a similar tone. Everyone agrees it's important to protect the environment and have clean drinking water. The disagreement is about how to accomplish these things, he said.
"I am hopeful we can come together after this," Klobas said. "I think after the dust settles, I would like to think cooler heads will prevail."