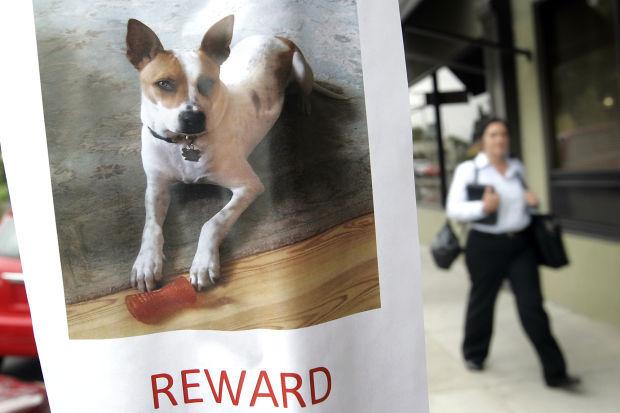 Napa residents weren't the only ones traumatized after Sunday's earthquake. The city's pet population experienced its own terror when the 6.0 tremblor hit in the middle of the night.
Casey Myers said the shaking woke her and boyfriend, Diego Periasco, up. As soon as they felt it, she called out for Chance, their beloved cattle dog who always sleeps next to their bed, Myers said.
"I didn't hear anything and I couldn't see him," Myers said. Then she noticed that a living room window screen had popped out. "He had jumped out and took off,"she said. "I just felt sick."
Myers and Periasco immediately started searching for Chance, but nobody had seen the dog around their Pine Street home, south of the outlet mall.
Because Chance is a very athletic cattle dog, "I had a feeling he ran," Myers said. "We had no idea where to look or how far." Chance wasn't at the animal shelter.
On Monday, Myers printed more than 400 color "lost dog" flyers and, with help from friends, posted them all over town.
"The more time that passed the more concerned I got," she said. "It was all I could think about."
Myers said Chance wasn't wearing his collar on Sunday morning. She normally removes it at night because the tags jingle. However, Chance does have a microchip.
"I had to keep reminding myself that he is an animal, he knows how to survive," she said. Hoping Chance might find his way home on his own, she left a bowl of water in the front yard and one of her boyfriend's shirts thinking "if he smelled it, he might stick around."
As the days passed and Chance remained missing, Myers began to lose hope. "I started to think someone had taken him in and was going to keep him and he was not going to come home," she said.
On Thursday afternoon, Myers was hanging lost dog posters at Browns Valley Elementary School when she received a call from a Napa police officer. "She said, 'I'm at CrossWalk Church and I think I have your dog.'" Ironically, Chance had found his way to the Red Cross earthquake shelter.
"I sped over there," said Myers. An Animal Control officer had Chance in a truck. When the officer opened the door, "Chance jumped out and I just started crying. It was just so emotional to get him back."
Myers said her dog was certainly skinnier after his five days on the run. "The poor guy, the pads on his feet are peeling."
"It was a terrible experience. It was the most stressful thing I've been through," said Myers."It's a huge relief" to have her pet home safely, she said. "We actually slept last night. I feel like our little family is back together again." And, yes, Chance's collar is back on, said Myers.
Chance isn't the only Napa pet to have been missing or into hiding since the quake. Missing animal posters can be found all over town.
"We have had an outpouring of calls from people asking how they can help the animals affected by the quake – and I know the NCAS (Napa County Animal Shelter) has too," said Jane Albert, executive director of Napa Humane. "The very best way to help at this time is to reach out, neighbor to neighbor, to help find lost pets."
Napa Humane is posting lost pet pictures and flyers to its Facebook page which will be cross-posted by the Animal Shelter. The lost pets entering the shelter will be posted on both pages to aid in reuniting pets with their families. Both organizations are posting flyers in their lobbies as well.
"If you know of a friend or neighbor who is missing a pet, help them by going door to door passing out flyers, looking in garages and sheds and other likely hiding places, and posting flyers in the community," Albert added.
Kristen Loomer, manager of the Napa County Animal Shelter, said that about six dogs and four cats were brought to the shelter after the earthquake this week. "We have room," she said.
More dogs than cats were recovered, which is to be expected, said Loomer. During an earthquake, "cats hide and dogs tend to run. That's why people aren't finding cats the way they are finding dogs."
Several pets have already been reunited with owners, she said. A number of the dogs were microchipped, but none of the cats. One dog with a chip was reunited outside the lobby of the shelter, before it was even admitted inside. "The owners were reached immediately. That's the power of the microchip."
Loomer noted that the shelter is waiving the fee to rent a cat trap for those with felines who are too scared to come out of hiding places. The shelter also microchips dogs, cats and rabbits for only $10. No appointment is necessary.
There was no damage or injury to the shelter or the animals, said Loomer. "The cats were definitely shaken up" and the dogs were barking, but "the animals were protected. We were really lucky."
Napa Humane and the NCAS urged families of lost pets to be diligent and not to give up hope, said in a news release. Pets have been found weeks, months and even years after going missing.
"We hope that all pets will swiftly find their way home," said Loomer.
Get local news delivered to your inbox!
Subscribe to our Daily Headlines newsletter.