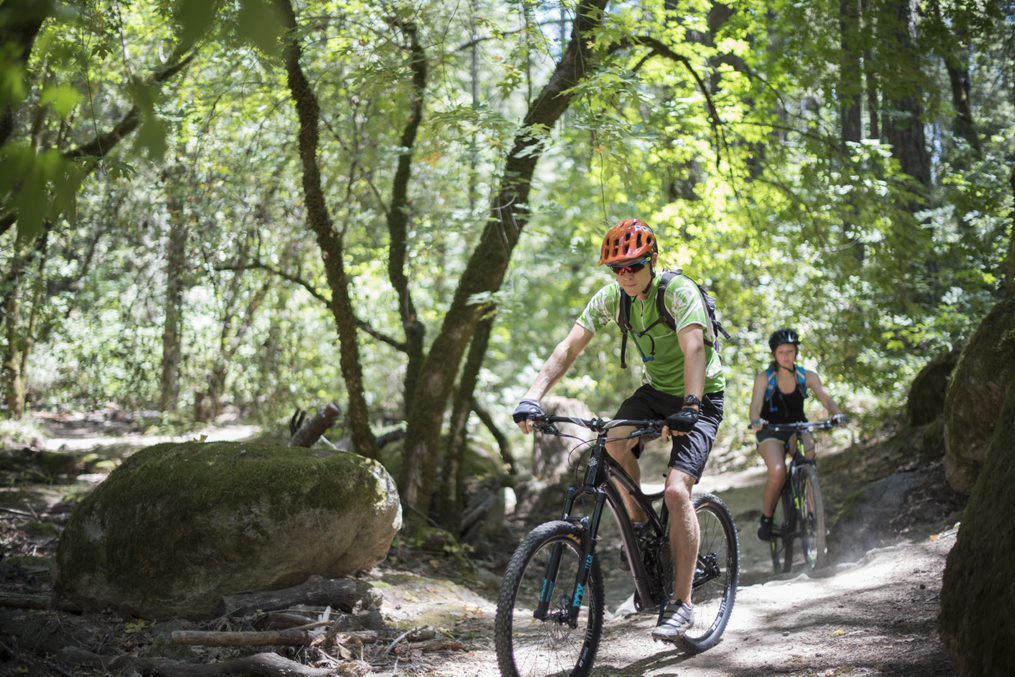 People who want to hike The Chute, Slackline, Dragon, Angwish Hill, Sand Climb, Jamie's Cryin' Trail, Whoop-De-Doo, Gully Lane and other trails through a forest high above Napa Valley, your chance is coming.
A Pacific Union College-owned forest with 35 miles of trails crossing more than 1,000 acres should be officially open to the public by month's end. The forest, like PUC, is located at Angwin in the mountains northeast of St. Helena.
The college, while tolerating unofficial public use of the forest, has never sanctioned it. Liability and forest protection have been issues, a Napa County Regional Park and Open Space District report said.
On Monday, the Open Space District stepped forward to alleviate concerns. The district agreed to indemnify the Angwin-based college against liability, maintain and repair trails and help educate the public about the forest ecology.
"This is an exciting one for us," Open Space District General Manager John Woodbury told the elected Board of Directors.
PUC Forest Manager Peter Lecourt said the college can use the forest as a way to relate to the wider community. He called the 35 miles of trails a "true jewel."
"The PUC forest is the premiere place to do outdoor forested recreation in Napa County," he said.
The PUC forest will be open to hikers, mountain bikers and equestrians, Lecourt said. Dogs will be allowed on leash.
Trees include Douglas firs, redwoods, bay laurels, ponderosa pines, madrones and black oaks. Lecourt said there are dryer oak sections and dense pine sections.
"Our forest, we like to say it has a lot of character," Lecourt said.
Forest public access will remain a work in progress. Users might have trouble finding Tick Loop, Heartbreak Hill, The Maze and Ridgeside.
"Until all the trail signage is in, it may be a little bit challenging to know exactly where you are all the time," Woodbury said.
For that matter, people parking at the end of Las Posadas Road to use the forest must make do without a parking lot.
Lecourt said a parking lot might be created in about a year. Along with a planned kiosk and picnic area, this would be a hub for forest use.
Meanwhile, the Open Space District plans to do such things as post information on the PUC forest on its website, perhaps by month's end. Go to https://napaoutdoors.org to learn about Napa County hiking opportunities.
Woodbury said the Open Space District's financial exposure from accepting recreational trail use liability should be minimal. California has a hazardous recreational law that provides broad immunity.
"Unless we did something really egregious, we wouldn't be liable if someone hurt themselves using the trails," he said.
The Open Space District is adding the PUC trails to its insurance policy.
Several Open Space District Board members said the PUC forest shows how the district can help open areas owned by other entities to the public. Another case is the city of Napa allowing the public on Lake Hennessey watershed land north of the reservoir.
"It's an outstanding example of cooperation," Board Member Tony Norris said.
The PUC forest is to provide a 3-mile missing link for the Bay Area Ridge Trail. The Ridge Trail is to someday provide 550 miles of trail through the nine-county Bay Area.
"The Ridge Trail Council is looking forward to celebrating these spectacular new trails and bringing the Ridge Trail tally to 378 miles completed so far," council Executive Director Janet McBride said in a press release.
Napa County is to someday have 83 miles of Ridge Trail and 19 miles – 23 percent—are completed. That compares to 69-percent completion for the Bay Area as a whole 30 years after the launch of the Ridge Trail effort.
The PUC forest segment could be a catalyst for completing still more of the local Ridge Trail. Five miles of Ridge Trail exist in Moore Creek Park a few miles to the south. The Open Space District will try to complete negotiations with intervening property owners to create a link.
But that's another task for another day. For the present, hiking enthusiasts can head to the PUC forest and enjoy Maxwell Tree Trail, Main Street, Blue Post Trail and all the rest.
PUC last year worked with the Land Trust of Napa County and state to establish a $7.1 million conservation easement on 864 acres of the forest. The college still owns this land, but cannot develop it, with the easement held by the California Department of Forestry and Fire Protection.
Get local news delivered to your inbox!
Subscribe to our Daily Headlines newsletter.