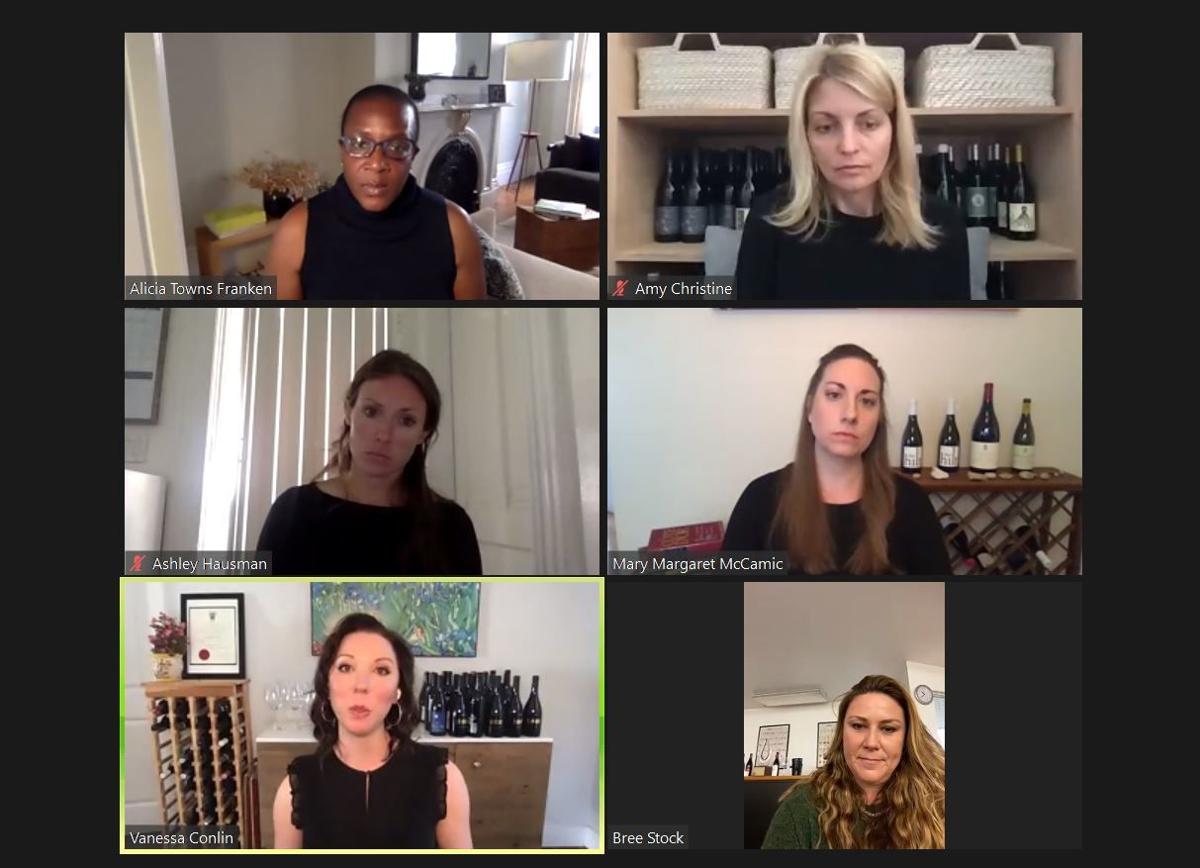 In the two weeks since a New York Times investigation revealed a culture of sexual manipulation and misconduct deeply intertwined with the fabric of the Court of Master Sommeliers — perhaps the highest echelon of American wine credentials — there have been numerous calls for industry-wide reform.
On Tuesday, six wine industry veterans – all of them women – publicly added their own voices to the mix, calling for reflection and change during a virtual panel on the experiences of women in wine.
Called "I'm Speaking" — a nod to Vice President-Elect Kamala Harris' rebuke of Vice President Mike Pence after he interrupted her during the vice presidential debate earlier this year — the panel featured five Masters of Wine: Amy Christine, co-owner of Holus Bolus Winery in Santa Barbara County; Vanessa Conlin, head of wine for the e-commerce site Wine Access; Ashley Hausman, formerly education director at GuildSomm (Hausman is now working harvest at Napa's Screaming Eagle Vineyards); Mary Margaret McCamic, sales manager for Screaming Eagle Vineyards; and Bree Stock, a wine industry management and educational consultant. It was moderated by Alicia Towns Franken, a long time industry veteran and consultant.
The panel's coming together, the women said, was a direct response – almost a visceral one – to the allegations made against male Master Sommeliers by more than 20 women in the wine industry.
Reading the Times article for the first time, Vanessa Conlin said in an interview, she realized the women had not only been manipulated and abused – they had been silenced.
"It made us think, 'how is the industry as a whole looking into this? How can we use our voices to have this conversation?'" Conlin said of the panelists. "I would say any female in this industry has, if not experienced abuse or harassment, definitely felt their voice being silenced in some way. I think we all have stories to tell."
Tuesday's panel addressed the systemic issues Franken, the moderator, described has having created a "culture of silence" around abuse like the kind detailed by the Times.
"The article was and is yet another reminder of much larger issues, but it really highlights that no group or industry is exempt," Franken said, as she spoke about the importance of women helping women in the professional world. "There's a trite adage about how a rising tide lifts all boats, but the reality is that we are all in very different boats. (Elevating each other) will help more women in(to) seaworthy boats."
Just over 3% of c-suite and executive management positions in the American wine industry are held by women, Stock said, citing a 2019 McKinsey & Co. study presented at the Women of the Vine & Spirits conference in March of 2019. The same study showed "men are promoted at three times the rate of women" into management positions, according to Stock.
"So (women are) severely underrepresented at the highest leadership realms, and this really affects our entire industry," she said. At the "certification and qualification level" — within programs like the Court of Master Sommeliers, for example — numbers tend to be similar. Just 20% of Master Sommeliers are women, Stock said, noting that the Master of Wine credential has a more even split at 47% women and 53% men.
"Still, the qualifications both lack in diversity — the Master of Wine qualification, in particular, lacks female leadership diversity — and there are no black Masters of Wine," Stock said, noting that diversity will be an increasingly important priority for the program. Lack of diversity is not just "a visibility issue, but an opportunity issue" within the wine industry, she continued.
Seeking a credential like a Master of Wine or Master Sommelier certification can put women — and wine industry professionals in general — on a path to leadership, the panelists agreed. But Conlin, speaking from her own experience, said part of the reason why she sought the Master of Wine credential was "for men to have the confidence" that her opinion was worth listening to.
"Earlier in my career I definitely did get to a point where I felt there was an increased barrier to entry (because I am a woman)," she said. In the time since the article was released, Conlin shared, she has recalled "a situation" she'd not thought about for years — in which Conlin has since realized she was retaliated against for "resisting an advance by an employer" in New York.
"I never thought of it as that at the time, but this has allowed all of us to look at things with fresh eyes," Conlin said. "There often are not great resources (to report these kind of things to). Small wineries in Napa Valley don't have a human resources department, so it's, 'how do we create safe spaces?'"
Fear of retaliation can make women reluctant to speak out about inappropriate or uncomfortable interactions with male peers, according to Hausman, the former education director for GuildSomm. But so can a general desire to believe "there's more equality than there is," Hausman added.
"I know many of us in a situation where we don't want to hurt someone else's feelings — I know I don't want to make men feel creepy," she said. "If they say something (I find) uncomfortable, I would rather just lay down and take the discomfort for them … and that's not good. Women don't like to feel like victims. I think we want to believe we're past all of this, (but) we're not."
Screaming Eagle's McCamic described the panel as "years in the making."
"These conversations are why we became Masters of Wine," McCamic said. "If we can't talk about social justice or change, our credentials become meaningless. The merging of society and social justice and change is inseparable from the wine industry."



Watch Now: Wineries open their doors in the Napa Valley
Throwback Thursday: Napa Valley harvest season
October's most-read Napa Valley Register news articles
October's most-read Napa Valley Register news articles